Two friends on a handicraft mission
By Shannon Salgadoe
View(s):
When the COVID-19 pandemic hit, it inevitably brought with it much negativity and turmoil. Yet there were many sparks of positivity too as two friends, Heshani Bogollagama and Nilusha Shivaraj put their heads together to come up with a way to help struggling handicraft artisans.
Having been friends since they met in Sydney, Australia during their university days, their affinity for handicrafts is hugely due to Heshani's former work with the National Craft Council. During her time as chairperson, she worked closely with artisans and knew the limitations they faced. The handicraft industry is closely related to the tourism industry and things went downhill for most artisans as the pandemic dragged on and tourism dropped drastically. As they lacked access to online marketing, she wanted to help address that and together with Nilusha's background in media and marketing, they launched Isle of Rataa in 2020.
Initially they focused on batik products and pottery, with the aim of highlighting one of the 56 craft categories each month by showcasing its history and sharing videos of the artisans. One objective was to display what Sri Lanka has to offer in terms of crafts, similar to how most South East nations are known for a specific product.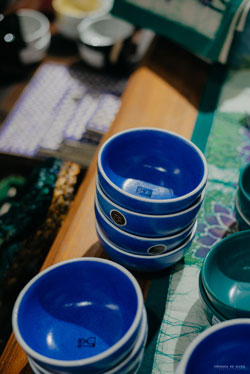 "We wanted Sri Lanka also to be known for something that's not just great food or the aliyas. We wanted more than that. We are known for our wildlife, and great hospitality but we also need to be known for our history of craft because craft has such a rich and diverse history in Sri Lanka itself," explains Heshani.
They looked to make the products affordable and online marketing proved an ideal avenue as there were no overheads and they were able to keep prices reasonable while ensuring their artisans got 60 to 70 per cent of the retail value.
Last month saw a collaborative collection with Selyn, the fair trade handloom company, with their latest collection launched there. "It's very important who we retail with, which is why Selyn was the perfect fit because they are a fair trade. They have been in the business for 30 years and they empower their artisans as well. It was basically a no-brainer to work with them," Heshani notes.
In February last year, they also launched their first training programme working with the Ceylon Workers Congress and their Ceylon Labour Foundation to give women in Kotagala a different skill set to the two options available to them – plucking tea or domestic service.
The programme attended by 250 women ran for ten days with Presidential Award-winning artisans conducting training in batik, Dumbara weaving, and embroidery. Initially sceptical, the women quickly opened up to learning and built a rapport with the instructors, gaining confidence in their skills.
A majority of those who live on estates in the Nuwara Eliya district receive education only up to the primary level and Ordinary Level at best. To continue their education, they need to move to schools in other districts and with options for vocational training also few and far between, most – especially the women, go on to work on the estates or find employment as domestic aides. "It was great that we were able to give this to them. We had a graduation ceremony for them as well and they were all dressed up, it was so good to see them. They were extremely happy," remarks Nilusha.
Currently, Isle of Rataa has 300 to 400 artisans from 12 districts producing batik, pottery, ceramics, brassware, and woven products in palmyrah, talipot and pan. Among the very first artisans they worked with, was Ratnapura based Sashima who's responsible for their best selling Monstera cushion cover in batik. Sashima has been in the industry since 2016 after receiving training from the NCC. Similarly, Subajini, a palmyrah artisan from Mannar has been in the industry for 12 years. Before teaming up with Isle of Rataa, her products only sold at a district level.
Initially communication was difficult, as most of the artisans did not have smartphones or the necessary technology and due to the lockdowns, they couldn't go to meet them in person to discuss the designs. Now visits are planned twice a month, fitting in as many artisans as they can in one day. The fuel shortages have put a damper on those, however, as well as pressing pause on their business operations with avenues of transporting products limited.
There is quite a bit of research and development on their part,  and both Heshani and Nilusha have gained a thorough knowledge through working with the artisans and believe in giving them creative freedom, while providing feedback on placements or finer elements in the design. "The artisans know what exactly works and they are happy to have their creativity. That's one advantage we have not coming from a design background. We are not rigid with how we want the product to look."
At present, their biggest challenges are the cost of raw materials, the price of kerosene and the shortages of both kerosene and fuel resulting in increasing costs for both artisans and entrepreneurs. This was evident when a re-order for a popular cushion cover design saw the price double from the original because the price of kerosene had gone up.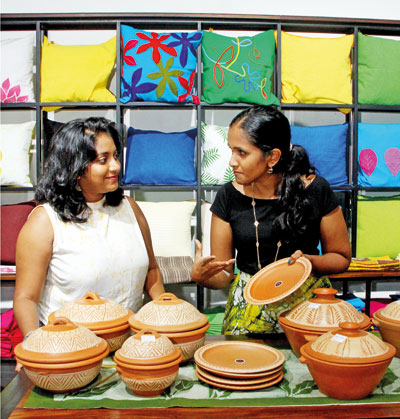 They are now looking at exporting their products as the value of the rupee makes it cheaper for the export market to purchase from them. While they do have Sri Lankans overseas who place bulk orders, expanding and partnering with different international parties seems the way forward. "There will still be a demand for these crafts locally, but it might not be the same as how it was when we started off because these are not necessities," says Nilusha with Heshani adding, "we have to work around that, see how we can help the artisans."
More collaborations and collections are in the works for Isle of Rataa and both Heshani and Nilusha are especially keen to focus on conducting more training programmes and workshops to equip existing and potential artisans with the skills and finesse required for producing quality Sri Lankan handicrafts that are sought after globally.
View Isle of Rataa products online at https://www.facebook.com/isleofrataa/ and https://www.instagram.com/isleofrataa/
Isle of Rataa retails at Selyn Colombo (102 Fife Road, Colombo 5).
Searching for an ideal partner? Find your soul mate on Hitad.lk, Sri Lanka's favourite marriage proposals page. With Hitad.lk matrimonial advertisements you have access to thousands of ads from potential suitors who are looking for someone just like you.