Bed linen splashed with family ties and tie dye
By Shannine Daniel
View(s):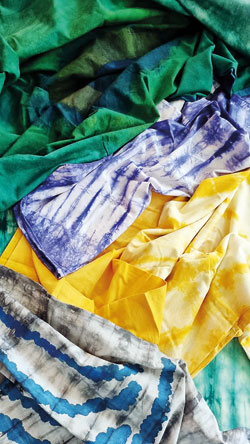 We are all familiar with tie dye but maybe not with bed linen made out of tie dyed material. That's what the small business Cocoon Linen, the brainchild of Saajidh and Aisha Marikar is all about. The idea  came to the couple during the COVID-19 pandemic lockdown.
"We started from scratch and sourced the manpower, machinery and material from which we produced our first batch of linen," says Saajidh, adding that in January this year they launched their Instagram page and released a promotional video.
Currently based in Qatar, Saajidh is a banker and Aisha, a high school teacher. Cocoon Linen's business operations are handled by Aisha's parents at their home in Dehiwala, while the couple and Aisha's cousins take care of the other aspects: design, social media, customer service and budgeting.
"As a family we've defined our roles based on what we're best at. My mother-in-law Sabrina who is the heart of the business ran a garment factory at one point, so naturally she oversees the production aspect. My father-in-law takes care of sourcing and logistics,"  Saajidh adds.
Asked why they picked on tie dye Saajidh said the aesthetic of tie dye material resonated with their family; a carefree, fun-loving, hardworking but "not very organised" bunch. Tie dye and batik have very strong Asian roots, which their family proudly wants to showcase to the world, and the fact that the dye designs are done by hand means none of their bed linen sets is similar.
"Our customer community is quite diverse –  we have local and international customers from housewives to young people Saajidh says.
Their model is to "work hand-in-hand with local Small and Medium Enterprises and housewives, and they source their dyes, fabric and other raw material from the Pettah textile market.
"The cutting and stitching of the sheets and pillowcases are done in-house by our family, while the dyeing and drying process is done by a lovely old aunty who lives outside Colombo. The packing and delivery are done back at home base," he says.
"Being a labour intensive product the beauty and bane of this process is the many people involved in it – which can sometimes be quite chaotic. But currently we are faced with challenges I don't need to elaborate on."
Currently focused on bed linen, they do have plans to take their designs to the apparel market. See their Instagram page (@cocoonlinen).
Searching for an ideal partner? Find your soul mate on Hitad.lk, Sri Lanka's favourite marriage proposals page. With Hitad.lk matrimonial advertisements you have access to thousands of ads from potential suitors who are looking for someone just like you.