Ranil emerges as icon but tough challenges ahead
View(s):
SLPP gradually losing its majority, with different groups going in their own directions
President plays key role in securing IMF bailout package; but will be required to deal with widespread corruption
Truth and Reconciliation Commission to be expedited as Foreign Minister goes to Geneva for UNHRC sessions
Human Rights Commissioner condemns use of PTA against protesters and calls for accountability for economic crimes
Gotabaya returns to Lanka and seeks to restore his US citizenship
By Our Political Editor

President Ranil Wickremesinghe is easily one of Sri Lanka's politicians most insulted and vilified after his party was swept off the electoral map at the August 2020 parliamentary elections. The ignominy he suffered was unmatched.
This week, however, he seems to have redeemed most of that slur to emerge as an icon in his own way. Yet, some serious controversies still shroud him. That mother luck than political prowess thrust him all the way up is not only unique but historic. At first, the then President Gotabaya Rajapaksa made him Prime Minister. There were no takers for the office after Samagi Jana Balavegaya (SJB) leader Sajith Premadasa laid down conditions as the nation was seething under an economic crisis. Then, President Rajapaksa was driven out of office by a popular revolt and Parliament elected Wickremesinghe as the successor in accordance with the constitution.
Gotabaya Rajapaksa returned to Colombo at 11.45 pm yesterday (September 2) by Singapore Airlines flight SQ 468. From Bangkok he had boarded a flight to Singapore and from there took SQ 468 to arrive in Colombo. According to a Foreign Ministry source, the first official confirmation he left Thailand came Thursday evening from a telephone call Sri Lanka's Ambassador in Thailand, Chaminda Kolonne made to Saman Ekanayake, Secretary to the President. She told him that from the VIP Lounge he had boarded the flight. Upon arrival at the VIP Lounge at the Bandaranaike International Airport he was officially met by Tiran Alles, Minister of Public Security. Also present were several MPs and well-wishers. He was then whisked away by a heavy security contingent to a Malalasekera Mawatha where a government bungalow has been assigned to him. His protection team is made up of Police and Army commandos. His brother, onetime President and Prime Minister, Mahinda Rajapaksa, visited him yesterday. The return, after he failed in efforts to obtain asylum in any other country, was cloaked in secrecy. A local personal protection group had flown there to escort him in. A member of the family said he had entrusted a law firm in the United States to make an appeal for the reinstatement of his citizenship in that country. He renounced it ahead of the presidential elections in November 2019. There is provision under the US law for such appeals. Diplomatic sources said in his case it was on the grounds that his wife Ioma and adult son Manoj were citizens. In his case, they point out, that despite other factors, the fallout from accusations before the UN Human Rights Council could make him liable for arrest in the highly unlikely event of his regaining his citizenship. These sources said, "There is no question" of his applying for a Green Card since he has renounced his citizenship and is not entitled to it.
Arguably President Wickremesinghe, with no other United National Party (UNP) representative in Parliament, is acknowledged as the only leader available as the 134 votes, easily from most parties, demonstrated. The edifice he was foisted upon, the Sri Lanka Podujana Peramuna (SLPP), is now fractured into different groups. If the SLPP has already not, it will sooner than later lose its majority. A look at the current numbers in Parliament only makes it clear. The lack of unity among them is the only reason that retains a status quo.  It is like a seesaw. When one lot is in favour, another is against. Here is the lineup give or take a few whose positions only manifest during voting time:
The SLPP's original strength stood at 145 after the parliamentary elections in August 2020. A cursory count now shows its strength at 100. Making the number 103 are three from the Sri Lanka Freedom Party (SLFP) – Minister Nimal Siripala de Silva, Minister Mahinda Ameraweera and Badulla District parliamentarian Chamara Sampath. Here is a lineup of those who have broken away:
Ten members of the Sri Lanka Freedom Party (SLFP) led by their leader and former President Maithripala Sirisena. They held their convention at the National Youth Council premises in Maharagama on Friday. The party's Central Committee decided to amend the party's constitution giving more powers of expulsion to the leader Sirisena to remove members. It was endorsed by the All-Island Executive Committee. An effort to challenge the move in the District Court failed. If the former President has become powerful, the trio who went for greener political pastures are now in trouble.
The 13-member group from the Sri Lanka Podujana Peramuna (SLPP) where former Foreign Minister, G.L. Peiris is the Chairman and Dullas Alahapperuma, the failed presidential candidate, is the Treasurer. They have already announced they would form a new political party. This is whilst Peiris faces expulsion from the SLPP as its Chairman.
The 15-member group which is forming itself into an alliance today at an event also at the National Youth Service Council in Maharagama. Among the frontliners of this alliance are Communist Party's veteran politician D.E.W. Gunasekera, Pivithuru Hela Urumaya  leader Udaya Gammanpila, Democratic Left Front leader Vasudeva Nayakkara, and National Freedom Front leader Wimal Weerawansa.
Six members from the SLPP who have formed an independent group. It includes Anura Priyardarshana Yapa, a onetime cabinet minister, Chandima Weerakkody, a onetime Deputy Speaker and Sudarshini Fernandopulle, a former Minister. When the numbers of the breakaway groups are added together (11+13+15+6) they total 45. That is the number that is now reduced from the SLPP strength in Parliament. Thus, the ruling SLPP government is in the minority in Parliament. Its only strength is the disunity of the breakaway groups and those parties in the opposition.
It is in this backdrop that Wickremesinghe's leadership led to the visiting International Monetary Fund (IMF) delegation reaching a staff-level agreement. It is now subject to approval by the IMF management and the executive board. Days and hours before the formal announcement of the four-year US$ 2.9 billion bailout package, there were several local claimants of credit, top officials and even self-acclaimed, overrated economic pundits in the opposition. The spectacle of others trying to upstage their political leaders by hitting the limelight was brazening and had political undertones. It was not them but Wickremesinghe, who was engaged in most of the talks, who had to offer bold assurances on government policy.
IMF focus on corruption
And that remains both his as well as his government's responsibility. He has undertaken steps to "reform the economy and improve governance." Masahiro Nozaki, an IMF official and co-leader, declared at a news conference in Colombo on Thursday that the government needed to take measures to fight corruption. The IMF package is also contingent on Sri Lanka securing debt relief from creditors and financing from multilateral lenders. Peter Brauer, the co-leader of the IMF team added, "Sri Lanka needed to undertake several 'prior actions' before securing the bailout, including setting out a 2023 budget consistent with the IMF programme and gaining financing assurances, including from private creditors. Half of the external debt of US$ 51 billion is held by private bond holders.
The conditions notwithstanding, that the IMF has reached a staff level agreement is a feather in the cap for President Wickremesinghe. Those familiar with the IMF dialogue opine that receipts from the Extended Fund Facility (EFF) would not be a reality till next year. Yet, the task to ensure such funds are received by fulfilling the criteria laid down falls on his shoulders. Of most importance would be how he plans to set about with the issue of corruption. Since the advent of the SLPP government, no major cases involving politicians have been successfully concluded in courts. This has seen an era where billionaires and millionaires have been created. There are widespread allegations over deals concluded for the windfall. This is only one aspect for President Wickremesinghe. Can he ensure at least a few cases of those who are corrupt or those who have stacked abroad their ill-gotten gains are taken to task and the money brought back? It is no easy task where those among the very people who back him could turn bitter enemies. Nevertheless, he must deliver on this. During closed door talks with the IMF, this is an aspect the visiting team had delved at length.
For weeks now, other issues have begun to concern him and the government. One is the major crackdown on the protestors who saw the exit of ex-President Gotabaya Rajapaksa. In this task, even the highly controversial Prevention of Terrorism Act (PTA) is being used. This week, Prime Minister Dinesh Gunawardena declared in Parliament that those arrested will not be tried under the PTA. Why then arrest them under that law? Another is the controversy sparked by the visit to the Hambantota Port of the Chinese research vessel Yuan Wang 5. The aftermath was a top-level conference at the Presidential Secretariat to formulate a Standard Operational Procedure (SOP) for the visit of military vessels to Sri Lankan ports. Whilst there will be no ban on such visits, the government is to consider requests from foreign governments on a case-by-case basis. One of the criteria to be adopted is to restrict military vessels to some ports and not all. A government source said that officials in the Foreign Ministry who were associated with granting permission to the vessel, particularly after a Sri Lankan diplomat pressured them, have been moved out. This diplomat, who has also been advised to exercise caution is to be recalled no sooner his current term ends in January next year. No term extension is to be granted, the source said. Similar changes were also being made in other key diplomatic missions; the source added.
It is no secret that the issue involving the research vessel has caused serious strain in New Delhi's relations with Colombo. President Wickremesinghe is learnt to have discussed the matter with ministers and top officials. Ways and means of thawing tensions are being studied. It comes at a time when he is due to leave for Tokyo to attend the official funeral of former Japanese Prime Minister Shinzo Abe, on September 27. Indian media reports have speculated that Prime Minister Narendra Modi too would attend the event.
In fact, India's reaction to the IMF announcement over the staff level agreement was measured. The spokesperson for the Ministry of External Affairs responding to a question declared "I think that is still an evolving or unfolding story. Really speaking I think today we had a chance to see some of that in terms of a Staff Agreement. We have seen that Press Release by IMF regarding their staff level agreement. I think it is called an extended fund facility for around 2.9 billion dollars over the next four years and I think as far as the IMF Press Release said that the objectives include restoration of macroeconomic stability, debt sustainability, protecting the vulnerables, stepping up structural reforms. We also understand that this process needs to take forward for subsequent approvals within the IMF itself. So, I think it is still an evolving situation and as you know India has been advocating for assistance to Sri Lanka. Let us see how it progresses. The issue of creditor equitability and transparency are important, but we will come back to you later as this moves forward."
In a tweet yesterday, China's Ambassador in Sri Lanka, Qi Zhenhong said "We are ready to work with relevant countries and international financial institutions to continue to play a positive role in supporting Sri Lanka's response to current difficulties and efforts to ease debt burden and realise sustainable development."
Another case that should be cause for serious concern for President Wickremesinghe is the deterioration of the law-and-order situation in the country.  The murder rate is on the rise with hardly a day passing without a shooting incident involving deaths. This has also revealed the proliferation of small arms and ammunition in the country. Ironic enough, the Police have in the recent past been diverted to carry out more functions that have little to do with the law-and-order situation. One such case is the extensive deployment of personnel to guard queues outside fuel stations. In fact, in some areas, they have been accused of colluding with racketeers to profit from the sale of fuel in the black market. This is whilst robberies in most police divisions have recorded a marked increase. It is imperative that priority consideration is given to an immediate programme to revert the police to their assigned law and order functions. Otherwise, the consequences would be serious.
It is significant that in this backdrop that some serious foreign policy changes are being adopted by President Wickremesinghe. The task of giving effect to them has fallen on the hands of Foreign Minister Ali Sabry and will see them reflected firstly at the 51st sessions of the UN Human Rights Council. He leaves for Geneva tomorrow night.
His new approach at the UNHRC, the Sunday Times learns, is in marked contrast to the confrontational approach taken by his predecessor, G.L. Peiris. An indication of this emerged during a meeting where officials of the Justice Ministry, the Defence Ministry and Police among others discussed human rights issues. "We cannot go beyond our constitution, sovereignty and local laws," he pointed out at the meeting. He said the government wanted to "see a closure" of the issues before the UNHRC and was taking measures towards this, he declared. Towards this, Sri Lanka is also seeking the assistance of Japan and South Korea, both countries that have played conciliatory roles at the Council. It had been pointed out that these countries played a similar role when there were issues involving Cambodia.
Truth and Reconciliation Commission
An important step the government has taken is the reintroduction of the Truth and Reconciliation mechanism which was pursued under the then yahapalanaya government by then Foreign Minister, late Mangala Samaraweera. It was, however, not implemented. An announcement in this regard is to be made by Minister Sabry before he emplanes for Geneva.
In October 2018, Ranil Wickremesinghe, who was then Prime Minister, presented a Cabinet Memorandum together with a 26-page Concept Paper that was to form the basis for such a body. The note he sent to ministers at that time makes the case for the Truth and Reconciliation Commission of Sri Lanka (TRCSL). Here are highlights:
"It is proposed that an independent entity known as the "Truth and Reconciliation Commission of Sri Lanka (TRCSL) is established by law (i.e. through an Act of Parliament). Its mandate would be to investigate and make recommendations in respect of complaints and reports relating to damage and/or harm caused to persons as a result of loss of life, or damage and/or harm to persons or property,
(i)     in the course of, or reasonably connected to, or consequent to the armed conflict, or its aftermath; or
(ii)    in connection with political unrest or civil disturbances in Sri Lanka; or
(iii)   where such violations are in the nature of prolonged and grave damage and/or harm suffered by individuals, groups or communities of people of Sri Lanka.
"Despite the appointment of numerous ad hoc commissions of inquiry during the past (like the Paranagama Commission, the Lessons Learnt and Reconciliation Commission, the Udalagama Commission, Mahanama Tillekeratne Commission) due to failure to implement recommendations made by those Commissions, it has not been possible to successfully prevent recurrence of conflict, or build confidence amongst all the people of Sri Lanka in the efficacy of measures to ensure non-recurrence, advance national unity and reconciliation, or identify and undertake administrative reform interventions that may be necessary.
"The proposed Act of Parliament would, inter alia, incorporate statutory provisions, enabling the President to appoint a "Monitoring Committee," including senior government officials, to monitor and facilitate the implementation of the recommendations of the proposed TRCSL. Further, unlike the previous commissions of inquiry, the mandate of the proposed TRCSL will not be limited either temporarily, or situation wise or incident wise.
"This will enable all Sri Lankan citizens, irrespective of race or religion, including families of police and security forces personnel, civilians in villages that came under attack by terrorists, security forces personnel and police personnel, and all affected persons in all parts of the country, to submit their grievances suffered during any phase of civil disturbances, political unrest or armed conflict that has occurred in the past, to the proposed TRCSL, and for the proposed TRCSL to examine the root causes for repetitive phases of such violence, and make recommendations for non-recurrance.
"It is proposed that the mandate of the TRCSL should extend to investigation of alleged serious violations of human rights and humanitarian laws notwithstanding the time period in which such occurred, with the discretion to prioritize investigations with the objective of promoting national reconciliation, peace, co-existence and non-recurrence.
"The proposed TRCSL should have sufficient administrative and investigative powers, including those granted to Commissions of Inquiry. This includes powers to compel the cooperation of persons, State institutions, and public officers in the course of its work. The TRCSL will also have the power to draw on the work of previous commissions of inquiry that have investigated allegations of violations of human rights and humanitarian law.
"While the TRCSL will not engage in prosecutions, it should be vested with sufficient investigative powers to identify the root causes of civil disturbances, political unrest, and the armed conflict, including the alleged serious violations of human rights and humanitarian laws. It should make appropriate recommendations for non-recurrence, including recommendations with regard to necessary institutional, structural, administrative and legal reform. The TRCSL's recommendations shall not be deemed to be a determination of civil or criminal liability of any person."
Then as Prime Minister, it was Ranil Wickremesinghe's view that the setting up of a local, independent, non-judicial truth-seeking mechanism would ensure non-recurrence of conflict. However, with the exit of the yahapalana government in 2020, such a commission could not be set up. There was a policy shift during then President Gotabaya Rajapaksa's administration where then Foreign Minister G.L. Peiris, except for a brief interlude in that office by Dinesh Gunawardena, took a more confrontational approach. The new SLPP government with President Wickremesinghe at the helm is seeking a new, conciliatory approach.  One of the most important tasks for it, the government believes, would be to convince the military that the proposed TRCSL, instead of being perceived as an instrument against them, is really a mechanism to come forward and vindicate themselves over their legitimate actions.
Together with the proposed TRCSL, the government also hopes to set up a Secretariat for Overseas Sri Lankans in Colombo. The idea behind the exercise is to rope in the Tamil diaspora under one large umbrella but the government does not want the use of the words Diaspora Secretariat because of the wrong connotations it would give. This proposed secretariat is being modelled on what exists in India as a body of Non-Resident Indians and the Ministry of Foreign Affairs estimates there are about 2.5 million Sri Lankans overseas. Foreign Minister Sabry told a recent meeting of Foreign Ministry officials that even if ten per cent of the number were to join, there would be a strong body. He pointed out that even their appeals for dual citizenship could be channelled through the secretariat which would be a useful platform
and could serve as a bridge for
reconciliation.
Human Rights High Commissioner's report
Foreign Minister Sabry is learnt to have briefed Opposition Leader Sajith Premadasa about the new foreign policy objectives of the government during a meeting this week. This signifies the importance the government attaches to the new policy shift.
It is highly unlikely there will be an encouraging response from Tamil diaspora groups for the government's new policy initiatives. A few of them I spoke with were skeptical over what they call the government's credibility. A member of one of the prominent bodies said, "The events that played out in the past several weeks forcing out of office a President have shown us that government positions could change from one extreme to another. What can we expect under such circumstances?" Added to that was the tough line the western nations were taking, particularly with the United States and the core group of countries planning to move a tough new resolution in Geneva. Adding weight to such a move would be the findings of the UNHRC Asia Pacific team led by Rory Mungoven. The team was in Colombo last week on a fact-finding visit.
His observations have found a place in the Report Human Rights High Commissioner Michele Bachelet will table at the upcoming Council sessions.
The report on Sri Lanka which resolution 46/1 mandated the Human Rights High Commissioner to present at the 51st session beginning on September 12, was finalised as a final draft, and was sent to Colombo by the OHCHR on Friday, August 26. Sri Lanka has till Monday, September 5 to review and comment on it. Foreign Ministry sources confirm that Sri Lanka will send Government's response within the time frame.
The latest Report is scathing in terms of non-delivery on the commitments made by the government during the past 12 months. Although acknowledging the economic, political, and social upheaval in Sri Lanka, it identifies accountability for some of the economic decisions that were made and refers to a special term of "accountability for economic crimes." On her update on the international evidence collection and preservation project (that was mandated under paragraph 6 of Resolution 46/1) a section of the report highlights progress and impediments during the past six to ten months. The report
highlights the action against protesters and the violence unleashed against them on May 9.
It also refers further on what it calls 'arbitrary' arrests of protest leaders especially under the PTA and the disappointment over the use of the PTA. This is particularly after repeated commitments made by successive governments to repeal the PTA and introduce a new act in alignment with international standards. The lack of progress on investigations into 2019 Easter Sunday incidents and to mete out justice to the victims of this tragic incident is also highlighted.
Reference to (Resolution 30/1) and commitments made by successive governments and the lack of progress are highlighted. Acknowledging impact of the Covid pandemic and the Ukrainian war which aggravated the economic situation in Sri Lanka, the report highlights the lack of political will of successive governments to address accountability, devolution of power, prevalence of impunity, and corruption as some of the root causes for the economic disaster that brought the country to a state of dysfunctionality.
Quite clearly, the political equations and social dimensions will change considerably from the measures adopted by President Ranil Wickremesinghe. His interim budget had added further burdens on middle income earners though pledges are being made to cushion the impact on poorer sections. One that would be biting is the increase in turnover tax that will push up prices of practically all goods and services. Next week, President Wickremesinghe is expected to name a set of Ministers of State. It was delayed from last week. Also, due to be taken up in Parliament later in the month is the 22nd Amendment to the Constitution. The foreign policy changes, no doubt, will spark a debate and even polarise political groups. Thus, the uneasy calm that prevails, far from being a temporary near normalcy, is only a prelude to more difficult times. Is the worst now over or yet to come?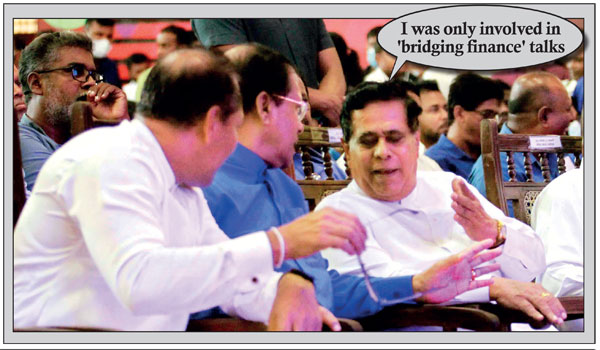 Buying or selling electronics has never been easier with the help of Hitad.lk! We, at Hitad.lk, hear your needs and endeavour to provide you with the perfect listings of electronics; because we have listings for nearly anything! Search for your favourite electronic items for sale on Hitad.lk today!