Red light over dengue
View(s):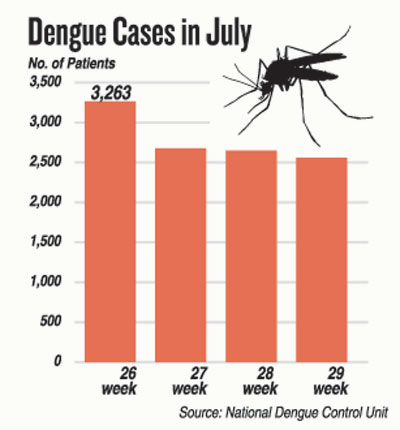 Urging adherence to precautions against COVID-19 & flu, expert issues an alert
By Kumudini Hettiarachchi  
Al three are viral diseases and the surge of one is causing major concern to healthcare workers.
The trio are – dengue, COVID-19 and influenza (flu).
"Even though COVID-19 seems to be spreading fast once again in recent times after a dip in numbers, it is mild disease. Influenza cases are showing a drop, but dengue is worrying as the numbers are showing a rising trend and there are also some deaths," reiterated Consultant Physician Dr. Eranga Narangoda who is seeing and treating these diseases at the Homagama Base Hospital.
In an early warning, the Director-General of Health Services, Dr. Asela Gunawardena declared Monday (July 25), a Special Dengue Prevention Day requesting all public and private organizations to allocate one hour to check out mosquito breeding sites both indoors and outdoors and destroy them.
Dealing first with COVID-19, Dr. Narangoda says that it seems to be spreading faster than a few months ago due to the new Omicron sub-variant BA.5. In the patients he is treating, there is mild disease and no development of hypoxia (low levels of oxygen in body tissue) or pneumonia (lung infection) which usually causes severe disease and death.
He says that the symptoms are similar to those of a cold and include a runny nose, cough and sore throat.
Asked about the risk of death, this Physician explains that it is very low with the exceptions being those who are unvaccinated (not taken even one dose of the vaccine) or just one shot without the booster.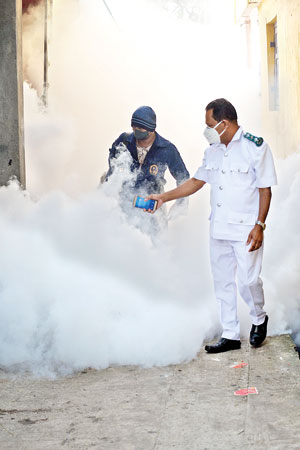 The others who are vulnerable are the elderly (over-60s), especially those over-75 years or older and those with multiple non-communicable diseases (NCDs) such as diabetes and kidney disease and those on immuno-suppressants or are immuno-compromised such as transplant patients and those with cancer, it is learnt.
Talking about numbers, Dr. Narangoda says that in the current spike, there are about 10 patients with COVID-19 receiving treatment at the Homagama Hospital, but their condition is not bad. Others have received treatment at the Outpatients Department (OPD) and gone home, with advice on how to prevent the home folk from getting infected by them.
He reminds people on how to protect themselves from catching the virus:  
Wear a face-mask when leaving your home
Try and avoid crowds, if possible
Keep a distance of 1 metre from others
Wash your hands as much as possible
Avoid touching your nose, mouth or eyes
Take the long-term medications that you are on, prescribed by your doctor, for any NCDs
For those who are affected by COVID-19 and are at home after seeking medical treatment, his advice is:
Isolate yourself for about five days to prevent your family from getting the illness
Wear a face mask if coming into a common area in your home
Rest and let your body recover
Take adequate nutrition and plenty of fluids
If you continue to be unwell after a couple of days, seek medical treatment again.
Take the long-term medications that you are on, prescribed by your doctor, for any NCDs
"The symptoms of influenza too are similar to COVID-19 and it is only an RT-PCR that can pinpoint whether it is COVID-19. These days the number of influenza patients seems to be reducing," says Dr. Narangoda, adding that sometimes there could be co-infections of COVID-19 and dengue. Then the patient would require inward monitoring and treatment at a hospital.
What to heed in the case of dengue

"Dengue is on the rise," says Dr. Eranga Narangoda, emphasizing that if there is high fever without respiratory symptoms such as a sore throat, people need to think of the strong possibility of this mosquito-borne viral disease.

He stresses that these days more people are dying of dengue than COVID-19 and there is a surge of dengue especially in the Western Province which comprises the Colombo, Gampaha and Kalutara districts. The dengue deaths could be because people are coming to hospital late. They may be assuming that it is just a viral disease and delaying seeking treatment, without taking into account that it can slide down to severe dengue which includes critical fluid leakage and a major impact on multi-organs.

If you have the following, see a doctor immediately, urges Dr. Narangoda:

High fever for one or two days which does not settle with paracetamol Headache

Pain under the eyes

Do not take non-steroidal anti-inflammatory drugs (NSAIDs) such as brufen, diclofenac sodium or mefenamic acid until dengue has been ruled out

Danger: Sometimes severe symptoms settle after about 3 days, with a slight improvement in the fever and also appetite, but people need to beware. This is because their bodies could be in the critical phase of a drastic drop in the platelets in the blood and the beginnings of fluid leakage which need stringent monitoring in a hospital setting. Otherwise, there could a quick deterioration in a patient's condition which could lead to death.

---

'Omicron BA.5 at the forefront'

Thirty-two COVID-19 samples sequenced as recently as Wednesday (July 27) by the Medical Research Institute (MRI) show a clear pointer that Omicron's sub-variant BA.5 is at the forefront of the disease spread currently, Consultant Virologist Dr. Jude Jayamaha of the MRI's Department of Virology told the Sunday Times.

Pointing out that it had taken the lead, as seen in global trends, from the earlier sub-variant BA.1, he said that BA.5 had a "slight transmissibility advantage" over BA.1. Evidence seems to suggest that so far BA.5 has a slight advantage over BA.1 in spreading the disease.
The best way to say that you found the home of your dreams is by finding it on Hitad.lk. We have listings for apartments for sale or rent in Sri Lanka, no matter what locale you're looking for! Whether you live in Colombo, Galle, Kandy, Matara, Jaffna and more - we've got them all!