Productivity slumps in hobbled bureaucracy
View(s):

By Senuka Jayakody  

Fridays may no longer be a holiday for Sri Lanka's public servants.

The Ministry of Public Administration is expected to propose revoking the decision related to Fridays and instead a roster would be introduced, a senior official said.

Public administration has gone through many disruptions, in particular due to the fuel scarcity. The work-from-home arrangement was extended for another month.

The Postmaster General, Mr Ranjith Ariyaratne, said mail deliveries will be delayed by one day.

He added that even though foreign mail has increased recently, mostly consisting of foreign remittances, deliveries can be managed.

The president of the Government Grama Niladhari Association, Mr Saman Perera said that public administration has weakened overall and revenue has dropped. This causes delays in aid and other government services.

As for their services, Mr. Perera said officers are required to work on Tuesday, Thursday and a morning shift on Saturdays, but have been compelled to work on extra days.

The Ministry of Agriculture said that only a limited number of employees report to work. A roster system is in place requiring three days of work in a week.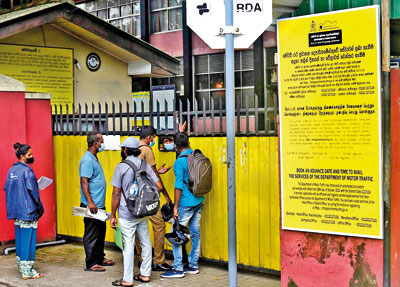 Only a few minor staff are coming to work. However, the ministry is capable of managing the distribution of fertiliser to farmers. Preparations are being made for the 2022/23 Maha season.
Buses are provided for workers, but the services are limited, the ministry said.
The secretary of All Island Farmers Federation, T. B. Sarath, said administration related to the agricultural sector has entirely collapsed.
Mr. Sarath said lawmakers have not made attempts to organise public administration.
There are no employees in District Secretariats and farmers are inconvenienced. Officers required to complete their work are absent on particular days.
The Ministry of Finance is also using a roster system requiring three or four days a week. There is also a work-from-home arrangement, depending on the situation and the workload.
Productivity is low because only a few are at work.
The best way to say that you found the home of your dreams is by finding it on Hitad.lk. We have listings for apartments for sale or rent in Sri Lanka, no matter what locale you're looking for! Whether you live in Colombo, Galle, Kandy, Matara, Jaffna and more - we've got them all!