Farmers, three-wheelers not thrilled about fuel pass
View(s):

The National Fuel Pass and the QR code will come into effect tomorrow, following a trial run last week.

Farmers see it as impractical and three-wheeler owners and private bus operators are not entirely pleased either, with the distribution of petrol and diesel.

There are real concerns that while there is tech, there is not enough fuel being distributed. The Ceylon Petroleum Corp is distributing only limited amounts, well below normal volumes. And not all filling stations are in operation.

Dasun Hegoda, director and software architect of the Information Communication Technology Agency of Sri Lanka (ICTA), said that the QR code would go into use at 960 filling stations.

More than 4.5 million vehicle owners have registered for the fuel pass.

Three-wheel drivers complain that five litres are not enough for a week and private bus owners are not thrilled either.

"This system has been designed and developed considering the population scale and the requirements of the country, and we are continuously making efforts to develop the system," Mr Hegoda told the Sunday Times.

People who do not have internet access or are not capable of handling smartphones can go to the nearest communications centre with their OTP and obtain their QR codes.

Several filling stations have begun to use the QR code and the last digit of the vehicle licence plate from last week.

Three-wheel drivers have been asked to register at a police station and nominate a fuel station to obtain their weekly quota of five litres.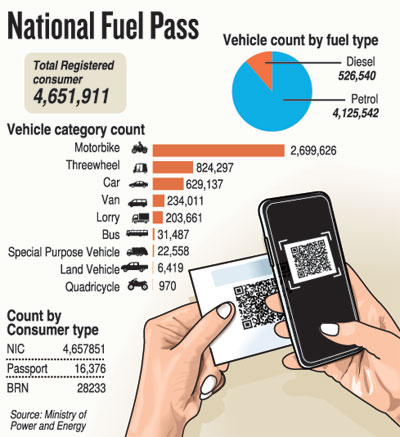 T.R. Pallie, the secretary of the All Island Three-wheel Drivers Union, favours rationing along with the QR code, but said five litres for Rs. 2,000 was not enough for a week.
A three-wheel can drive up to 27 kilometres per litre. He stressed that five litres is only enough for two days because of the high demand for hires.
"The Government has mixed up its priorities in providing fuel, prioritising private transport over public and goods transport," Mr. Pallie said.
Lalith Dharmasekara, president of the All Island Three-wheel Drivers Association suggests combining the QR code with the licence plate number system.
Three-wheel drivers are also facing a new dilemma. Now they are compelled to switch to 95 petrol due to the fuel scarcity.
Moreover, the Private Bus Association president, Gemunu Wijeratne, said the QR code system was "impractical'', because buses got fuel from SLTB depots.
Private bus operators allege corruption at SLTB depots, where the pump attendant takes Rs.10,000 to ensure a full tank.
Mr Wijeratne said 13,000 private buses are only provided with 350,000 litres of diesel out of the 700,000 litres received.
The bus fare from Colombo to Jaffna has risen to Rs.4,000 from Rs.1,200 because the operators  have got fuel from underground sources.
Also T.B. Sarath, the secretary of the All island Farmers Association is opposed to the QR code calling it "impractical''.
He notes that at Divisional Secretariats, where farmers are required to register, the relevant bureaucrat is not at work every day.
"There is a way in which the farmers got things done. Now, half is administration and half is computing," he said.
Vehicle owners see advantages and disadvantages.
"We waited for four days in a queue in Colombo. The shed owners started pumping after four days but did not provide fuel to those who waited for four days," said Mr Dharsha, a vehicle owner.
A three-wheel driver from Thimbirigasyaya said: "Earlier we had to stay nearly a week to pump fuel, but now with the QR code I was able to pump fuel within 17 hours, which is really a positive sign.''
Youths lend a hand at filling stations

Dharshana Ratnayake, chairman of National Youth Corps, has said youths will be called on only if the Ministry of Power and Energy makes a request.

Five thousand youths from 60 centers have been working at filling stations to help vehicle owners on how to use the QR code system.

"We have to ask them to start their course-work from next week as they have been working endlessly for the past 10 days to help," Mr Ratnayake said.

The corps has provided data cards for the youths working in filling stations so they can help people in rural areas.
The best way to say that you found the home of your dreams is by finding it on Hitad.lk. We have listings for apartments for sale or rent in Sri Lanka, no matter what locale you're looking for! Whether you live in Colombo, Galle, Kandy, Matara, Jaffna and more - we've got them all!