109 leopards slain in 12 years, risks rising for 1,000 left
View(s):

By Malaka Rodrigo  

As the national day of the Sri Lankan leopard is marked once again tomorrow, experts say the economic crisis could raise the threat levels related to the big cats.

Law enforcements against trappings and killings could diminish, and as people continue to lose their livelihoods, poaching could increase.

The leopard is the apex mammalian predator and the largest wild cat in the Sri Lankan wildernesses.

Reports indicate that 109 leopards died during the past 12 years in Sri Lanka.

It is estimated that there fewer than 1,000 leopards left and this would be a worrying number, said Prof. Enoka Kudavidanage of the Sabaragamuwa University, who is also the co-chair of the wild cat subcommittee of the Wildlife and Nature Protection Society (WNPS).

The national day of the Sri Lankan leopard was first celebrated last year following a proposal by WNPS. The first of August was selected as it was the date on which a thesis by Dr. Sriyanie Miththapala confirmed that the Sri Lankan leopard subspecies is unique to Sri Lanka, naming it scientifically Panthera Pardus Kotiya.

"While we need to pay attention to this species 24/7 due to its threat levels, the objective of declaring a national day is to draw special attention to the Sri Lankan Leopard," says Spencer Manuelpillai, the immediate past president of WNPS.

The declaration of Sri Lanka Leopard Day in 2021, is supported by the Department of Wildlife Conservation.

"It is something the department is very proud of, as a day would help celebrate this iconic animal while continuing to help raise awareness on the continuing threats the species faces,'' said Mr Chandana Sooriyabandara, the director general of DWC.

Snares cause most of the leopard deaths in Sri Lanka.

These are mainly set up for hunting game animals such as wild boar, but the leopards become victims. Some snares may be deliberately targeting leopards. These need to be investigated deeply, says Rukshan Jayawardene, an activist who has been working for decades to conserve leopards.

Economic hardships could force communities living close to protected areas to take up poaching to supplement their diet or earn some income. This would indirectly impact leopards as it would affect the population of their prey too. A person who never thought of killing a leopard may even be pushed to do such an act if the leopard become a threat to their livestock etc, Mr.Jayawardene said.

Suspected trafficking in body parts, poisoning remains other causes of leopard deaths, and the loss and fragmentation of habitat, loss of prey, and disturbance by safari jeeps also remain causes of concern.

"The decision to transfer the guardianship of the 'other state forest'(OSF) lands from the Department of Forests to regional administrations allowing their easier release to agriculture and other developments too need to be reversed," Mr, Jayawardene  said.  Most of these OSFs are good forest habitats that are frequented by leopards and their fragmentations may make them vulnerable he said.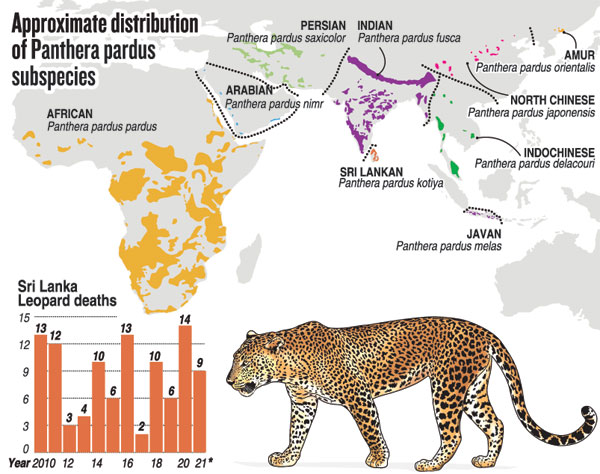 The populations of leopards in several areas such as Yala, Wilpattu, and the Hill Country are now well-studied thanks to recent surveys by researchers such as Dr.Andrew Kittle, Anjali Watson, Dinal Samarasinghe Prof. Kudavidanage.
But the leopard is an elusive wild cat that can co-exist even in populated areas, so it is important to do an islandwide survey and identify the threats specific to such areas, Prof. Kudavidanage told the SundayTimes.
WNPS recently launched a multi-regional monitoring system for the conservation of the Sri Lankan leopard. Under this initiative, WNPS with the support of LOLC Holdings established six leopard research centres in Panama, Morningside, Killinochchi, Belihul Oya, Nallathaniya, and Sigiriya.
"The project will continue for five years and we believe it will fill gaps of knowledge of areas that no past research was carried out," said Mr Manuelpillai.
The project's fieldwork began this month and will monitor leopards using camera traps and surveys. The research centers will develop a network among local wildlife and forest officers, and would also serve as educational hubs to create awareness among locals, including sharing knowledge and generating research-based human-leopard conflict mitigation measures, Mr. Manuelpillai said.
One of the main highlights would be the study of the leopard population in the northern region. There has been a lack of data due to the war.
"There are leopard sightings in some areas, but these are not being properly documented, so we are first planning to set up a network to facilitate this information flow," said the coordinator of the Kilinochchi center, Mr Marynathan Edison. After the war, the land use pattern is changing in Northern Sri Lanka, so more confrontations are expected.
"To avoid conflict, we need data to make informed decisions,'' Mr. Edison told the SundayTimes.
The best way to say that you found the home of your dreams is by finding it on Hitad.lk. We have listings for apartments for sale or rent in Sri Lanka, no matter what locale you're looking for! Whether you live in Colombo, Galle, Kandy, Matara, Jaffna and more - we've got them all!