Vibrant music from outer space
View(s):

By Sanath Weerasuriya

Mintaka is actually a twin star in the the constellation of Orion almost 1,200 light-years from our Sun. It surely sounds highly astrophysics and truly out of bounds the normal vocabulary of the entertainment filed.

I am sure you don't have to travel 1,200 light-years for any stars, but they certainly live on our planet.  Mintaka is one of the most popular and vibrant bands in the Sri Lankan Western music field, led by veteran drummer Chris Dhason.

Mintaka is the embodiment of good vibrations and positivity. The band, which originally came together in February 2014, is the brainchild of drummer Chris Dhason fulfilling a long time dream of a band with a repertoire that combines a unique blend of Retro, Soul, R&B, Classics with Funk and modern chart hits.

'Apart from popular retro, disco, R&B and sometimes Classics are the usual repertoire of the Lankan bands. Genres like funk, swing and blues are sadly lacking in Sri Lankan music field. I think the lack of listeners cause the vacuum in this field' Chris explained.

The band 'Mintaka' got its start at Qbaa when DK (Alien Accent fame) and his wife Suzie were running the club.

'Without even knowing who was in the band, they gave me a month to practice at Qbaa based purely on trust' said Chris. From there Mintaka moved on to 'The Curve' at at Park Street which was then relatively unknown. However their fans followed them from Qbaa to 'The Curve' and the rest is history. The captivating voices of the two 2 original lead singers blended beautifully together and the fact that all the members can sing, allows the band to enjoy a very wide repertoire. The Smooth R&B vocal theatrics of Sheaam Dean who performs with such energy and finesse blends incredibly well with powerhouse female singer of Mintaka Terry Bertus.

'The vocal harmonies were spot on. The band itself is tight, punchy and funky' he added.

Leader and drummer/composer Chris (Cj) Dhason is a former founder member of the very popular Sri Lankan band 'Wildfire' led by Derrik Wikeremanayake. Chris is a veteran in the field with many years of experience, having lived in Switzerland and Germany for 13 years. During the 80's / 90's he was playing and touring with many local and international bands including 'Purple Rain' and 'Fame'. Countries toured include England, Switzerland, Germany, Italy, France, Austria, Holland, Norway, Australia, Middle East and India.

Bassist Nilantha(Koba) Ariyaratne (ex-Wildfire) is an experienced bass gutarist with a great groove and a gravelly voice.
'I have known Nilantha and have been playing together for the last 20 years. Me and Nishantha combination creates a fantastic blend in our outfit and have a super understanding, which gives Mintaka a rock solid rhythm section' Chris said.
Guitarist/Singer Pathum "Malla" Fernando is a very experienced musician having played with prominent local bands such as Wildfire and Voice Print. An original artiste and producer, Sheaam Dean has been the young and talented frontline man for Mintaka since its inception.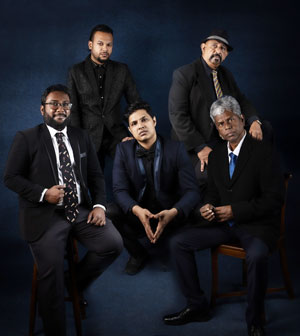 'His singular flair and soulful vocals have resonated with many a music lover and has won the band, many fans' Chris added.
The newest addition to Mintaka is Pradeep John. A very talented guitarist with a bluesy touch, Pradeep plays the trumpet as well adding a Wonderfull flavour and sound to the band. The original Mintaka line up featured Terry Bertus on vocals and Viraj Perera, an accomplished pianist and educator, on keyboards.
'Anyway Terry and Viraj are not a regular members of the band but continue to be a part of the Mintaka family and perform with the band whenever needed' Chris said.
Together they are Mintaka bringing with them their good vibrations everywhere they go and the band continues to perform at the local nightspots and destination weddings.
For more details, contact Chris on 777362004 or e mail: cdhason@yahoo.com  or https://youtu.be/K88eDG_2WIM
Searching for that next furry family member but couldn't find one in your area? Hitad.lk has the solution with our extensive listings of dogs for sale in Sri Lanka!