Home bakers: Adapting and still finding joy in what they do
By Shannon Salgadoe
View(s):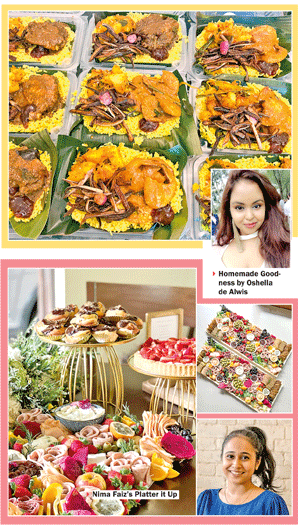 December 2021 was when it began to hit us. It started with dwindling stocks of LP gas and sugar, flour, and milk powder; then came the power cuts and fuel shortages. Now multiple rows of vehicles and unattended empty gas cylinders are everyday sights. All of this has hurt many businesses, including those of the home-based variety.
Home cooks, bakers, caterers have long been an important part of our food and beverage culture. The introduction of social media platforms like Facebook and Instagram saw a rise in the number of home-based food businesses offering familiar items like cakes, cupcakes and brownies, as well as the more intriguing grazing tables. The home-based food industry only grew with the addition of delivery apps like UberEats, Pick Me, and Quickee.lk, and any aspiring home baker or cook could market their product widely.
Oshella de Alwis started Oshella Homemade Goodness in 2006 after returning to Sri Lanka on completing her education. A Masterchef fan, she began experimenting, getting her mother to  critique her efforts. Familiar with Singaporean and Malaysian cuisine, having studied in Singapore, she started out offering Nasi Lemak, now her signature dish. Routinely bringing down necessary ingredients from Singapore, she says, "even now we're bringing down a few of the items no matter the cost because number one is the quality."
The height of the pandemic saw an overflow of orders which resulted in Oshella expanding operations to a five-bedroom house that was converted into one big kitchen with both electric and gas ovens as well as electric cookers and a generator. There's been no slowing down as the orders continue to come in. She says she has been very fortunate because she always manages to have stocks of items at hand, thanks to solid relationships with her suppliers and vendors whom she can count on.
"I don't know what's happening but my thought is to take one day at a time. If you're happy for the day and if you have orders you can dispatch, and if the people are happy that's all that matters."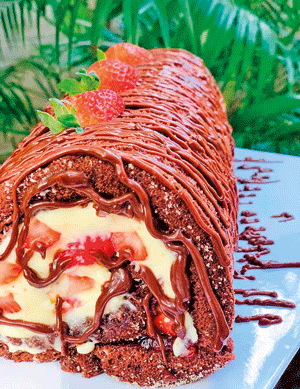 Returning to Sri Lanka in 2017 after many years in Dubai, Shenika De Livera introduced Platter Parties to fill the gap she found in home entertaining. Starting with cheese platters, she soon added canapes, finger foods, sweet platters and grazing tables. "It was just being creative and coming up with the pairings and personalising them. It was interesting and novel, and it caught on."
The main issue she faces is sourcing the items used for the platters. Cheeses and cold cuts, mostly imported are not available as before or if they can be found, are very expensive. "The choice of cheese is limited so I manage with what we have. There's not much variety as there used to be but we find a way to make things interesting with toppings and pairings and add-ons."
She makes it a point to be completely transparent with her customers.  "I try to avoid substituting. I inform the clients about what is available and what is not, and we work together to customise it according to what they require."
It can be difficult to stick to a particular price with the pricing changing almost monthly depending on the situation – "I priced a certain platter at a certain amount last month, it's not the same this month. I also make the platter according to the client's budget. It is difficult and it is stressful because you need to be on the ball since sourcing is a big challenge at the moment."
She says she tries not to stress too much – "I'm going with the flow at the moment. A lot of the clients are understanding and they know the challenges. It's about working together to put together something they want and something I'm happy to produce."
A business that depends on delivery apps and services, she says the delivery process is a challenge, especially at present. She admits that she has worries about the fuel situation.
Planning ahead is how she manages. "I might take a function for next week and from now on I have to start thinking about whether we will have petrol, whether we will have the items."
Despite all the uncertainty she tries to maintain a positive vibe. "I always think there's light at the end of the tunnel and that it is what it is. There's nothing I can do to change the situation. I do what I do with joy and happiness and love seeing the end product coming together. In life, we all have to face challenges and it's all about managing the situation and going forward. This is how I try to stay sane."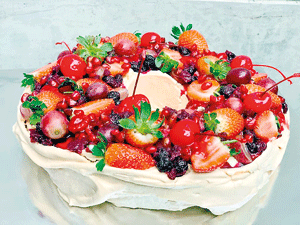 Nima Faiz's Platter it Up which she started in 2019 as a spur-of-the-moment decision soon grew into quite a successful venture. Completely new to the food and beverage industry, Nima faced a few difficulties in learning the business, finding reliable wholesale suppliers and vendors, and working on pairings.

At the moment, it is a different ballgame. "Everything changes every single day. I had my wholesalers calling saying they don't have products and I had to call every possible place to look for those same items. Prices are increasing every single day. The available imported cheeses we use come into the country at different prices every time."
She is thankful that in the second year of Platter it Up she switched to locally made cheeses to support local business. "At the moment we have six types of local cheese and only one imported cheese. I'm happy I made that change because it has made this crisis a little bit more bearable."
While she initially offered drop-off options,  only pick-ups are now possible but customers are very understanding, she says.
Although things look bleak, she tries to stay positive and focus on the joy of doing what she loves to do.
Monique Choksy started her home baking business Monique's Cakes and Desserts in 2006 when the last of her four children started schooling, looking to develop a business which could be operated long term from her home in Bambalapitiya. Word got around and the orders kept coming in, with many late nights and long hours thrown into the mix.
With almost all ingredients having gone up in price, Monique says she has had to adjust her prices but has done so without cutting corners, but making a few substitutions here and there – local fruits like passionfruit instead of blueberries, for instance.
Baking is planned around the scheduled power cuts, and as long as they are not caught unawares, they manage to stick to their schedule. But they have had to reduce on deliveries relying more on customer pick-ups.
"We've made a plan on how to keep the business running. You have to be aware of wastage, conserve gas and power, focus on customer needs and be innovative with recipes and desserts.
"I also serve a niche market and my customers want the best product which I have to deliver. I don't have a problem with my customers because they are happy to pay and they know what they're getting," she says.
Overall, 'managing' seems to be the keyword among these four resourceful entrepreneurs, who've adapted to the prevailing circumstances and are remaining optimistic.
 Visit their websites and social media at:
Oshella Homemade Goodness
www.facebook.com/oshellahomemadegoodness/ @oshella_homemade_goodness
Platter Parties
www.facebook.com/platterparties @platterparties
Platter it Up
https://platteritup.lk/ Monique's Cakes and Desserts
www.facebook.com/moniques.cakes.n.desserts/ @moniques.sl
Searching for an ideal partner? Find your soul mate on Hitad.lk, Sri Lanka's favourite marriage proposals page. With Hitad.lk matrimonial advertisements you have access to thousands of ads from potential suitors who are looking for someone just like you.