A botanical treasure trove that grew within the Gardens
As the Peradeniya Botanical Gardens celebrates its bicentenary this year, Dr. A.H. Magdon Jayasuriya looks at the role of the National Herbarium located within it
View(s):
A herbarium is where you will find a collection of preserved plant specimens for research on plant life and diversity. These dried specimens are mounted on durable stiff paper sheets, systematically filed and arranged in special cupboards similar to books in a library. Stored separately are tissue materials such as flowers, bulbils, underground parts, e.g., rhizomes, corms and tubers preserved in liquid and dried samples of wood and large fruits.
A herbarium is also accompanied by a library of books and periodicals on plant taxonomy, species diversity, maps, hand-drawn illustrations and paintings, photographs and sometimes microfilms.
Located within the Royal Botanic Gardens, Peradeniya, the National Herbarium is housed in a building complex consisting of three 19th Century classical buildings and another later building forming a quadrangular complex equipped with facilities for researchers, students and other authorised visitors. The Herbarium has approximately 180,000 mounted specimens while the library contains about 4,000 books and periodicals, and some 5,000 botanical illustrations. The collection is currently being digitized and also printed in volumes and made available for purchasing.
Early history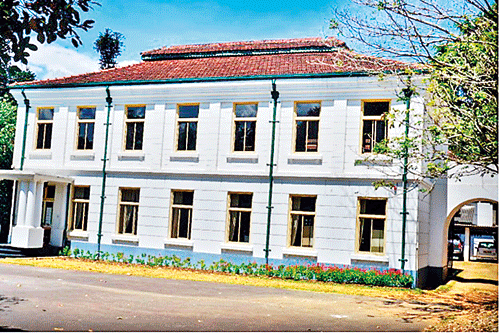 The history of the National Herbarium is closely linked to the development of the Botanical Gardens. First established in 1810 at Slave Island, Colombo, under Sir Joseph Banks and named Kew, with William Kerr, a former Kew gardener as its Superintendent, it was moved to Kalutara in 1813 as the Colombo site lacked sufficient space. Here in an abandoned sugar plantation at Uggalboda, it was possible to cultivate economic plants on a larger scale. With the establishment of British rule in 1815, the Garden was moved to its final destination Peradeniya in 1821, under the supervision of Kerr's successor, Alexander Moon, of similar training but better qualified.
Plant specimens collected and /or recorded by Moon, from Kalutara, Colombo, Kandy and Jaffna etc., became the nucleus of the Herbarium.
Moon's great literary energy and unique dedication to science and education was evident from his monumental publication, 'Catalogue of Ceylon Plants' published in 1824 at the Wesleyan Missionary Press in Colombo. Mainly in Sinhala with translation assisted by Reverend B. Clough, it was intended for local as well as English readers. It was structured on the scientific and natural system of classification of plants essentially based on reproductive organs (Linnaean or Sexual System):
The plant list had 1,127 species including 366 species cultivated in the Peradeniya Gardens.
Complete with references, a descriptive catalogue of plant names, and indices, it is considered the oldest and most comprehensive account of the island's plant biodiversity published in Sinhala (and also in English).
Botanical drawings
Another of Moon's contributions was the appointment in 1818 of Haramanis de Alwis Seneviratne of Kalutara as a 'native writer'. Haramanis displayed an extraordinary talent for botanical drawing and with the establishment of the Botanical Gardens in 1822 in Peradeniya,  was promoted as a draughtsman. From 1823, he produced a splendid series of drawings of the country's flora and the plants cultivated in the Gardens. Moon died in 1825,  but Haramanis continued illustrating plant species until his retirement in 1861, aged 70. Many of his drawings were done in the field, exploring verdant jungles, almost all in colour.
This tradition was continued up to 1900 by Haramanis's sons, William and George. Appointed Director of the Gardens in 1849, George Henry Kendrick Thwaites supervised and added many detailed floral drawings made by dissecting flowers, to the original collection. William de Alwis Seneviratne's son also made more than 1000 colour illustrations of Sri Lankan fungi, including mushrooms. The originals of these drawings –  412 paintings, mainly drawn by William de Alwis (1842-1916), are at the Horticulture Research and Development Institute (HORDI) of the Department of Agriculture, Gannoruwa, with duplicates at the Kew Herbarium in England. The formidable collection made by Haramanis de Alwis Seneviratne and his sons consists of over 5000 colour illustrations and about 2000 pencil sketches housed at the National Herbarium.
Growth of the Gardens
and Herbarium
James Macrae, who arrived two years after the death of Moon but passed away in 1830, was a notable contributor of botanical specimens to the Herbarium.  The visit of Robert Wight in 1836 from India saw scientific identification of herbarium specimens as the whole of the Peradeniya herbarium was packed and sent to Wight (its size at the time would not have been great).
Macrae was followed by George Gardner the first botanist as distinct from horticulturist in charge of Peradeniya who aslo assiduously collected botanical specimens.
The growth of the Herbarium became George Henry Kendrick Thwaites'  monumental work.  An efficient scientist, he developed the process of consultation with Europe, especially the Kew and notably with Sir Joseph Hooker by sending possibly duplicates of specimens for identification. Thwaites' Enumeratio Plantarum Zeylaniae (1858) was founded on scientifically advanced concepts. Many novel genera and species were discovered, described and added to the flora of the island consisting of a total of 2822 species.
Henry Trimen, Director from 1880 – 1896, added a reasonable collection to the Herbarium, but his most prominent contribution was The Handbook to the Flora of Ceylon (1893-1900) – one of the most comprehensive and outstanding publications in any comparable tropical area at that time. Trimen had completed only three volumes at his death in 1896 and the last two volumes were completed by J.D. Hooker. John Christopher Willis succeeded Trimen as Director in 1896 establishing the Department of Agriculture in 1912.
Among those adding specimens to the Herbarium were J. Miguel Silva, a plant collector under Trimen for 20 years even after Trimen's death in 1896. A special addition to taxonomic literature in the early 20th century was the publication in 1931 by A.H.G. Alston (Systematic Botanist, Department of Agriculture) which served as a Supplement (Volume 5) to Trimen's Handbook to the Flora of Ceylon, updating the five previous volumes by Trimen, subsequently completed by J.D. Hooker.
T.B. Worthington's private collection of specimens and photographs of many native and introduced tree species during 1940s to 1950s at his home (Hill Crest), Kandy was the basis for his book 'Ceylon Trees', a useful guide to the island's tree flora.
Other noteworthy collections were made by K.D.L. Amaratunga, and D.M.A. Jayaweera who contributed on Orchidaceae and Apostasiaceae for the Revised Handbook to the Flora of Ceylon. The writer also made a significant contribution of specimens (nearly 11,000).
The largest addition in the 20th century (about 60,000 specimens) was gathered by scientists (64 authors from 27 different institutions across the world including Sri Lanka, collaborating with the Flora of Ceylon Project initiated in 1968 under the auspices of the Smithsonian Institution, Washington DC, the Department of Agriculture and the University of Peradeniya and continued in 1990s by the British Overseas Development Administration. The final outcome was the publication of the Revised Handbook to the Flora of Ceylon, 15 Volumes published between 1980 and 2006, accommodating flowering plants, ferns and fern allies.
(The writer is Senior Consultant, EML Consultants (Pvt) Ltd., and former Curator of the National Herbarium)
Searching for an ideal partner? Find your soul mate on Hitad.lk, Sri Lanka's favourite marriage proposals page. With Hitad.lk matrimonial advertisements you have access to thousands of ads from potential suitors who are looking for someone just like you.