Letters to the Editor
View(s):

Heartening performance by students in spite of hard times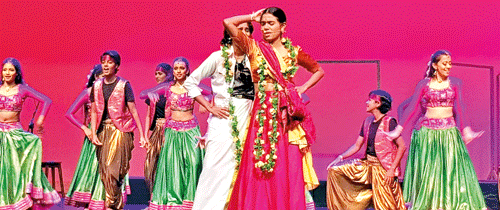 When compared to our young days the present-day child is suffering, deprived of education, health, sports and affordable travel.
When they return from school there is no power! This steals their their precious time, even to attend to their school work.
Recently I happened to go to Kurunegala through the Meerigama – Kurunegala expressway. I was hypnotised by the beauty–the  mountains stretching far far away with white ribboned waterfalls, the never-ending green paddy fields etc.  making you forget all the troubles. But it lasts only for a second and once again, we have to step back to a world of trouble, hunger, frustration and interminable queues.
Yet despite the hardships children are resilient. This we saw at a recent wonderful performance by a group of Musaeites (prefects 2019/2020) transporting the audience to another world.
There was song and dance and recitations in Tamil, English, Sinhala, perfect Kandyan, Indian and Western dancing, Kings, Queens, Princesses, armies (Sinhala and Portuguese ) farmers, men and women reaping the harvest with sickles, performing of Tamil religious services and items featuring the often overlooked  PHIs and the street cleaners.
Among these was one of a frustrated, tired father, carrying many petrol cans tied together  pleading,  "Just help me to find a shed with a drop of petrol."  But finding no solace he finally collapses on the street (stage) with the cans!
The value of this performance cannot be gauged – the unity, hard work, effort and involvement was amazing. Children! you broke all the barriers and showed us your unimaginable talents, during such difficult times.
Swarna Wanniarachchi Pilapitiya   Via email
---
Banks have to be more flexible to help businesses
No business whether manufacturing, construction, agri-based production or trading can run without banking support. At present this requirement has become the most important priority for a business to survive or at least break even.
The construction industry which has a large number of development projects in hand, stands out as one sector that gets less help from the banking sector. Even though most development projects in this sector are foreign funded, contractors executing these projects have to lean on banks for working capital. By and large whatever projects awarded to these developers have been awarded by the clients after due evaluation of the individual capacities/competencies and merit based on the past performance. However, that does not mitigate their dependence on  bank assistance all the way through to the completion of the project/s.
The banking sector should be more compassionate and get together to think out of the box to help the business sector. The gravity of the situation has to be understood not only by the State Banks, but also by Commercial Banks and the Development Banks.
The most important issue for the business sector has become the shortage/lack of foreign exchange to open Letters of Credit for import of essential raw materials for all industries in general. The construction industry has to depend largely on importing most high value materials.
A thriving black market made the situation worse. The end result was that the business sector had to lean on the banks for more and more. The percentage financial cost of a product by way of facilities, insurance, interests, lease payments, guarantees and even bill discounts without which cash flow shortages could not be bridged as at today, added more and more weight on the product costs.
In addition, shortages of materials such as fuel, cement, steel, plywood, blasting materials, even at higher costs compelled, especially construction related businesses to either suspend operations and lay off staff or in extreme cases to close down completely.
In this background the case for the banks to be more flexible has to be stressed. The banking sector has to play a vital role between the client, the businessman/producer and the consumer/purchaser. Therefore, the positive attitude of the bank towards the businessman/producer in this picture is most important.
We do understand that banks have a duty by their staff to pay them and also pay the shareholder/s or the State for that matter a reasonable dividend. But the banks are there basically to service the businessman, of course within guidelines issued by the Central Bank, discharging their duty towards their clients in such a way as to act as mentors to help them to restructure their portfolio/s at least to survive even if they are unable to make profits.
In such instances where contractors operate on Escrow Accounts the share of the Bank written into an invoice sometimes reaches 50% or more pulling down the Working Capital left in the invoice so vital for proceeding with the project without suspensions/delays.
With reasonable negotiations, Banks can surely forego part of their profits to help their clients, the goose that lays the golden egg for them. One should realize that this is a period of global recession and therefore, this is vital to any decision.
During the 2008 recession that hit the tea industry when I was the Chairman of the Sri Lanka Tea Board,  I could overcome the crisis with only a verbal assurance of a Temporary Overdraft of 500 Million given to me from the Bank backed by an assurance of the CBSL.  To make a long story short, by going to the tea auction placing confidence on the non-existent funds, as TOD from a State Bank I could buy 232 Million rupees worth of tea in one day, thanks to the support I got from the tea industry, the broker community and the office staff.
Lalith Hettiarachchi   Colombo 7
---
Need for efficient rationing system as in the past
Our 'news' is full of tales of despair, desperation and frustration. Our administration and representatives of the people continue to fiddle ineffectively; the burning, sadly, has already occurred.
On a recent visit to a supermarket I was surprised to see that the shelves still gleam brightly with imported fruits. No doubt, those luxury items consumed by a miniscule segment of our population, still remain too.
During the war years (1939—'45) an efficient system of rationing for rice and essentials, was introduced and this was administered by a Food Commissioner, the legendary O.E. Goonetilleke, who ended up as our first Ceylonese Governor-General. As far as I remember this system was so efficient that it continued into the 70's. Each family had a ration book with coupons and essentials – mainly rice was obtained on a weekly basis from a chain of unpretentious co-op stores, far more effective than the present-day Sathosa.
There is a crying need for this system right now. All those redundant employees in Government departments could be utilised to run these co-ops.
Again, in those desperate times in the 70's we were instructed to replace rice meals twice a week with some other staple. We grew manioc in our garden, and I still yearn for those meals of steaming hot manioc, with its accompaniments.
Another essential step is to eliminate waste. A glaring example is the hospitality sector. I dread to think of what happens to those piles of food left over from sumptuous buffets. This should be distributed among the needy or even old peoples' homes. I certainly feel there should be a re-think on these sumptuous spreads and the varieties of animal proteins limited.
When I was younger I felt that life would have been far less complicated if we were yet another state of India. The way things are going, this seems a distinct possibility!
Premini Amerasinghe   Nawala
---
Searching for an ideal partner? Find your soul mate on Hitad.lk, Sri Lanka's favourite marriage proposals page. With Hitad.lk matrimonial advertisements you have access to thousands of ads from potential suitors who are looking for someone just like you.