An uphill, upcycle venture
By Ruqyyaha Deane
FASHION
View(s):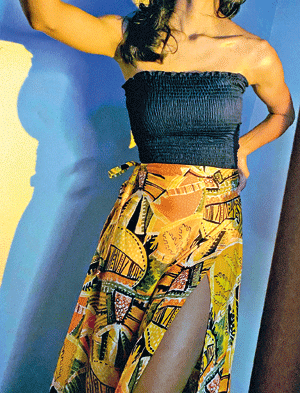 If you want to read about a  young woman who never gave up on pursuing a hobby she struggled to master and instead turned it into a self-sustaining small business; we have a story for you. Meet Suhara Malwattege whose slow fashion brand Scerendip (meaning Serendip and Scenic) focuses on upcycling and reducing the carbon footprint that comes with creating new clothes.
It was an uphill journey, Suhara says.
Having been on the lean side and never finding clothes that would fit, it was on a whim that a 16-year-old Suhara announced to her parents that she wanted to stitch her own clothes. Her enthusiastic father gifted her an overlock and domestic sewing machine just two months later.
It soon became apparent to Suhara that this was a harder challenge than she had expected. Through multiple failed attempts at using the machine, her mother trying her hand at teaching Suhara,  her father going ahead and making her a skirt for a party, and her aunt stepping in to teach her pattern making and cutting, Suhara simply couldn't get the hang of it, no matter how hard she tried. And she did try several more times after that while still juggling schoolwork as a student at Visakha Vidyalaya.
Fast-forward to a few years later. The pandemic has hit the world and a 20-year-old Suhara is stuck at home in the lockdown. "I had completely given up the idea, right? And then I felt guilty because my father had got me these two machines. I thought, 'maybe I should, you know, learn something out of this since I had nothing else to do'," she says.
Having a soft spot for skirts, Suhara sketched her design and watched many YouTube tutorials to get everything right, from the pattern to the stitching. She confesses there were many trial skirts.
It was after the excitement of stitching her skirt died down that Suhara realised she was left with a lot of extra fabric. "Seeing all the fabric that would go to waste from my skirts, I thought of ways to upcycle and use these fabrics in a different way. I thought I could do something to reduce the waste, and maybe, something different from the normal dressmaking?"
"My lifelong passion has always been to be able to give back to my country and I thought I could do that by being an astronaut or a scientist but my grades said otherwise. I found it important instead to focus my time and skills on things that would add value to myself," Suhara says, explaining how she finally found her feet.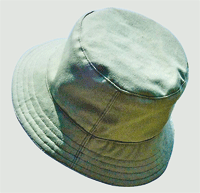 That is when Suhara began experimenting and creating new pieces of clothing, making use of the offcuts. Her friends pushed her to start her own small business as they loved the clothes that she was making. So  began Scerendip, a brand name she had surprisingly carried with her as a child wanting to start her own small business one day.
Suhara also uses offcuts to create other items such as scrunchies, bucket hats and cardigans. Suhara says this way she reduces much of the waste she produces and gains even more profit as she uses a piece of fabric to its fullest potential. Even the discarded pieces created after using offcuts are saved to create a cloth mannequin (dress-form) at Suhara's workshop.
"For example, we use deadstock linen, cotton, viscose and scrap waste from our sewing projects to create our zero-waste bucket hats by further reusing all remnants from the leftovers," Suhara says.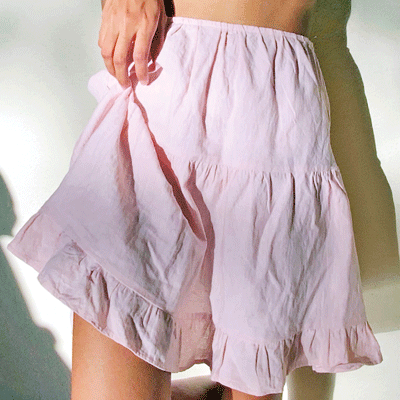 Sometime last year, Suhara also found one of her main suppliers for fabric on a Pamunuwa run with her mother.
"This lady was someone who inspired me to keep sewing because she always has a nice collection of fabrics. For Scerendip, I handpick biodegradable fabrics from our suppliers who sell dead-stock materials and she was my first proper supplier," Suhara says adding that she is proud to support other small business women as well.
With a degree in Business and Psychology from the University of Northampton and reading for the final stage of CIM, Suhara has a lot to juggle. Her family, relatives, and friends have been ever-willing to help out in any way that they can and she now employs a four-person team that includes  a lady from Anuradhapura as well as her two aunts helping her part-time to meet the influx of orders.
"I started this business with just my savings and the two machines my father got me. There were a lot of up and downs, especially with the powercuts going on and order quantities, but here I am," she says.
You can find Scerendip on Instagram on @scerendip
Searching for an ideal partner? Find your soul mate on Hitad.lk, Sri Lanka's favourite marriage proposals page. With Hitad.lk matrimonial advertisements you have access to thousands of ads from potential suitors who are looking for someone just like you.