A 40-year island chronicle seen from the front seat
By Yomal Senerath-Yapa
View(s):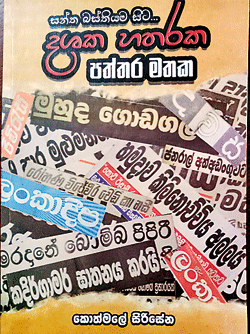 For four decades, Kotmale Sirisena has been a name that readers of the Dawasa and Lankadeepa looked out for. He was a writer with flair, whether breaking news or leisurely features.
Now 'Kotmale' (as he is simply known- a tribute to his hilly home) has come up with his memoirs in the journalistic world, and they are a compelling read.
For Kotmale his vocation was unequivocally decided in the mid-1960s when the schoolteacher at Grade 5 at Hedunuwewa Central College brought to the class children's newspapers such as Mihira or Tikiri. Kotmale was fascinated by the linotyped pages and inky colourful illustrations with witches on broomsticks and talking beasts.
Growing up he would write obsessively to the papers, and in 1980, before he was even out of Peradeniya (reading economics and similar subjects) he was part of the news desk at the Dawasa.
There was to be an interlude of seven years much later when conscience and pressure from others drove him to teach at his childhood school, but his ruling passion was the press, of which he is proud to say he worked in the epochs of linotype, computer and digital printing all equally well.
Kotmale has no pretensions to grandeur unlike some writers who feel bylines give them an aura. His crystal clear eloquence comes with the modesty of a simple man, ever one to admire colleagues and peers rather than trumpet his own skill.
This book is thus a highly readable island chronicle of those forty years, seen from the front seat, as it were. It recreates the suspense in the newsroom with history daily in the making. The war in the north, the stirrings of ethnic troubles in Colombo, the insurrections and the tsunami, all these are captured with sensitivity and intensity.
It is no surprise that he was also a poet, as one had to be to keep the writing from dying or 'drying up'.
The range of his writings vary from the Sepala Ekanayake hijacking to a children's drama by Somalatha Subasinghe.
Anecdotes galore. There is the story of how Priyantha Hettige reported on the damage done to the Avukana Buddha when rubber milk was poured on it to create a model of the statue intended to be taken to England. He apparently sneaked to the Anuradhapura shrine in the dead of the night to take photos.
It is a reminder to a journalist of all that is wonderful about being a 'scribe' and for the 'layman' –  a riveting insight to the profession.
With his marked preference for features and the arts, Kotmale has left a legacy of writing. These pages thick with memories will also stand as a commentary to all those years –  for, as he regrettably lets us know, he has now laid aside that prolific pen for good…
Searching for an ideal partner? Find your soul mate on Hitad.lk, Sri Lanka's favourite marriage proposals page. With Hitad.lk matrimonial advertisements you have access to thousands of ads from potential suitors who are looking for someone just like you.