SL's legendary biscuit maker passes away
View(s):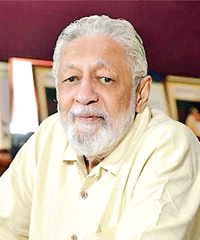 Legendary Mineka (Micky to friends) Wickramasingha, a pioneer biscuit entrepreneur and founder of the popular Munchee brand of biscuits, passed away in Colombo on Wednesday. He was 87. The funeral was held on Friday.
Apart from his contribution towards revolutioning this sector through a wide range of biscuits and chocolates, Mr. Wickremasingha also made several efforts to set up production facilities in India but due to the Indian bureaucracy, his efforts failed. However he found success in exporting biscuits to several other foreign markets.
A few years ago, he relinquished hands-on management of the Ceylon Biscuits Ltd (CBL) group after 48 years at the top and became its President-Emeritus while the baton was handed over to his younger brother Ramya.
CBL started operations when Mr. Wickramasingha gave a proposal to the Ministry of Education to provide a high protein biscuit to schoolchildren under the CARE programme. The biscuit was developed using bread flour, soybean oil and milk powder in house by the founder using available raw materials, which was limited at the time. Facing all challenges on the way from government restrictions to expand, to imported biscuits coming into the market he faced all adversities directly and came out the victor though sheer perseverance.
The group now exports to over 55 countries and is the largest exporter of biscuits and confectionery in the country. It enjoys market leadership in biscuits, chocolates, textured soy, cereals, cakes and organic fruits and coconuts under the Brand names Munchee, Ritzbury, Lankasoy, Samaposha, Tiara and Cecil.
Hitad.lk has you covered with quality used or brand new cars for sale that are budget friendly yet reliable! Now is the time to sell your old ride for something more attractive to today's modern automotive market demands. Browse through our selection of affordable options now on Hitad.lk before deciding on what will work best for you!