Paying foreign debt from domestic income
View(s):
One of my friends sent me a text message seeking clarification on the country's foreign exchange problem. The foreign exchange shortage has resulted in domestic supply shortages in fuel, gas, food, medicines and others; and it's getting worse in the coming weeks, as the government keeps announcing.
Our export income remains nearly the same as it was a few years ago. The number of migrant workers in West Asia hasn't gone down. Although we lost tourism earnings, we have also suspended our foreign debt payments. Among the policy matters, the exchange rate has depreciated drastically, the rupee is stable, interest rates high, and the monetary policy is tight.
After giving all the above points, my friend asked me a simple question: Why do we say that we don't have enough dollars to buy our basic needs – fuel, gas, food and medicine? It's a valid and sensible question that any lay person can ask! On top of all that, the government is telling the people that the situation is getting worse and everybody must grow something to avoid the forthcoming starvation as well.
Over-spending
It was right on time that my friend sent me that question, because for this week's column I was about to start writing on the country's foreign exchange issue – the problem in the heart of the current economic crisis. Two weeks ago, I touched upon the "over-spending issue" with respect to the country's internal finance – the government's under-taxation and over-spending problem. Today's question gave me the opportunity to address another dimension of the "over-spending issue" with respect to the country's external finance – balance of payments.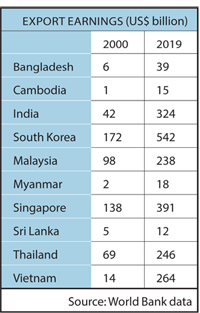 A glimpse of today's foreign exchange problem can be exposed by looking at Sri Lanka's balance of payments performance last year. The country earned about US$ 21billion; this includes export earnings about $12.5 billion and worker remittances about $5.5 billion.
The country's total foreign exchange spending (even after adopting import controls and foreign exchange restrictions) amounts to $29 billion, leaving a shortage of $8 billion to be found from elsewhere (even if the current import controls continue to remain). While part of the debt service payments, which are related to the borrowings from bilateral sources and sovereign bonds, has already been suspended, the country still needs around $5 billion annually, or about $400 – $500 million per month on average.
Until the recent past, it was managed with income from tourism earnings, further borrowings and, the use of the Central Bank's foreign exchange reserves. Tourism income, which was close to $4 billion, has now declined to a mere half a billion dollars. As Sri Lanka's credit rating was dropping over the past two-three years, foreign borrowings became more difficult. Nevertheless, bilateral credit lines and currency swaps have been used in order to meet the maturing debt obligations and essential imports.
The Central Bank's official reserves were reported to be little over $3 billion by the end of 2021, which was down from $8 billion two years ago, because it was used to defend the exchange rate. Given the widening pressure in the foreign exchange market, the exchange rate was under increasing pressure, which was averted using the remaining foreign exchange reserves.
Early stages of the crisis
After doing all that, the country now is left with no option other than cutting down the remaining imports too; essential imports as mentioned above were part of those which have been cut down. Sri Lanka has been spending about $4 billion for its annual fuel requirement, which is close to about 20 per cent of the total import bill.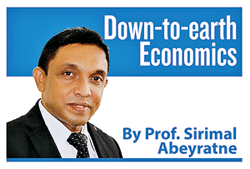 With limited options available to find about $400 – $500 million every month, we are at the mercy of other countries to provide us with credit lines. As we have wasted more than two years now without a credible plan to get out of the impending crisis, it is not yet clear about our "hand-to-mouth' existence within the next few weeks or the months, once such bilateral assistance from other countries is over. I wonder whether Sri Lanka is still at the early stage of its economic crisis.
The impending multiplication of the current crisis is a result of not only the foreign exchange shortage, but also the way that we try to address the issue with import controls. Imports of fuel, gas and other intermediate goods are essential inputs to the production of domestic supplies and exports as well as inputs to other essential inputs such as electricity and transportation.
About 60 per cent of the country's imports are intermediate inputs, while over 20 per cent are capital goods; this means control over the importation of these "producer goods" would effectively curtail our production for domestic sales and for exports further reducing the country's foreign exchange earning capacity.
The multiplier effects of import restrictions bounced back in terms of reduced export capacity as well as domestic supply shortages, income and job losses, and the lose of tax revenue for the government. Therefore, apparently, the crisis policies would multiply the crisis over time!
Absence of export growth
Why is this crisis unique to Sri Lanka among all its neighbouring countries in Asia? A sensible answer to this question would reveal the heart of Sri Lanka's problem; it's the dismal performance in the country's export expansion!
Once we were proud to say that "Sri Lanka was one of the first few countries in Asia to become an 'export-oriented' economy". We cannot boast about it anymore, because Sri Lanka lost it's export-oriented vigour long years back. For instance, over the last 20 years (2000-2019), we have improved our merchandise exports little more than double from $5 billion to $12 billion. Compared to our export performance, even the poorer countries such as Bangladesh, Cambodia, and Myanmar have recorded massive export growth. Even Thailand and Vietnam, which were once behind Sri Lanka have recorded over $250 billion exports by 2019.
One of the main issues was that after the initial policy attempts, Sri Lanka began to suffer increasingly from the policy and political bias against exports; instead of correcting the country's "anti-export bias", it continued to depend on tourism earnings and worker remittances, both which did not require any purposive reform agenda. A further addition to the problem was brought about by entering the international bond markets for commercial borrowings in 2007; this multiplied our foreign borrowings above its sustainable levels.
The growth performance of the country continued to depend overwhelmingly on domestic economic activities of the non-tradable sectors which did not generate exports. The policy contradiction was how to pay the maturing foreign debt from the income generated from domestic economic activities!
In the absence of export growth, maturing foreign debt payment required further borrowings, even before COVID-19 hit the economy. In fact, the notion of domestic production under import protection also supported the move, aggravating the policy contradiction – meeting foreign debt obligations with income generated from domestic production.
Way out
Sri Lanka needs to get out of the crisis, rather than cutting down essential imports and weakening exports. The way out lies along the path of improving the country's foreign exchange earning capacity – export growth. Fiscal prudence is necessary in order to get internal finance right, but central to the question of the "way out" is nothing other than export growth.
Even debt sustainability depends more on export growth than on its restructuring. Obviously, it's not an overnight solution. The policy problem is that, however, we have not yet even looked at it – which is the source of the foreign exchange crisis.
 (The writer is a Professor of Economics at the University of Colombo and can be reached at sirimal@econ.cmb.ac.lk and follow on Twitter @SirimalAshoka).
Hitad.lk has you covered with quality used or brand new cars for sale that are budget friendly yet reliable! Now is the time to sell your old ride for something more attractive to today's modern automotive market demands. Browse through our selection of affordable options now on Hitad.lk before deciding on what will work best for you!