People fed up as essential food items soar in price by 200-500 percent
By Nadia Fazlulhaq
View(s):
Essential goods have shot up in prices by 200-500 percent compared to the period when the present government took over in 2019, statistics reveal.
Rice, dhal and sprats are no longer affordable essential items. Dhal, which was sold at a price of around Rs. 145 a kilo in 2019 is now sold for about Rs. 515 in the retail market, a 353 percent increase.
As for the staple food of rice, almost all varieties have shot up to more than Rs. 200 a kilo.
Red raw rice is now sold for about Rs. 210 a kilo, while it was only Rs. 98 about three years ago. Red and white raw rice prices have increased by 215 and 213 percent. Samba prices have gone up from Rs. 106 in 2019 to between Rs. 220 and Rs. 260.
Healthy grains now lack a healthy price tag. A kilo of green gram sold for Rs. 287 at the time the government took over is now sold for Rs. 1007, a 350 percent increase. Chickpeas are now Rs. 591 a kilo, an increase from Rs. 227 three years ago. Cowpea too saw an increase from Rs. 270 to Rs. 700, a kilo.
Eggs, the most commonly used protein, have seen an increase from Rs. 17 an egg in 2019 to about Rs. 30 at present. Chicken, which was priced at about Rs. 450 is now nearing Rs. 1000. All types of meat and fish have seen 150-170 percent increase. Sprats were sold for about Rs. 750 a kilo in 2019 and are now sold for Rs. 1394.74, a 184 percent increase. The average price of bread now varies between Rs. 130 and Rs. 160, while it was Rs. 60 in 2019.
"Going to the market is something I now dread. The prices are so unpredictable. Two years ago, we had to spend about Rs. 5000 a week for essential items and vegetables. Now even Rs. 10,000 is not enough," said Rani Subasinghe, from Nugegoda.
Wheat flour that was below Rs. 100 a kilo three years ago, is now nearing Rs. 250. Milk powder which was readily available on shelves three years ago at Rs. 370 for a 400g pack, is now both in short supply and what is available is sold for about Rs. 790. A litre of fresh milk is Rs. 360, now.
All spices, condiments and coconut oil have soared in price, with a kilo of dried chillies going up from about Rs. 335 three years ago to about Rs. 1590.
The people, are fed up of the recent increases in prices of essential items and fuel, and the recent cooking gas price hike. In 2019, a 12.5kg domestic gas cylinder that was sold for Rs. 1490, is now priced at Rs. 4,860, following the recent price increase of Rs. 2,675.
"This situation will worsen if the government fails to immediately step in. Importers and traders cannot continuously increase prices. There should be a price control," said Prof. W. M. Semasinghe, Professor in Economics at the University of Kelaniya's Department of Economics.
He said the price increases were severely affecting daily wage earners and those depending on a monthly salary.
"The sky rocketing cost of living is believed to be the main factor for  the massive middle-class aragalaya or revolt at Galle Face and all over the country. Their income remains the same while the prices are going up at a rapid pace. People are fed up as they see that the government is failing to bring down the cost of living," the economics professor said.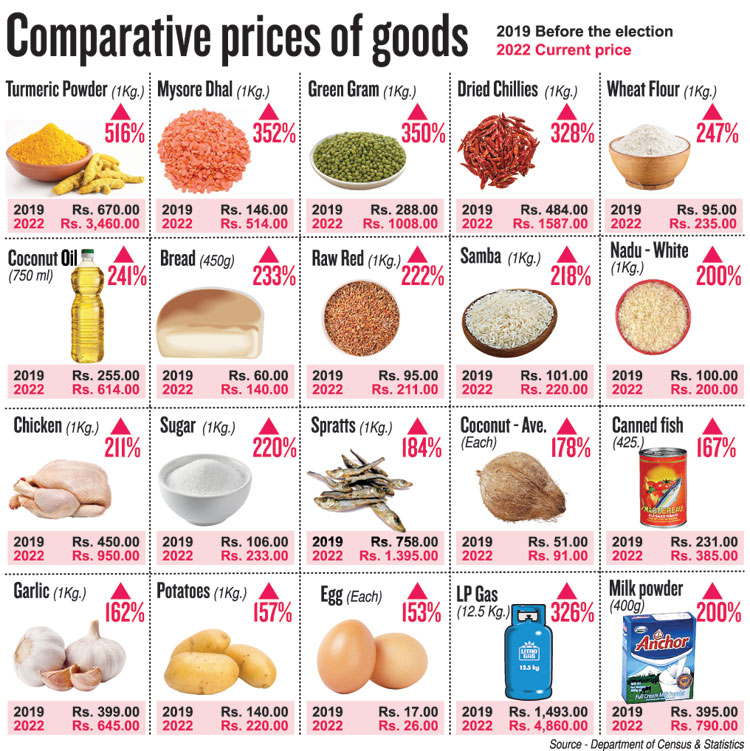 Prof. Semasinghe warned that the coming months will see both shortages and price increases in rice and vegetables.
"Farmers had stocks of fertiliser saved and stored during the previous paddy season. It was the same with vegetable farmers. However, they have no fertiliser now and the limited stocks are highly priced and most of them cannot afford it. The government should immediately find a solution to the fertiliser crisis," he said.
On Friday, the Central Bank said headline inflation, as measured by the year-on-year change in the Colombo Consumer Price Index (CCPI) increased to 29.8 percent in April from 18.7 percent in March this year. Food inflation increased to 46.6 percent, while non-food inflation increased to 22 percent.
"Prices of items in the non-food category recorded increases mainly due to price increases in the transport (petrol and diesel), education (tuition fees), housing, water, electricity, gas and other fuel. Further, within the food category, increases were observed in prices of milk powder, rice, bread, dhal, sugar and dried fish during the month," the Central Bank said in a statement.
The best way to say that you found the home of your dreams is by finding it on Hitad.lk. We have listings for apartments for sale or rent in Sri Lanka, no matter what locale you're looking for! Whether you live in Colombo, Galle, Kandy, Matara, Jaffna and more - we've got them all!