Sumedha and Nilani claim top awards at SLA Centenary Nationals
athletics
View(s):
Javelin thrower Sumedha Ranasinghe and triple jumper Chamal Kumarasiri established new meet records on the concluding day of the Sri Lanka Athletics Centenary National Athletics Championship where Ranasinghe and Nilani Ratnayake were adjudged best male and female athlete of the event.
Olympian Ranasinghe hurled a distance of 82.18m, surpassing his own record of 80.76m to win the event and the best athlete award. His attempt was nine metres ahead of the second place, winner D.S. Ranasinghe who cleared 73.18m. R.M. Fernando won the third place clearing 71.42m.
Kumarasiri had a jump of 16.40m in the triple jump obliterating the previous record of 16.37m while S.T. Seneviratne leaped 15.57m followed by Sandun Krishantha clearing 15.55m to place second and third.
Nilani Ratnayake, who missed Olympics participation last year, produced a new steeplechase national record as she battered her previous record with a time of 9:40.24 seconds finish. She bettered the qualifying standards by three seconds.
In the women's 100m dash, Amashi de Silva, with a time of 11.69secs, finished ahead pushing Rumeshika Ratnayake to second place with a timing of 11.87secs. Shelinda Jansen finished third with a time of 11.93secs.
C.M. Yodasinghe, N. Chathuranga and D.C. Piyumal grabbed the first three places in the men's short sprint clocking 10.50secs, 10.60secs and 10.69secs respectively.
After a close tussle for the long sprint (400m) Kalinga Kumarage beat Aruna Darshana to win the title clocking 45.88secs. Darshana finished second at 45.90secs while P.L. Lakshan clocked 46.71secs to place third. In the women's category Tharushi Dilsara (53.85secs), H.J. Uththara (54.14secs) and R. Nadeesha (54.29 secs) grabbed the top three places respectively.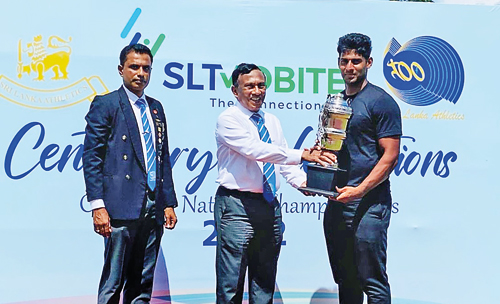 1. THE DUNCAN WHITE CHALLENGE                                                CUP awarded to the best athlete in the                                           Men's Hurdles – R.D.D. Ranathunga (SL                                 Army,110m Hurdles)

2.             THE C.C. DISSANAYAKE CHALLENGE                                TROPHY awarded to the best athlete in                           the Men's Throwing – R.M.S.J.                         Ranasinghe (SL Army, Javelin Throw)

3.             THE N.M. VASAGAM CHALLENGE                                     TROPHY awarded to the best athlete in                           the Men's Jumping – L.C. Kumarasiri, (SL          Army, Triple Jump)

4.             HORLICKS CHALLENGE TROPHY award                            ed to the best athlete in the Men's Sprint                       – H.K.K. Kumarage (SL Army, 400m)

5. ANTHONY ABEYSINGHE CHALLENGE                           TROPHY awarded to the best athlete in                           the Men's High Jump – B.R.I.U. Kumara                            (SL Army, High Jump)

6.             CHANDI KANNANGARA MEMORIAL                  TROPHY awarded to the best athlete in                           the Women's Sprint – D.T.A. de Silva (SL                       Army, 100m)

7. GRAYLINE GROUP CHALLENGE TROPHY                       awarded to the best athlete in the                                                 Women's Middle Distance Running –                             U.K.N. Rathnayaka (SL Army, 3000m Steeple                                Chase)

8.             HUXLEY'S WINTOGENO CHALLENGE                                 TROPHY awarded to the best athlete in                           the Women's Long Distance – N.L.                                Ariyadasa (SL Air Force, 10000m)

9. GLUCOLIN CHALLENGE TROPHY award                        ed to the best athlete in the Women's                                            Hurdles – E.K. Madushani (SL Army,                             400m Hurdles)

10. HNB CHALLENGE TROPHY awarded to                       the best athlete in the Women's Jumps –                       L. Sarangi Silva (SL Army, Long Jump)

11. SALONPAS CHALLENGE TROPHY award                      ed to the best athlete in the Women's                                            Throws – H.L.N.D. Lekamge (SL Army,                         Javelin)

12. N. VYRAVANATHAN MEMORIAL                                  CHALLENGE CUP awarded to the best                            athlete in the Male Middle and Long                                   Distance – H.M.E.U.B. Herath (SL Army,                   3000m Steeple Chase)

13. THE COLOMBO CANTEEN COMMITTEE                         CHALLENGE CUP awarded best competi                         tor in Women's events – K.N. Rathnayaka                      (SL Army, 3000m Steeple Chase)

14. THE WILTON BARTLEET CHALLENGE                          TROPHY awarded best competitor in                                              Men's events – R.M.S.J. Ranasinghe, (SL          Army, Javelin Throw)

15. GOVERNOR GENERAL'S CUP awarded to                        overall best athletes (Men/Women) – U.K.N.                     Rathnayaka (SL Army, 3000m Steeple Chase)