Why we love Archie comics
By Avi Kumar
View(s):
Growing up in Sri Lanka, I remember how as kids we would sneak in Archie comics to school and they would invariably be confiscated. If I remember right, once my Principal at morning assembly announced that Archie Comics were one of the most confiscated items; the others being CDs and tipex. I presume they just didn't want us to be distracted –  and we all know, Archie comics are truly addictive!
If you think about it, when you're reading anything at all, you pretty much want something relatable. When you're watching a movie or reading a book, deep down you want to see yourself in the character – that's what we like on a basal level.
So, Archie is your typical teenager. His high school like Hogwarts or any other fictional institution has all the stereotypes you had in your school, and also a 'fictional version' of it. Riverdale echoes an 'average city' like Springfield in The Simpsons or Gotham City in Batman –  it can be any city and has parallels with your own. Such stereotypes/ archetypes you find in life are as timeless as human society itself and that is why it has been around for so long.
Based in Pelham, New York, the Archie comic book line published by Archie Comics Publications Inc.  has been around since 1942 (even though the characters made a debut in a 1941 edition of Pep Comics) and Riverdale's denizens are a household name across the globe.
Ron Cacace, the company's Director of Marketing and Social Media in an email interview explains,"The stories, at their core, are about growing up and dealing with life's absurdities and realities. Whether you've got a group of friends like the kids in Riverdale or you want to be friends with them, there's a relatability to the things they go through, even when things get weird and outlandish. Keeping that in mind, and allowing our creators to add to the world over time with new characters and story lines, has allowed us to stay "timeless" while also pushing things forward."
Cacace also talked of the likeability of characters being rooted in the people we know in real life. "Everyone knows someone like Reggie or Jughead or Betty and we love to see ourselves in them. That's the secret to how these stories have stayed relevant for so long and across so many generations of readers."
Miss Grundy is a typical stern teacher; Weatherbee reminds you of every principal you've had. Pop Tates is the owner of regular diner that you probably like to hang out at. Moose is the jock stereotype, Dilton is the nerd stereotype. Reggie is the unlikeable rival figure. Betty is the average girl, Veronica is the rich and beautiful one.
And at the core, is Archie who most of the time is in a love triangle with Betty and Veronica. And of course it's hilarious watching Veronica's millionaire father, Mr. Lodge toss Archie out when he breaks some priceless antique when he visits their mansion! I guess every school/ work or friend-circle has such archetypes. And how could we not mention 'Jughead' aka Forsythe Jones -The 'bottomless pit'.
In an interview conducted over Zoom, Dan Parent who has been writing Archie Comics since 1987 says, "So, when you ask people 'Who is your favourite character?', they almost always inevitably say Jughead! We all deep down wanna be lazy and eat as much as we like and get away with it –  and I guess that's why everyone loves him; we all want to be like him –  eat a lot and get away with it if we can."
Parent who has worked on characters like Jughead and Veronica is also a third generation Archie fan, like many people from as far away as India and Sri Lanka. He made headlines when he introduced the first openly gay character in the comic series – Kevin Keller, who made his debut in 2012.Parent explained that Kevin's decade-long character evolution was a decision made by the readers who buy and read Archie, "Over the last decade, the fans decided what characters worked and what didn't." Kevin also has his unique personality like all the other iconic Riverdale denizens, so he is not just 'the gay character'!
Archie is ever-evolving, and isn't tied to a specific time period. The stories have been set in the same school from World War II to the Vietnam War era, to now. They never age and have been in high school for 80 years! Nevertheless, Comic-con and Twitter have definitely changed (or remodelled) comic book culture. Dan Parent recalls a fan whom he had signed an autograph for, three decades back at a Comic-con. He then met him again at a more recent Con and he still had Parent's signature from 30 years ago.
Parent has been to India where "more than a few" eager fans recognized him because they follow his Twitter.
The drawing style is not how they did things so long ago; older readers will be  more familiar with the style of Dan De Carlo. Nowadays, writers have more autonomy over how the characters and scenery are portrayed. So, things have changed in terms of characters being added, writing styles, storylines etc but Archie at its core is the same person and the same titular comic book line.
"Archie comics have always been about adapting American pop culture and society into fun and meaningful stories, so it's a pleasure to know that these stories resonate outside of the United States, particularly so in countries like Canada, India, and in areas of Southeast Asia," adds Cacace.
The ongoing CW show Riverdale, has increased readership in places it wasn't known before.
Archie Comics have appealed to readers of all ages and cultures because they remind us of our own life's challenges. Now, we have three or four generations that have loved them and will pass them on to their kids.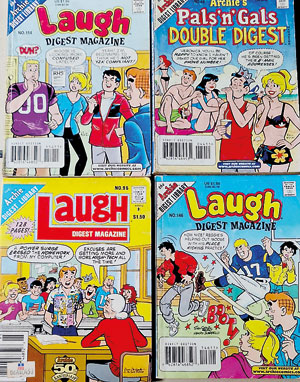 Searching for that next furry family member but couldn't find one in your area? Hitad.lk has the solution with our extensive listings of dogs for sale in Sri Lanka!