The youth are marching on
By Tharushi Weerasinghe
The battle will not end until the corrupt system is cleansed
View(s):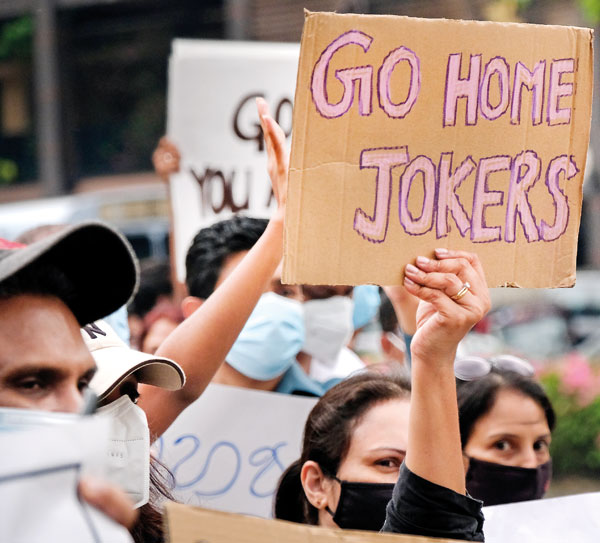 It started with about 20 people on Green Path on Monday morning. Fresh off the fiery protests that defied the controversial curfew over the last weekend, people began to gather yet again with placards and national flags.
The crowd grew; so did the sound of chants and the songs they had composed. The crowd eventually extended into the roundabout space in front of Nelum Pokuna — and around 10 am, they began marching.
The #OccupyColombo protest has been going on at Independence Square nonstop for six days now. Around ten thousand people gathered at the Independence Memorial on Monday. Another notable slogan at Independence Square was the Yellow for Democracy movement.
By Wednesday, performance groups were singing of love for Sri Lanka and on Friday the memorial resonated with the sound of John Lennon's "Imagine". The musical expressions went hand in hand with the collective calls for President Gotabaya Rajapaksa and other members of his family to resign.
"We want transparency and accountability from our leaders," said Kasumi Ranasinghe Arachchige, a 26-year-old Environment Psychology Consultant. Ms Ranasinghe had been part of protests across Colombo over the past few weeks and noted that violence had no place in the youth protest. "We are not 'extremists' or 'terrorists' we just want justice done," she noted. 

"I'm here because our country is in dire need of a visionary leader, someone with a plan," said world-renowned marine biologist Dr Asha de Vos.
Speaking to the Sunday Times on Wednesday, she noted that the need for leaders who put the country's interest before their personal agendas was long overdue. Dr de Vos said she had also been a part of the protest on Monday.
"We are the privileged ones who can take the time out of our day to come and protest, and I appreciate that people are using that privilege well." She noted that those privileged enough to come out and protest collectively represented all of Sri Lanka from daily wage earners to those who had been silenced.
Nuzly Hameem, a 28-year-old civil engineer, called for a youth-led parliament, as most of parliamentarians are unqualified and in their 60s and 70s, with no proper vision.
"We want leaders with a strategic vision for the next 10-15 years. The 74-year-old system that facilitated corruption needs to change," he said.
Colombo University's International Relations Senior lecturer. George Cooke said, "Constitutionally we can't remove all 225, but number 1 has to go."
He said the immediate focus should be finding a solution to the economic crisis, while measures like the abolishment of the executive presidency and other constitutional amendments should also be a priority.
"A new prime minister needs to be brought in through a vote in parliament, someone hopefully competent enough to be a presidential candidate in the long term," he said, adding that the caretaker leader would ideally function for a period between six months and 1 year, after which the country could go for an election. "The next few months are going to be bad, the worst is yet to come and this government isn't ready at all – so I'm here because enough is enough."
Mr Cooke also said that while change would not come overnight, Sri Lankans had never stepped out like this before and he was hopeful about the change that was coming.
At sunset on Friday, the Independence Square protestors made way for Muslim protestors to break their Ramadan fast, with food and drink bought from donations.
Buwanaka Perera, 26, was one of the young people who led the protestors from Green Path to Independence Square. He said he joined the protest because he felt as a responsible citizen he had to do his part. "This is a youth-led people's movement and we have gathered here to show our dissent. The youth are disappointed with the country's leaders who have shown zero remorse or empathy for the people who are barely eating," he said.
Mr Perera noted that they were open to working with the State to fix the current crisis and address fundamental problems like the lack of transparency within the system. "We can all sit down in one room with youth from all over the country and fix this, and if they refuse to do that then they must leave and make space for young leaders," he said.
The youth leader said there had been some disruptors, usually drunk, and saboteurs inciting hate and anger to turn their protest into a riot. Such people were identified and politely asked to leave. "What we're doing here is not a riot, it is a declaration of our democracy. We will never give in to tyranny, nepotism or dictatorships."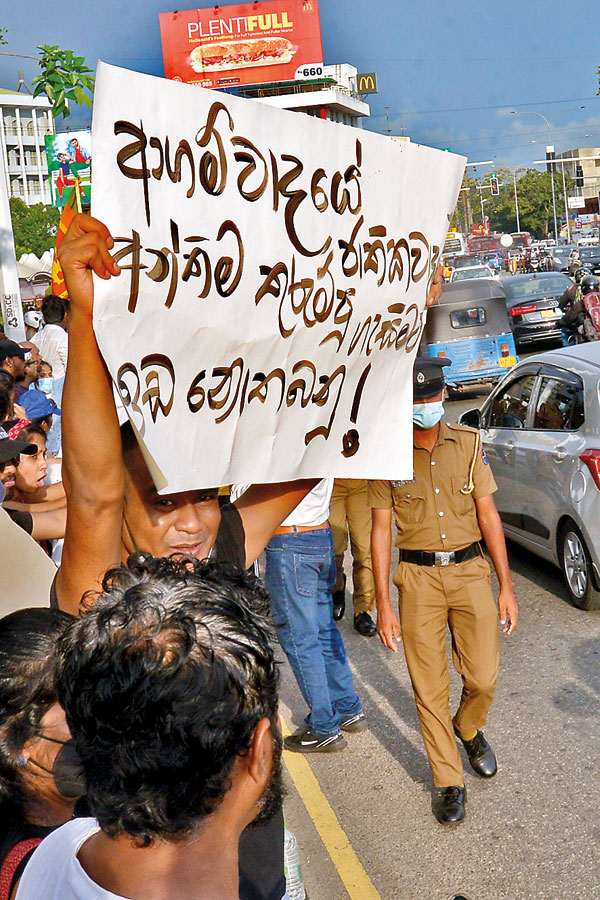 The Sunday Times also spoke to protestors at Nelum Pokuna and the Liberty roundabout in Kollupitiya.
"There's a protest held every day at the Liberty roundabout," said 18-year-old student Muneera Dawoodbhoy. She said that despite how big the protests got, there were no organisers. "To organise a protest, all you have to do now is to put a date and time on social media and people will be there – everyone is down to protest."
Ms Dawoodbhoy had managed to give the protest more attention through her social media. There was no particular age group. "It's a mix of everyone because this is a problem that affects everyone."
"We want the Rajapaksas to be held accountable, and we want them to go to prison for everything they've done, from the war crimes to the corruption – they need to go to The Hague, the International Court of Justice." She believes setting an example has become key to combating the system of corruption in the country.
She also noted that so many people were at the protests, sometimes standing for as long as 8 hours even during the fasting season. "I think that's amazing, the unity has been amazing."
Artistes from the music industry also occupied the lawn in front of the Shangri-La Hotel on Monday and joined a gathering of about 1,000 people. Among them were Nathan Eardley and the members of his band the RuGRats. Mr Eardley said it was mostly people in their late twenties and early thirties who were demanding the resignations of government leaders, and protesting the cost of living among other things.
Student protests have even broken out in the outstations. The protest in Bandarawela attracted about 500 students daily, with the dominant slogan being that the President should resign, said law student Piyumi Wattuhewa. A protest held on Thursday by A-level students from schools in Bandarawela called on the authorities to end the habit of postponing exams. "We blame the Government for tampering with our future," she said.
While some protests across the country were marred by violence, the youth protests were peaceful. Organisations like the Kemadasa Foundation regaled protestors with songs about the country at Independence Square, and young people would occupy spaces for as long as 12 hours. The biggest and longest protest yet, began yesterday and will go on until Sunday night all across Colombo.
Parliament will not be reconvened until April 19, but people insist that they will be out on the streets.
"We will not step inside until they step up or step out."
The best way to say that you found the home of your dreams is by finding it on Hitad.lk. We have listings for apartments for sale or rent in Sri Lanka, no matter what locale you're looking for! Whether you live in Colombo, Galle, Kandy, Matara, Jaffna and more - we've got them all!