Skyrocketing prices dampen festive air; small businesses face grim avurudu season
View(s):

With the forex crisis and fuel price increases sending festive goods and essential commodity prices sky high, there is little festive air this Avurudu season.

The Pamunuwa and Pettah markets last year saw a sea of avurudu shoppers when there was a relative lull in the COVID pandemic, but this year, traders say, they are experiencing a drastic drop in customers.

"The fuel shortage has resulted in people travelling less to city markets to buy clothes. Moreover, price increases, almost 100 percent, in ready-made garments also keep customers away. Those who bought a particular item for Rs. 500 last year have to pay Rs.1000 for the same item today," said Niruksha Kumara, National Organiser of the All Ceylon Small and Medium Enterprises Association.

He said many small-scale businesses which waited in hope for the national new year season to cover their losses had closed down or cut down production and sent home disappointed employees without paying even an avurudu bonus.

"Increased freight charges have resulted in the price increase in raw material. A kilo of buttons that was Rs. 600 only a few months ago is now Rs.1500. It's the same with clothe material," he said.

Piyal, who supplies about 10,000-15,000 kevums to a supermarket chain every avurudu season, said this time the orders had not exceeded 4,500.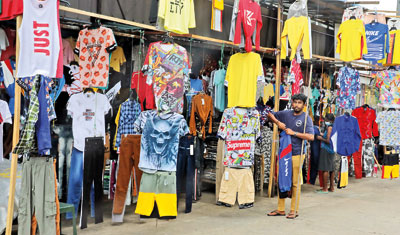 Prices of sweetmeats too have increased. The price of a kevum that was around Rs. 30 last year is now Rs. 45. Other sweets such as moong kevum, dodol and laddu have also gone up in price.
A sweetmeat seller said that when the prices of ingredients such as rice flour, coconut oil, green gram, and sugar have gone up, selling a piece of sweatmeat around Rs. 45-50 was not profitable.
Official statistics show that the price of a litre of coconut oil is around Rs. 760. It was only Rs. 480 during the last Avurudu season. The price of an egg is Rs. 31, an increase from last April's price of Rs. 18 . The price of a kilo of sugar is about Rs. 220 today. Last year it was 104. Dhal was Rs.187 last year but this year a kilo is about Rs. 400-450. All types of rice have gone up by Rs. 100 or more. Chickpeas is about Rs. 436 a kg whereas it was Rs. 250 last year. A kilo of chicken is Rs. 800, an increase from last year's Rs.450/kg.
"How can an average family afford to buy rice and dhal? The Government should have a plan to bring down prices of essential items," said G. Rajendran, President of the Essential Food Commodity Importers and Traders Association.
He said traders were struggling to cope with the increasing dollar rate, bank commissions and demurrage.
Anjalee Liyanage, a mother of two from Kaduwela, said she had to postpone colour-washing the house and bought new clothes only for her children.
"We have no gas at the moment and we are desperately searching for milk. The power cuts are exhausting. We are not in a celebratory mood but will celebrate avurudu in a simple manner for the children's sake," she said.
Another housewife complained that with the first term in schools starting on April 18, parents have to give priority to buy school books for their children instead of celebrating the avurudu with new clothes and sweetmeats.
The best way to say that you found the home of your dreams is by finding it on Hitad.lk. We have listings for apartments for sale or rent in Sri Lanka, no matter what locale you're looking for! Whether you live in Colombo, Galle, Kandy, Matara, Jaffna and more - we've got them all!