New Year treats pose possible health risk
By Nadia Fazlulhaq
View(s):
Food poisoning could be caused by contaminated food that Sri Lankans buy for the Sinhala-Hindu New Year. Often, infectious organisms such as bacteria, viruses and parasites, cause food poisoning.
The risk is greater because shops do not have electricity to safely stock food in freezers.
There is also the risk of traditional New Year sweets being made with substandard oil.
Common symptoms of food poisoning include nausea, vomiting, or diarrhoea, and abdominal pain.
"Due to the gas shortage, many families are relying on buying sweetmeats. With pandemic restrictions fully lifted, people will visit relatives and friends and buy sweets. The complaints we get are increasing. Prolonged power cuts, the shortage of cooking gas, and an increase in the prices of ingredients have prompted manufacturers to use low cost and substandard alternatives, while frozen food is going bad before expiry," said Public Health Inspectors Union president Upul Rohana.
He said there are more complaints about mold seen on curd, yogurt, cake, as well as chicken gone bad, and melted and refrozen ice-cream.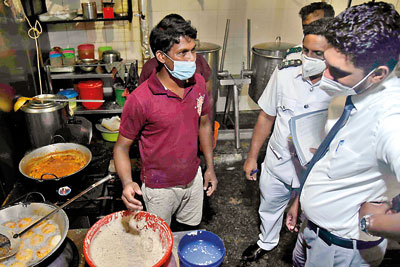 "Pepole have to be extremely cautious when purchasing poultry and meat, frozen fish and processed meats and cheese," he said.    Mr. Rohana said considering that coconut oil is now selling at Rs. 600 to Rs 800 a litre, PHI's have been told to raid places making sweets on a commercial scale. Samples have been sent to the Government Analyst Department head office and branches in Kurunegala, Anuradhapura and Kalutara.
"It has been extremely challenging to continue raids because frustrated shopkeepers and manufacturers are threatening and complaining over issues they are not in control of. Because of more food raids in Colombo and suburbs these days, expired food is reaching rural areas and labels are replaced," he said.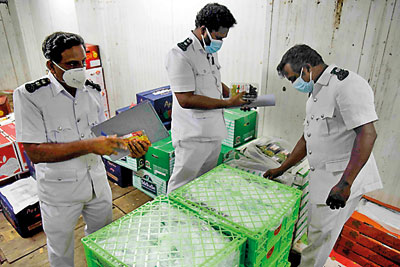 Colombo Municipal Council, chief medical officer, Dr. Ruwan Wijeyamuni said the public health department will continue inspections and raids next week because more people are coming into the city for shopping and for protests.
"People should be cautious. Our inspections and raids cannot cover all unscrupulous traders and manufacturers," said Asela Bandara, director of the Consumer Affairs Authority.
The best way to say that you found the home of your dreams is by finding it on Hitad.lk. We have listings for apartments for sale or rent in Sri Lanka, no matter what locale you're looking for! Whether you live in Colombo, Galle, Kandy, Matara, Jaffna and more - we've got them all!