Life sucked out of aquarium trade
By Kasun Warakapitiya
View(s):
Lengthy power cuts have delivered a death sentence to the aquarium trade, while people who keep ornamental fish as pets in their home tanks for their children have suffered losses, too.
Filtration systems and air pumps that are used to oxygenate the water cannot be operated without electricity. Fish need oxygen rich water as well as good filtration in the tanks. Changes in the PH value also affect the fish whenever filtration and oxygen are deprived.
Ornamental fish is also a big business. According to the Export Development Board, ornamental fish breeders export 35 species, mostly freshwater fish.
Electricity is essential to the aquarium trade.
An expert fish keeper at a state institute, who claimed anonymity, said: "Fish can manage during a few hours of water cuts, but when there are power cuts extending over seven hours, the oxygen levels in tanks drop, while the water flow and the breaking down of the waste stops as well, while the filters don't operate.''
He added that marine fish need wave-makers, special lighting and heaters apart from filters and air pumps powered by electricity. During lengthy power cuts, aquatic plants as well as the corals perish.
Exotic fish keepers said they have to create an ecosystem that mimics natural conditions for the fish to thrive.
People who keep pet fish are shattered.
A father of two, Bandula Samarawickreme, a resident of Kiribathgoda, said he had bought a new fish tank and three pairs of goldfish for his son and daughter.
"Last Thursday, all six goldfish were found dead and my six year old son and nine year old daughter cried. The next day, I had to buy more fish, but two more fish died during the power cuts.''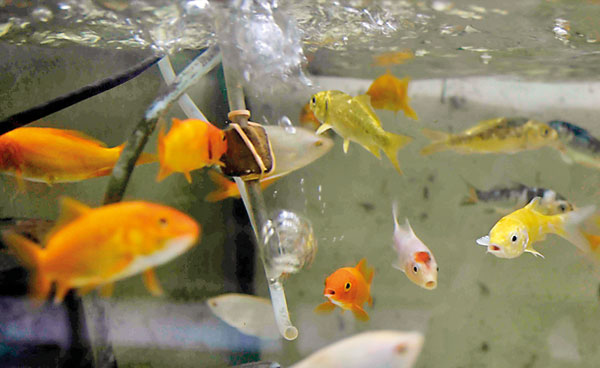 Aquarium keepers said their fish could die overnight.
People who rear large exotic fish are concerned about the filtration systems and oxygen supply to tanks.
They said some exotic tropical fish need special conditions. Electronic accessories are needed to mimic natural conditions.
Ashan Udyanaga Ferdinands, who sells the expensive Arowana fish, told the Sunday Times that he has been able to keep seven fish alive in a large tank despite lengthy power cuts.
"Arowana prices range from Rs 5,000 to Rs 400,000 per fish and if someone loses an expensive fish because of the power cut, that person would be devastated,'' he said.
The Asian Arowana is associated with myths and is listed as endangered on the IUCN Red List.
Even those selling ornamental fish say costs have doubled as they are forced to use re-chargeable batteries and generators.
Most Lavinia resident, Mr T.J Neranjan, who has been in the ornamental fish business for over 20 years, said that he has to buy batteries regularly to power the air pumps.
"A pair of batteries costs Rs 390, but they only last for four hours. If the power cut lasts over four hours that option becomes impractical,'' he said.
He has a generator, but not
enough diesel.
"I have to send my employees to fuel queues to buy diesel. Even my employees are unhappy because they have to spend hours at petrol sheds and return empty handed,'' he said.
Ratmalana aquarium owner A.S. Jayalath, 61, said that sales have dropped compared with the New Year season in previous years. He has reduced his aquarium fish stock.
Dehiwala Zoo aquarium relies on generator
The aquariums at the Dehiwala Zoological Gardens depend on power generators during lengthy power cuts a senior official, said.
The director of operations, Anoma Priydharshani, told the Sunday Times that a generator is available to power the aquarium. The use of vehicles has been reduced to manage fuel supply for the generator. Talks have been held with the Ceylon Petroleum Corporation as well.

"We are managing to supply power to the aquariums and keep the fish alive," she said.
She said ornamental fish traders should use battery powered air pumps and filters.
The best way to say that you found the home of your dreams is by finding it on Hitad.lk. We have listings for apartments for sale or rent in Sri Lanka, no matter what locale you're looking for! Whether you live in Colombo, Galle, Kandy, Matara, Jaffna and more - we've got them all!