Middle-income groups also join protests against huge fuel and food price hikes
By Our Political Editor
View(s):
Mostly women take part in protest outside President's private residence; Hirunika claims she is being followed by unknown men on motorcycles
Big protest march by main opposition SJB on Tuesday; secrecy maintained, but crowds expected in Colombo from different assembly points
Govt. desperately dependent on India for one-billion-dollar aid package and addressing India's concerns on devolution, national reconciliation, and economic matters
China sidelined as Govt. turns to India and IMF for the bailout; Questions over Foreign Ministry's claims of "overwhelming support" for Sri Lanka at the UNHRC sessions in a false propaganda drive
Burdened by hardships from the worsening economic crisis, people took to the streets in many parts of the country this week.
Vigils are taking place. The participation of urbanites in this manner, which generally has not happened, spells out the extent of anguish and distress.
Significant among them was a protest outside President Gotabaya Rajapaksa's private residence in Mirihana. Mostly women participated and playing a key role was Samagi Jana Balawegaya (SJB)member and former parliamentarian Hirunika Premachandra. "We handed over to an official a document protesting against the non-availability of fuel and the prolonged power cuts," she said. The aftermath, she complained, came "the same night" when a group of "people surrounded my house and made provocative remarks in foul language. This is shameful," she said. She added that unknown men in motorcycles followed her wherever she travelled.
Demonstrations in Kohuwala and Rajagiriya saw several middle-income families taking part. They held aloft burning candles. Some carried placards which said, "enough is enough" and "Kaputa go home." Critics of Finance Minister Basil Rajapaksa have bestowed him the name kaputa or crow after he told a recorded interview in English that Kaputas (instead of crows) would strike aircraft at the Bandaranaike International Airport. This was because of a move to dump garbage at a location in Chilaw. In Kurunegala, a youth organisation held a demonstration. Parading the streets were two persons dressed as Prime Minister Mahinda Rajapaksa and Indian Prime Minister Narendra Modi. It is from the Kurunegala district that he was elected MP. In Chilaw, fishermen demonstrated with burning torches (pandang) against the non-availability of fuel and their inability to collect ice to preserve fish due to the power cuts. In Minuwangoda, a bullock cart led a crowd of protestors, who held burning candles and shouted slogans against President Gotabaya Rajapaksa.
The scarcities have even formed the subject of the latest travel advisory (updated on March 7) on Sri Lanka by the UK Government. It says: "The economic situation is deteriorating in Sri Lanka with shortages of necessities including medicines, fuel, and food because of a shortage of hard currency to pay for imports. There may be long queues at grocery stores, gas stations, and pharmacies. Local authorities may impose the rationing of electricity, resulting in power outages.
"Terrorists are likely to try to carry out attacks in Sri Lanka. Attacks could be indiscriminate, including in places visited by foreigners. More than 250 people including tourists were killed in April 2019 in terrorist attacks that targeted churches and hotels."
The inclusion of such a spell-out is debatable and smacks of politicization. Canada also seems to share similar sentiments in its travel advisory for Sri Lanka. This action only seeks to worsen the already ailing tourism sector. The main source, tourists from Russia and Ukraine, have dried up after the ongoing war.
The SJB held demonstrations in Ambalangoda, Kadawatha, Kotmale, Udunuwara, and Anuradhapura. "Sir Fail," said the placards they carried. That slogan was first used in the social media over President Rajapaksa.There were others too.The SJB is now making plans for a protest rally on Tuesday, March 15. The venue is being kept a secret until a day ahead,for the SJB fears its disruption by the Government. However, the Sunday Times has learnt that it would be a march to the Presidential Secretariat from different parts of Colombo. Assembly points for the crowds that gather are now being identified. Each organiser is to be assigned a few assembly points so the crowds could be bussed to these places.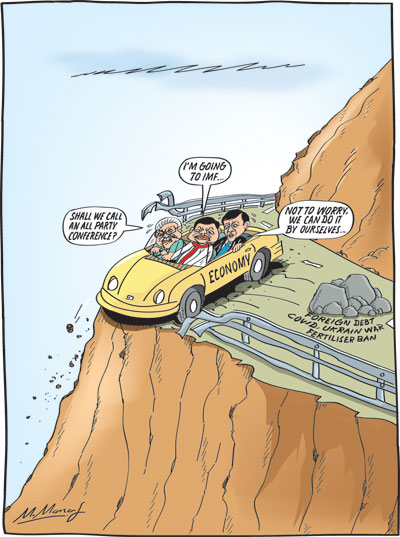 The date the SJB has chosen – March 15 – coincides with an important event. President Rajapaksa has invited a delegation from the Tamil National Alliance (TNA) for a meeting to discuss reconciliation. The meeting will take place at the Presidential Secretariat. A similar meeting planned for last year was cancelled. The upcoming meeting is the result of India's call to the Government to address the 'aspirations of the Tamils' including the implementation of the 13th Amendment to the Constitution. The latest call was made in a statement by Indra Mani Pandey, India's Permanent Representative to the UN in Geneva, made to the UN Human Rights Council last week.
Finance Minister Basil Rajapaksa, who is planning to visit New Delhi to negotiate the Indian offer of a billion US dollars, is now busy working out plans to heed a detailed wish list from New Delhi. Triggering off the reconciliation process is one of them. Earlier, the plan by the Government was to introduce a constitution where changes were to be made to the Provincial Council system. This was an instrument for devolving power agreed upon under the Indo-Sri Lanka agreement of 1987. Earlier government plans would have diluted these measures. Both India and the United States are keen and are giving high priority to this subject. Details of this exercise and related matters appear in the subsequent paragraphs.
That the people would take to the streets due to the hardships they face has become worrisome for the ruling coalition. Sections are retaliating against the opposition and other groups which exercise their right to protest, a key feature in a democracy. This is whilst a close watch is being maintained by intelligence agencies on those backing demonstrations and protests. An incident that highlights a brazen attempt by a government parliamentarian to suppress the main opposition in the country took place last Monday.
SLPP Colombo District parliamentarian Madura Withanage and his supporters carried out an egg attack on the SJB head office along Kotte Road in broad daylight, as television cameras from news networks rolled. Withanage, who was earlier a Mayor of Kotte, made a vituperative speech standing in front of the entrance. SJB General Secretary Ranjith Madduma Bandara said they had complained to the Police. "As the largest democratic opposition in the country, we raise issues and carry out protests. That is our duty. Opposition activity is being clearly stifled," he lamented. SJB parliamentarian Mujibur Rahman charged that "the Government is making us the target when we fight on behalf of the suffering people. They want to suppress the truth."
Withanage told the Sunday Times, "I went there (to the SJB office) to stage a protest. I wanted to give a voice cut to the media. I wanted to ask experts like Harsha de Silva what they did to secure the economy when they were in power." He said among those who accompanied him was Kotte Mayor I.M.V. Premalal.Kotte Municipal Council workers were among those who took part. If Withanage's logic is to be accepted, more government MPs could now gatecrash the offices of opposition parties to harass or intimidate them under different pretexts or simply throw eggs which are expensive now. They could thus try to suppress public dissent. Police are usually reluctant to take action for fear of reprisals against them.
Sajith busy with MSc degree
It is ironic that SJB leader Sajith Premadasa did not think it fit to summon a news conference. Nor did he issue a statement. By doing so, his front could have told Sri Lankans and the outside world that as the economy deteriorates and the people suffer, the Government was stifling the opposition. The issue has already raised unease among SJB parliamentarians who complain that their leader is taking a "very soft approach." Asked by an opposition colleague why he had not led his party "to the streets," Premadasa replied "wait for a few days. I am busy with my MSc degree.You will see me in action after that." On the other hand, the Government did not think it fit to deal with its own MP. That seems a tacit encouragement. As days and weeks go by, more of such action cannot be ruled out as economic measures hurt the people further.
In the recent weeks, government MPs who have erred have received kid glove treatment. Arundika Fernando was called upon to resign after his son used his official car to travel to the Ragama Medical College and allegedly assaulted a student. He has since been re-instated. Lohan Ratwatte, resigned as State Minister for Prison Reforms after an alleged incident where he threatened LTTE suspects at gunpoint at the Anuradhapura prison. He too has been named a state minister yet again. There was a snub for the international community as two more retired military officers were appointed to civilian positions. This was one of the key issues before the UN Human Rights Council too.
Economic crisis
These developments come as a further spurt of price increases become inevitable due to official actions this week. One is a gazette notification which has restricted the import of 367 items without an import licence. These items include fish fillets and other fish meat (fresh, chilled, or frozen), milk and cream, buttermilk, curdled milk and cream, yogurt and other fermented or acidified milk and creamcheese and curd dates, figs, pineapples, avocados, guava, mangoes and mangosteens (fresh or dried)citrus fruit (fresh or dried) flour, meal, powder, flakes, granules and pellets of potatoes malt (whetheror not roasted)chocolate and other food preparations containing cocoa.
The other is the move by the Central Bank to devalue the rupee and the rise in crude oil prices because of the ongoing war in Ukraine. The exercise, a prelude to the Government hopefully turning to the International Monetary Fund (IMF), has also been set in motion as part of measures to assure India and secure help. Last Thursday, the Central Bank was projecting the US dollar to be at Rs 259.99 when the dollar was fetching Rs 280 in the black market. As the rupee loses its value further, experts say, it could reach the Rs 300 equivalent in the coming several weeks.
Devaluation of any currency means that currency's buying power is being reduced. In this instance, the buying power of Sri Lankan rupee was reduced by nearly 30%. In theory that means something that cost Rs100 one day, becomes Rs130 after devaluation. However, usually depending on the item, the rate of increase in price will not be the same as the devaluation rate. Some items get increased more than the rate of devaluation and others not as much.
A leading former World Bank chief economist, Shanta Devarajan told the Sunday Times in a Q & A on March 6 that in "Lebanon inflation reached 150 percent, and the currency depreciated by 130 percent". However, if the pain already being felt by people of Sri Lanka is unbearable, when the inflation is 16.8% and the devaluation has been 30%, what awaits Sri Lankans is anyone's guess.
Desperately seeking India's help
The Government is now dependent desperately on India for immediate help. Earlier, Indian External Affairs Minister Subrahmanyam Jaishankar was due in Colombo on March 18. Instead, now Finance Minister Basil Rajapaksa will travel to New Delhi to brief the Indian leaders on the various measures being adopted by the Government. This is a prelude to signing an agreement where India will provide US dollars one billion for fuel and pharmaceutical imports from that country. The most significant measure is the Government move to seek IMF assistance over which an official announcement is to be made, most likely before Basil Rajapaksa's departure. The resort to the IMF is also to assure India that the repayment of the loan would be in keeping with the parameters constituting an IMF deal. India's push of Sri Lanka towards the IMF was signalled during Finance Minister Rajapaksa's last visit. Yet, Central Bank Governor Ajith Nivard Cabraal cast doubts on Sri Lanka going to the IMF to seek debt re-structuring. He claimed in a tweet on Friday that "Meetings of Sri Lankan authorities with IMF officials over the next few weeks are NOT for the purpose of debt restructuring as stated by some news agencies."For some strange reason, the Government has still not made clear its position officially allowing contradictory remarks and actions to continue. This has contributed in no small measure to public anger.
Other steps Finance Minister Rajapaksa, now under strong criticism from opposition MPs, has taken are removing any artificial peg on the rupee-dollar exchange rate and letting the market decide the rate (effectively taking the initial step in devaluing the Sri Lanka currency), fixing a firm date of March 15 for the President to meet the members of the TNA and granting the green light on several projects in which India wants to invest. They will develop the Palaly airport and the Kankesanthura harbour.Also, under consideration are at least two defence-related agreements.
One leading Indian investor, a close friend of Prime Minister Narendra Modi and described as the richest man in Asia, was in Sri Lanka on Friday. Gautam Adani arrived in Colombo in his private jet. He is to invest in several projects.
Earlier plans have not changed so far. Indian Prime Minister Modi and External Affairs Minister Jaishanker are set to arrive at the Palaly Airport in Jaffna on March 30. They will be attending the BIMSTEC (Bay of Bengal Initiative for Multi Sectoral, Technical and Economic Co-operation) conference. Prime Minister, Mahinda Rajapaksa and Indian High Commissioner Gopal Baglay are among those who are to travel to Jaffna to receive the visiting dignitaries. Rajapaksa will also pay a two-day visit to Jaffna beginning March 18.
Narendra Modi, who is credited as one of the most successful political leaders of Asia, is in his eighth year in power by winning two successive general elections. In the recent polls of five key states, Modi's Bharatiya Janata Party (BJP) has won four states, including the most populous state of Uttar Pradesh. This BJP government sits on over USD600 billion plus foreign reserves compared with the meagre 2.6 billion of Sri Lanka. India's inflation rate has been steady at 6% over the past several years, whereas Sri Lanka recorded inflation at 16.9% on Thursday, March 10, even before the price hikes came into effect at midnight on the same day.
The pump prices of all petroleum and diesel product have gone up significantly. The Lanka India Oil Company (LIOC) raised prices of diesel by Rs 75 a litre and petrol by Rs 50 a litre. The state-owned Ceylon Petroleum Corporation (CPC) followed suit. Petrol (92 Octane) has been raised by Rs 77 per litre bringing the new price to Rs 254 per litre. Petrol (95 Octane) has been raised to Rs 76 bring the price of a litre to Rs 283. Auto Diesel has been raised by Rs 55 per litre bringing the price to Rs 176 per litre. Super Diesel has been raised by Rs 95 bringing it to Rs 254 per litre. This is the first time that such a steep increase has been made. The result would be an all-round increase in all goods and services. Worst hit will be the low-income groups who will have to pay prohibitive prices for their food.
The second largest flour manufacturer, Serendib, raised its price by Rs 35 a kilo. It increased the price of a loaf of bread to Rs 125 and other bakery products by ten rupees. Inevitably, this will have a drastic effect on prices of other food and essentials too.
Ahead of Wednesday's talks, India's position about reconciliation was re-iterated at the UN Human Rights Council. The two elements were resolving "the legitimate aspirations of the Tamil community, including carrying forward the process of reconciliation" and "meaningful devolution through the 13th Amendment to the Sri Lankan Constitution." These positions had reference in a letter which all the Tamil political parties addressed to Indian Premier Modi. An original draft was changed at the behest of the Ilankai Thamil Arasu Katchi (ITAK), the principal partner of the Tamil National Alliance (TNA) by making references to Tamil aspirations.
The United States is playing a key role in the reconciliation process this time. The new US Ambassador Julie Chung presented her credentials to President Rajapaksa on February 25 and has been active in engaging severalleaders including Prime Minister Mahinda Rajapaksa, Finance Minister, Basil Rajapaksa, Foreign Minister G.L. Peiris, Opposition Leader Sajith Premadasa, TNA Leader Rajavarothayam Sampanthan and former President Maithripala Sirisena. After each of these meetings, Ambassador Chung has been active on Twitter spelling out subject matters discussed and the US Government policy positions.
After meeting with TNA leader Sampanthan and frontliner Abraham Sumanthiran, last Tuesday, Ambassador Chung posted a tweet where the emphasis was on a political solution by prioritising it in the discussion points. Another US hit on the political solution came last Monday, in a statement at the Interactive Dialogue on the Human Rights High Commissioner's Report on Sri Lanka  in addition to the statement madeon behalf of the core group which the US has recently re-joined. It said, "The USA also called on the Government to engage with Tamil and Muslim parties and civil society organisations to advance an inclusive lasting political solution."
The new Assistant Secretary for South and Central Asian Affairs Donald Luandaneven more senior official Under Secretary of State for Political Affairs VictoriaNuland will arrive in Colombo on March 22, before the United Nations Human Rights Council (UNHRC) sessions conclude in Geneva on April 1.
Last time such a joint senior delegation came to Sri Lanka was in February 2012, when Maria Otero Under Secretary of State for Civilian Security, Democracy, and HumanRights, and Robert O. Blake, Jr.  (a former US Ambassador to Sri Lanka) Assistant Secretary of State for South and Central Asian Affairs visited before the initial country specific resolution was passed at the UNHRC in Geneva in February/March 2012. It is perhaps no coincidence that a TNA delegation was invited for discussions at the State Department in October/November 2011. Likewise, ajoint TNA and the outlawed Global Tamil Forum (GTF) delegation was invited for discussions with the US Government officials in November 2021.
It is significant that the US State Department – South Central Asia Division –tweeted on November 23, 2021, after the meeting that "The US joins Sri Lankan Tamil people in search for lasting peace and full voice in deciding their country's future." Just as the two senior US State Department officials held meetings with highest authorities of the then government in 2012 and later declared US Government's policy towards Sri Lanka at a news conference in Colombo, it may be this time too these two new senior US Government officials will relay the Biden Administration's policy on Sri Lanka.
Interesting enough, talks on reconciliation will get under way in Colombo on Wednesday even before the ongoing UN Human Rights Council sessions in Geneva conclude at the interactive dialogue. Speaking on the Human Rights Report on Sri Lanka, many delegates stressed the need for immediate reconciliation.
It is in this backdrop that the Ministry of Foreign Affairs claimed in a media statement that there was 'OVERWHELMING SUPPORT FOR SRI LANKA AT THE INTERACTIVE DIALOGUE AT THE HUMAN RIGHTS COUNCIL."  Its contents elaborated that "At the Interactive Dialogue on the written update of the High Commissioner for Human Rights on Sri Lanka, which concluded on 7 March 2022, Sri Lanka received overwhelming support from countries of the Global South who expressed support for the Government's significant efforts towards reconciliation and reiterated the importance of objective and constructive cooperation as the fundamental basis for multilateral engagement.
"Of the 45 countries that spoke at the Interactive Dialogue, 31 spoke in support of Sri Lanka. Sri Lanka received cross-regional support from a broad spectrum of states of South, Southeast and Central Asia and the African Group."
The media statement, the Sunday Times learnt, came at the instance of Foreign Minister Peiris. This recalls memories of when Foreign Minister Peiris previously counted abstentions on voting of resolutions at the Human Rights Council as those in support of Sri Lanka. In the media statement, there were claims like "of the 45 countries that spoke at the Interactive Dialogue, 31 spoke in support of Sri Lanka." These supportive countries listed were deemed to be "of the Global South." In the number 45 from European Union is counted as one country but EU is a group of 27 countries. Nordic countries are counted as one but that includes six countries. Most importantly, out of the 31 countries that Sri Lanka's Foreign Ministry claimsto have supported, only nine are part of the 47 UNHRC member countries which have voting rights.
The Foreign Ministry prefaces the countries which extended "overwhelming support" to Sri Lanka, as countries from the Global South. However, from the UN Finance Centre for South-South Co-operation which maintains a reputable list of Global South countries, does not include Japan, Russia, Belarus, Azerbaijan, and Kazakhstan in that category. It is therefore grossly false propaganda to tell Sri Lankans a different story that they are from the Global South and "overwhelmingly supported Sri Lanka."
It is also significant that of 31 countries listed as those who supported Sri Lanka, India is not included. Therefore, the Foreign Ministry obviously takes the comments read out by Ambassador Indra Mani Pandey, Permanent Representative of India in Geneva, as hostile towards Sri Lanka, to put it mildly, or non-supportive! In fact, the content of his statement seems to be the messags conveyed to Sri Lanka bilaterally and was established in the multilateral context due to their dissatisfaction of not being operationalised. India's Ministry of External Affairs (MEA) may have a bone to pick with SriLanka's Ministry of Foreign Affairs (MFA) for such categorisation of the former's statement.
Does Foreign Minister Peiris believe the UNHRC could stop all action on Sri Lanka because he claims there is "overwhelming support" for Sri Lanka?
For example,the Foreign Ministry classified Japan's statement as supportive. The statement by Japan's Ambassador in Geneva, Honsei Kozo, a close study would reveal, is balanced and is in keeping with the reputation Japan has for issuing 'good mannered' statements. Here is what he said:
"Japan takes note of both the High Commissioner's report and Sri Lanka's observations on it.
"Japan considers that further efforts are required to achieve national reconciliation and a better human rights situation in Sri Lanka. At the same time, Japan believes that to do so, it is vital that Sri Lanka take voluntary actions and provide remedies. In this regard, Japan appreciates Sri Lanka's initiatives, including the recent cabinet approval of amendments to the Prevention of Terrorism Act, which enable access to lawyers and judicial appeal. Japan also values the Sri Lankan government's engagement with civil society towards reconciliation with minorities.
"Japan sincerely hopes that Sri Lanka will continue to make further efforts to improve its human rights situation, and that the international community, including OHCHR, will encourage Sri Lanka to do so.
"Japan will also continue to support Sri Lanka's efforts to promote reconciliation and improve the human rights situation in the country, including through the construction of infrastructure, community development, demining activities, and judicial training."
A study of this statement shows that Japan has taken note of the Human Rights High Commissioner's Report as well as Sri Lanka's observations on it. Like all others who spoke, it makes clear that "further efforts are required to achieve national reconciliation and a better human rights situation in Sri Lanka." It adds that "Japan sincerely hopes that Sri Lanka will continue to make further efforts to improve the human rights situation, and that the international community, including the OHCHR will encourage Sri Lanka to do so."
Now, to the all-important question. Is Japan's statement no different to the statement made by India? Other than the re-iteration of its position about issues related to reconciliation, in content it is no different to that of Japan. The Indian statement appeared in these columns last week. The only other remaining paragraph in that statement resonates with that of Japan. It reads: "The Indian delegation has taken note of the engagement by the Government of Sri Lanka with the members of the international community and other relevant organisations on various aspects of human rights situation and reconciliation issues in Sri Lanka. We would like such engagements and productive and purposeful dialogue to continue among the relevant stakeholders." 
Foreign Minister Peiris who attended the UNHRC sessions in Geneva left there hurriedly to take part in the Antalya Diplomatic Forum in Turkey. To ensure he was present there on time, he ignored the opportunity of a Right of Reply which he was entitled to at the closing session. He could have easily utilised this opportunity to reply on behalf of the government the accusations made by the Archbishop of Colombo, Malcolm Cardinal Ranjith on the Easter Sunday massacres in his address to the Council. In Peiris' absence, Justice Minister Ali Sabry, or Foreign Secretary Jayanath Colombage, both members of the delegation, could have done the honours for Sri Lanka. That was not to be.
Speaking on Sri Lanka Report were the European Union, the Netherlands on behalf of the Benelux countries, Norway on behalf of the Nordic-Baltic countries, United Kingdom on behalf of the Sri Lanka Core Group, Saudi Arabia on behalf of the Gulf Cooperation Council, Germany, Egypt, Montenegro, Democratic People's Republic of Korea, Canada, Philippines, Nepal, Kenya, India, and France.
SLPP meeting
Another seemingly noteworthy event this week was a meeting by a Sri Lanka Freedom Party (SLFP) delegation led by former President Maithripala Sirisena, with his successor Gotabaya Rajapaksa. It came amidst wild speculation that some SLFPers including their leader Sirisena wanted to quit. To the contrary, he began his dialogue by assuring that his party had no plans to quit the Government. Others, however, pointed out that he had denied quitting even earlier but had made his foray into the presidential race thereafter. They claimed that such a move would come as a surprise and not with advance warning.
One of the primary demands of the SLFP, among many others, was for the Government to take measures to alleviate the hardships faced by the people due to the deteriorating economy. Sirisena suggested an all party meet for this purpose and this was accepted by President Rajapaksa. However, no dates have been fixed.
In essence, for Sirisena, who faces more than a hundred court cases related to the Easter Sunday massacres of 2019, his stance was a way of safeguarding his position. Antagonising the coalition leaders at this juncture could cost him more.  Of the 19 MPs in his party, one key member is not in favour of leaving and holds high office. Another, who holds a strong position within the party, is enjoying both worlds. He has remained a recipient of government largesse and has been playing a supportive role despite criticising the Government in public.
For the coalition leaders, going to any length at this juncture to keep the SLFPers within their fold, and themselves in power, have become imperative. More so after the issues raised by partner leaders of eleven political parties where Wimal Weerawansa and Udaya Gammanpila were sacked from their portfolios. Both the SLFP and other ten partner parties in the coalition are in touch with each other. This week, they were briefed by the SLFP on their meeting with President Rajapaksa. Plans are afoot by the eleven parties to hold a rally in Nugegoda. A key invitee is going to be Sirisena.
For the ruling coalition, many a policy issue they boasted of has now changed. Despite claims of being independent, it was aligned with China in its early days.It wanted a new constitution where changes were to be made in the Provincial Council system. There was to be a one country, one law rule for which preparations are under way.  Now, the worsening economic crisis has compelled the Government to turn to India and heed a wish list in addition to backtracking on its policies, one by one. This is effectively isolating China. Coalition leaders have not thought it fit to tell Sri Lankans about the dangers that lay as prices spiral, shortages occur, and the people are floored by hardships.  Instead, their cronies have launched a war, like Russia on Ukraine, to let them suffer in silence. Here, they want no protests.  Like the Foreign Ministry, only propaganda about so called successes that are hollow or even baselesspropaganda.
Buying or selling electronics has never been easier with the help of Hitad.lk! We, at Hitad.lk, hear your needs and endeavour to provide you with the perfect listings of electronics; because we have listings for nearly anything! Search for your favourite electronic items for sale on Hitad.lk today!