'Personal honour' to be featured in "3 Centuries of Female Composers" says Tanya
By Namali Premawardhana
View(s):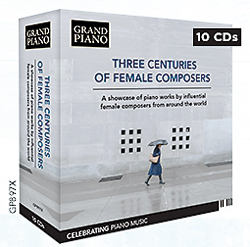 The work of Sri Lankan-British pianist-composer Dr. Tanya Ekanayaka is to be featured in a limited-edition 10 CD box set released by Naxos Records (Grand Piano). The collection, titled "3 Centuries of Female Composers" was released on March 4 in celebration of International Women's Day 2022.
"This is a huge personal honour for me," says Tanya, whose most recent album of eight works for solo piano 'The Planets & Humanity – Piano Reflections' will be featured in its entirety in the special collection.
Tanya is the youngest composer featured in the CD, as well as the only South Asian. Her peers include the likes of Clara Schumann who is most well known among lovers of classical music as the wife of composer Robert Schumann. "[She] was someone I read about and [was] inspired by as a young teenager," Tanya says, adding that she feels "privileged" to be in "such esteemed company".
Over the course of her highly successful career as a composer and concert pianist, Tanya proceeded to educate herself on the lives and works of other female piano composers such as Amy Beach, Cécile Chaminade, Florence Price, Maria Szymanowska and many others. With the release of the special CD collection, Tanya will now join ranks with these famous composers whom she has studied and admired.
"To be described as continuing the lineage of such legendary women composers who have contributed to expanding the piano repertoire globally, has been deeply touching," says Tanya. "A core aspect of my creative practice as a South Asian woman composer-pianist, with and owing to a very culturally varied lived musical background, focuses on expanding the musical imprint of the piano across cultures and spaces," she adds, explaining how being included in the release is particularly important to her.
'The Planets & Humanity', Ekanayaka's third album of works for solo piano, was released worldwide by Naxos Records (Grand Piano) on May 14, 2021. She is currently working on a double album of new compositions for solo piano, which she describes as "probably the most exciting and unusual project of my life, so far."
Composing exclusively for solo piano and performing only her own works for solo piano, Tanya is also a record producer and musicologist in addition to being a highly qualified linguist.
Her debut album of compositions for solo piano titled 'Reinventions: Rhapsodies for Piano'was released in 2015 and in 2017 her composition 'Adahas: Of Wings Of Roots'was featured in the Naxos Records (Grand Piano) release titled 'The Key Collection: Three Centuries of Rare Keyboard Gems'.
Extending the concept she had introduced in her debut album while also exploring a new concept, her second solo album of her own works for solo piano 'Twelve Piano Prisms' was released in September 2018.
"I would not be the artist I am today, if not for my mother and her influence on me particularly as I was growing up," Tanya says. "She inculcated in me a strong sense of artistic integrity and freedom early on, which I believe are among the reasons why my artistry is completely authentic to who I am."
Searching for an ideal partner? Find your soul mate on Hitad.lk, Sri Lanka's favourite marriage proposals page. With Hitad.lk matrimonial advertisements you have access to thousands of ads from potential suitors who are looking for someone just like you.