SLIM inaugurates Agri Saviya: Nurturing the Agricultural Sector from the Grassroots
View(s):

The Sri Lanka Institute of Marketing (SLIM) inaugurated the first batch of 40 students of Sri Lanka's first agri business management and entrepreneurial programme recently in Grand Kandyan Hotel in Kandy. The Certificate in Agri Business and Entrepreneurship (CABE) programme is the first-of-its-kind qualification available in Sri Lanka. The coloruful grand launch took place under the patronage of Hon. State Minister of Skills Development, Vocational Education, Research, and innovation Dr. Seetha Arambepola. Professor Gamini Hitinayake of the Faculty of Agriculture at the University of Peradeniya and Asanka De Mel, Founder of LOVI Ceylon, graced the occasion as Chief Guest and Guest of Honour.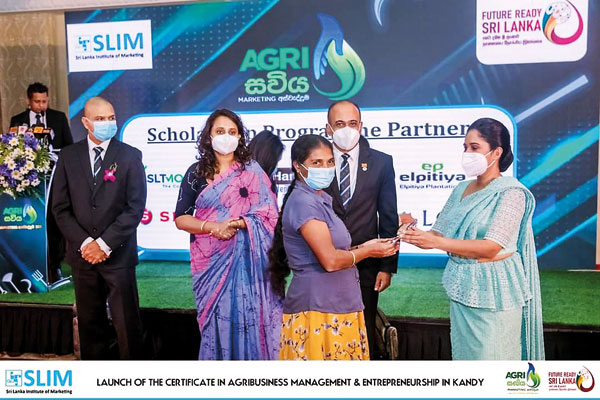 The Agri Saviya entrepreneurship programme will transform today's farmers into tomorrow's Agriprenureres – a revolutionary step towards strengthening the Sri Lankan economy to build 21st Century agricultural mindsets.
Six collaborative partners – namely, Agriprenuers' Forum, Federation of Sri Lankan Local Government Authorities, Ceylon Chamber of Commerce, Smallholder Agriculture Partnership Programme, and Export Development Board (EDB) joined hands with SLIM to build an elemental force in Sri Lanka to bridge the knowledge gap in the agriculture sector. The "Agri Saviya Marketing Asswedduma" is a promising concept that was launched early this year. Awarding scholarships is the promise made into reality in order to ignite the commencement of the entrepreneurship management programme.
SLT-Mobitel, Keells, SDB bank, Samaposha CBL, and Sri Lanka Insurance Corporation (SLIC) are the five strategic partners that joined the forces to strengthen its National rollout strategy under mobile and technology, retail, banking, CSR, and insurance sector partnerships, respectively. Each strategic partner distributed agri tool kits to the inaugural 40-student batch. SLT-Mobitel provided free mobile connections, SLIC facilitated with agri insurance policies, SDB bank opened free bank accounts, and Keells and CBL Samaposha are to conduct training camps for the first batch of students.
Elpitiya Planations of Aitken Spence, Singer Sri Lanka, Hameedia, Snackings, LOVI, and SLT-Mobitel were the scholarship programme partners, sponsoring 30 families in need to follow the inaugural CABE programme at the SLIM Kandy branch.
Agriculture is often seen as the backbone of the local economy; even today, with Sri Lanka rapidly urbanising and shifting towards a service economy, the country remains largely rural, and agriculture is still seen as an industry with massive potential. In lush tropical Sri Lanka, agriculture takes deep root and once brought it fame as the "Granary of the East". Therefore, reaffirming SLIM's commitment to strengthening the national economy and reviving local industries, the Institute introduced this latest professional qualification.
CABE is a three-month professional qualification conducted in all three languages, and the course is delivered through a blended approach: Onsite and online sessions depending on the nature of the module. The onsite sessions will be carried out in the Uva and Central Provinces as required. Furthermore, the course consists of 11 modules, which will be delivered in the form of interactive learning sessions and practical assignments.
Agriculture is connected and affected by many swirling forces of change – weather fluctuations, scarce natural resources, volatile commodity markets, and many more – than most other industries, yet it is also the lifeblood of the economy. CABE offers the ideal learning experience for aspiring local entrepreneurs who have an insatiable appetite for innovation in the agricultural industry. The course covers the most important areas needed to pursue an agriculture-based venture, including Agri Business Management, Entrepreneurship, Agriculture Marketing, Agriculture Finance, Legal Frameworks, People Management, as well as Smart Agriculture. If you are an entrepreneur ready to take a leap of faith to build a thriving agri business, CABE is your stepping stone towards success.
The National concept creator and Project Chairman of Agri Saviya Marketing Asswedduma, Charaka Perera, addressing the gathering, said: "Agriculture is a mirror image of the prosperity and self-sufficiency of a nation. Farmers are the backbone for sustainable livelihood, producing food for the growing population and the guardians of our biodiversity. Therefore, protecting the brand of farmers is of national importance. We believe that a fortified agriculture sector has the potential to lead the nation to the developed status as all of us wish. With the sustainable agriculture know-how gifted by our ancestors and our fertile soil, this island nation is meant to be a global leader contributing to tomorrow's food requirement.
"Transforming our farmers' commodity mindset to 21st Century value-added mindset by cultivating the skill sets to compete in upstream international markets is the need of the hour. CABE will bridge this knowledge gap by providing the foundation to build professionals in the agriculture with a 21st Century curriculum. Farmers as well as agri business owners will be developed as Agripreneurs who will be equipped with knowledge, skills, and competencies to chase global opportunities in the industry."
Perera further acknowledged State Minister Dr. Armabepola's government endorsement to incorporate Agri Saviya as a key driver in the National Agri Reforms System under the green economy of the Presidential Task Force.
Hon. State Minister Dr. Arambepola, addressing the gathering, said: "I truly commend the collaborative efforts by many stakeholders who boldly rallied towards one vision in inaugurating a transformative programme named Agri Saviya. This unification of Agri Saviya is a perfect example of a national spirit brought to reality by SLIM with the leadership of the Chairman of Agri Saviya and the formidable forces behind. My Ministry will be in full strength to assist the rollout of Agri Saviya. This initiative is of extreme value as it distinguishes a priority of the country and works towards the success of Sri Lanka as a team, connecting government and private sectors. We hope to provide state support for this commendable work and we invite SLIM leadership to partner in building women entrepreneurship."
Thilanka Abeywardena, President of SLIM, being the key collaborative partner in conducting the CABE of Agri Saviya, addressing the gathering stated: "For over 50 years, we have been Sri Lanka's leading marketing institute, educating generations of marketers and striving towards building the economy. At a time when no one knew or understood the COVID-19 pandemic, businesses were faced with uncertainty; at a time when the whole country came to a standstill, SLIM, as the national body for marketing in Sri Lanka, initiated the 'Restart Sri Lanka' project to breathe fresh life into the industries of our country. This year, we have taken that project into its second phase.
"Irrespective of the role you play in whichever industry, people's lifestyles have changed, such as how they work, interactions with technology, their mode of thinking, and many other facets of everyday life. We have to evolve and adapt to face the new challenges that we have been presented with. We have to transform into Future-Ready Sri Lanka using the knowledge economy and through the development of skills. We will continue to support and uplift the agricultural sector, empowering them to be a part of a Future-Ready Sri Lanka."
SLIM has aligned itself with the theme of a 'Future-Ready Sri Lanka' and strives towards reviving industries across the country. With an emphasis on an industry considered to be the backbone of Sri Lanka, SLIM strives to facilitate a better future for the agricultural industry, farmers, and thus the country as a whole.
Agri Saviya unveiled its refined logo with the promise of helping the national green economy in which the second phase of a curriculum-based programme will be launched soon. This second phase of Agri Saviya will fuel the business and marketing knowledge of the Agriculture officers who are considered the key stakeholders in strengthening local entrepreneurs giving them wings to reach the pinnacle of their success in the agriculture-based cultivations. SLIM, together with the Agri Saviya National Initiative, will create knowledge-based initiative focusses on streamlining their focus, attitudes, and orientation towards fueling the growth of the economy. The whole idea behind this concept is to encourage the establishment of innovative startups, inspire entrepreneurs to expand their ventures, and help create new employment opportunities in the country.
SLIM is the national body for marketing in Sri Lanka and has been promoting marketing excellence and elevating the status of marketing since 1970. The Institute is a member of the National Chamber of Commerce of Sri Lanka (NCCSL), Organisation of Professional Associations of Sri Lanka (OPA), and Federation of Chamber of Commerce and Industry of Sri Lanka (FCCISL). SLIM also has received ISO 9001:2015 certification in recognition of its superior quality management system and ISO 2990:2010 for Learning Service Provider (LSP), providing non- formal education and training services.
Media Contact
            Name/Designation: Champika Thalgodapitiya/ PR Director
Mobile No.: 0773 856 757
                Email Address: champika@omnicommediagroup.lk
HitAd.lk is the best and biggest mobile phone market in Sri Lanka, and we guarantee you will find what you need here from our extensive listing of mobile phones for sale in Sri Lanka. Whether it's a budget-priced smartphone for communication, or higher end features with advanced connectivity, there are many different options from which to choose from on our site!