Paving new horizons and opportunities in the legal profession – Horizon Campus offers the Bachelor of Law (LLB) from the University of London
View(s):

Building on their strong tradition of offering modern, flexible, practical degrees which provides a rigorous academic education, Horizon Campus which offers the Bachelor of Law (LLB) from the University of London, has been  developing well qualified lawyers for the  legal profession in the country  and has gained the reputation of offering one of the most acclaimed legal education experiences and training for students in this filed of specialization.

Combining both theory and research with practical application and skills-based training, the degree emphasises an understanding of law in context and aims to encourage a broad outlook on legal issues, an understanding of the functions of law and of the legal system, as well as an appreciation of the place of rules of law in the construction of politics and society.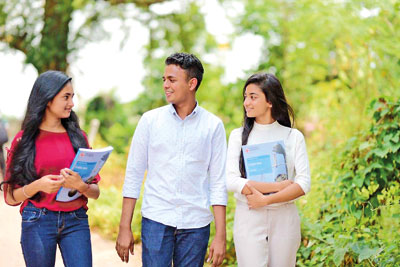 Horizon Campus's expert staff of tutors are all qualified lawyers who have worked or continue to work in practice. They use a combination of traditional and contemporary teaching-learning strategies so that the student has exposure to lectures, tutorials, seminar-based discussions, class presentations and practical group exercises.
Assessment methods include case studies, essays, examinations, oral presentations, and written coursework. A well-stocked and comprehensive library is available to all students for research and reference purposes, complete with all relevant reports, texts, journals and magazines backed by an active mooting society.
Dr.K.Ruwan Perera, Deputy Vice Chancellor and Dean of the Faculty of Laws at Horizon Campus, cited, "the degree we offer through the University of London is developed to give an in depth understanding of legal principles and methodologies and exposes students to real life problems and insights derived from practical experience. This kind of solid grounding will make students highly skilled, civic minded, critically engaged graduates, who can positively contribute to the legal profession and be excellent candidates for top careers whilst also contributing to uplifting the standards of the profession in the country."
He further added "the University of London LL.B. degree is one that is recognised by the Sri Lanka Law College, for a student who wishes to be qualified as an Attorney at Law within 18 months of having completed his or her LLB. Therefore, any prospective graduate student could potentially be an Attorney at Law within 4 ½ years after commencement of the degree programme. Potential students can also seek employment in the commercial world, the banking sector, the International arena or even in academia, as the degree they would read for is world recognised and acclaimed. Hence, one could safely say that reading the LL.B would open doors in all sectors for a potential graduate student. To this extent, Horizon Campus has also commenced 2 very strong LLM programmes for students who wish to proceed to reading for their post graduate qualifications in future.
As well as developing legal skills through moot courst competitions and other extra curricular activities organised by the Law Society, Horizon campuses strong links with the legal profession and industry ensure exciting practical opportunities for 'real world' experiences to set students up  for their chosen careers.
Interested students could always get in contact with Horizon Campus via the following numbers or visit them on www.horizoncampus.edu.lk For inquiries on the Degree Programmes and Registration, Call Jayomi on 0713 531 531 or Thilina on 0716 613 613 or 0114 365 555. You could also visit Horizon Campus at Knowledge City Malabe, KCM Drive, Off Millennium Road, Malabe.
HitAd.lk is the best and biggest mobile phone market in Sri Lanka, and we guarantee you will find what you need here from our extensive listing of mobile phones for sale in Sri Lanka. Whether it's a budget-priced smartphone for communication, or higher end features with advanced connectivity, there are many different options from which to choose from on our site!