Outcome – Based Learning at NIBM for Moulding T-Shaped Skills
View(s):

Outcome-Based Learning (OBL) describes an educational model which assumes that a predetermined outcome should guide the entire learning process. OBL is focused on developing Technical Competencies (TC) as well as Career Readiness Competencies (CRC.)  Further, it assesses the real learning experience that a learner goes through in each domain. The basic premise of OBL is that its teaching and learning activities (TLAs) and assessment methods (AMs) are constructively aligned with the intended learning outcomes (ILOs) of the course. In other words, the outcomes determine the curriculum content, the teaching methods and strategies, and the assessment process. The outcomes also provide a framework for curriculum evaluation. Hence, assessment is an integral part of learning and teaching in the OBL process. At the end of the teaching, learners are given opportunities to assess what they have learnt and to discuss with teachers on the real learning experience. Memory testing and examinations with a limited number of hours are omitted and continual experiential learning is encouraged throughout the teaching and learning process in the OBL system.  NIBM, with its vast teaching and learning experience in the last 53 years, opted to change from the traditional model of teaching and learning to Outcome -Based Learning (OBL) from 2022.

T-Shaped Skills

The world is experiencing multiple transitions at a rapid pace, be it in education or corporate space. During the pandemic and its aftermath, the demand for T-shaped skills or T-shaped persons has been extremely high. The T-shape model is essentially a metaphor used in job recruitment to describe the abilities of those in the workforce. The first official reference to T-shaped skills or a T-shaped person, was made by David Guest back in 1991. The concept gained real popularity after the CEO of IDEO, Tim Brown – who is the Co-founder of a renowned design thinking consultancy firm -, endorsed the idea of T-Shaped People. Brown's thinking is that using the search for T-shaped skills or a T-shaped person helps in building the very best interdisciplinary teams within a company. It, in turn, leads to a stronger, more efficient, and potentially groundbreaking company.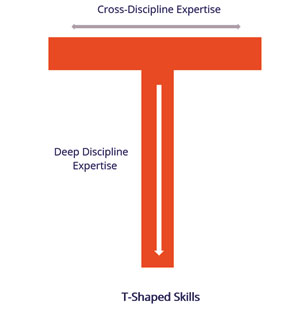 A T-shaped worker is someone who combines two aspects: wide range of skills and knowledge (the horizontal part of the T) with specialised expertise in a more focused area (the vertical part of the T). Workers who embody the T-shape possess skills that are applicable in several areas that make them a valued member of the workforce including emotional intelligence, creativity, and the ability to work in a cross-functional team.
They can work inside and outside the boundaries of their specialty. To become a T-shaped worker means to have a wide variety of skills while being specialised in one area which allows an employee to be adaptable to change.
T-Shaped Characteristics
T-shaped workers possess an interesting variety of characteristics. Some of them are briefed below:
Collaborative: T-shaped employees possess a breadth of knowledge across disciplines and are skilled at working with different types of people to solve problems.
Empathetic: T-shaped workers can see and relate to the point-of-view of others.
Enthusiastic: These types of workers love to learn and are enthusiastic about acquiring new skills or abilities.
Open-minded: T-shaped employees are eager to listen to ideas and perspectives of others.
Visionary: T-shaped workers possess a wide range of skills and knowledge and are able to see into the future of a project or a value chain.
Benefits of Moulding T-Shaped Workers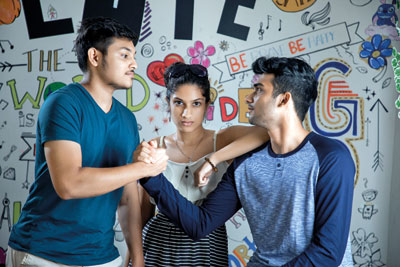 How do you develop a T-shaped worker? Is it possible to develop this, or is it something you are born with? Some strategies can bring out the T-shaped employee in each of us. Employing T-shaped professionals is beneficial to a company. With their core skills and the ability to learn things quickly, T-shaped employees excel in their main responsibilities, but they can also perform other tasks effectively while contributing to the growth of the business. T-shaped individuals can deal with other people and understand their needs as a whole because of their ability to discuss matters across the entire company. They understand ways other people work and their reasons for doing things in a certain way. While T-shaped employees can cite a main expertise, or a primary area of work, they can still offer their skills to other priority areas that may require their assistance. They are flexible enough to take on new tasks and help other members on their team to make sure that the overall goals and objectives are met.
In this backdrop, NIBM has taken a policy decision to implement OBL to design future leaders with T-Shaped skills as they will be able to make a change in their own domains to create a better world for people to live in.
HitAd.lk is the best and biggest mobile phone market in Sri Lanka, and we guarantee you will find what you need here from our extensive listing of mobile phones for sale in Sri Lanka. Whether it's a budget-priced smartphone for communication, or higher end features with advanced connectivity, there are many different options from which to choose from on our site!