From three wheels to three degrees
View(s):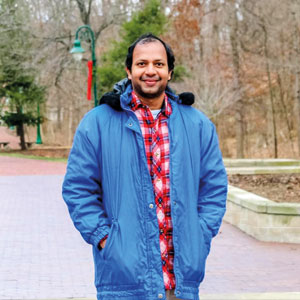 In Cincinnati, USA, lives a humble man. He was a tuk driver and a family man who was an A/L arts student. Now, he is an eminent chemist and PhD student at the University of Cincinnati, making scientific breakthroughs. His name is Mr. Janaka Kaviraj, a graduate of College of Chemical Sciences (CCS), Institute of Chemistry Ceylon (IChemC) who made the maximum use of the opportunities presented to him by the institute to get to where he is today. We got the extraordinary opportunity to sit down and listen to him recount his inspiring journey through life so far. This is his story.
His earliest memories are as a young boy from Negombo, with an innate interest in athletics and simple, yet real dreams of achieving high in running events. Devoid from the peer pressure and far from the demands associated with A/Ls today, he would go on to complete his secondary education in the arts stream purely because he wanted to keep competing in school level athletic events. With no further guidance regarding studies, he was thrown into working as a three-wheeler driver, to make ends meet. He went on to get married and had a daughter.
However, he is an inquisitive person by nature. He describes the scientific method and Louis Pasteur's experiment on spontaneous generation as some of the more memorable lessons he learned as an arts student. This natural curiosity and passion for science him on the path to redoing his A/Ls in the Science stream. Afterwards, he falls back into his job, but at the back of his mind, there was always a thought that he should do something else, he says.
This is when he falls into conversation with one of his regular customers, a university student who tells him about IChemC as the only institute to get a deep knowledge in chemistry, and that state university students also show great interest in following their qualification. His curiosity is piqued, and the next time he came to Rajagiriya on a hire, he asks a patron at the nearby post office about the going-ons at IChemC. He goes on to find out about the Graduateship in Chemistry (GIC) programme, about the opportunities presented to IChemC students after graduation, and he is convinced enough to apply and come in for an interview.
Merely applying wasn't enough – there were financial, lingual & social barriers in his way. He recalls having to gather up whatever savings he had, and even having to pawn some jewellery to make up for the shortfall.
Thrown into the young crowd, he felt there was some distance between him and his batch mates, in terms of lifestyle and age. He already had a wife and a young daughter who he had to take care of, and a job to keep up with. He had no idea how to plan his studies or how to prepare for his exams, which led him to a couple of repeated subjects during his very first semester. But as is the warm nature of the IChemC student community, he was soon embraced into a new group of friends. He fondly remembers how he would pick his friends up in his tuk and take them all to another friend's house to study. With their encouragement he was able to pick up on enough English to understand the subjects and pass the next semester with flying colours.
As time passed, he was able to manage his time more effectively, waking up at 2 a.m. each day, studying till 6 and then starting his day at the three-wheeler park. He used to keep his study materials with him and go through them whenever he got a chance, especially when his customers had trips with long waiting times. This even encouraged his fellow three-wheeler drivers to do something productive instead of idling till they find a customer.
He especially notes the founder and honorary rector of IChemC at the time, Prof. J.N.O. Fernando as a great source of strength and motivation through adversities, and that his unique situation was regarded with great care at all times. To this day, he holds Prof. Fernando in high regard and remembers him with great affection. He further recalls that Prof. Fernando helped him to apply for several bursaries to help finance his studies as much as possible.
Another person who he mentions very dearly among those who genuinely helped him is his wife, who was a garment worker. His eyes lit up as he was talking about her constant and unwavering support, and how he would not have been able to come so far if not for her. When he would wake up early, she would wake up with him, and make sure he was comfortable. She would take over many household chores to free up his time, and never said a word that would dishearten him about the a typical path he chose.
His only goal at IChemC was to graduate with a Second-Class Upper division honours pass, which he was able to achieve successfully in 2015. Taking his exceptional academic records into consideration, he was offered a Teaching Assistant position at the institute itself. While being a TA, he was able to use the available chemicals and do his own research and test the methods and theories he learnt in class. It was during this time he gained a lot of hands-on experience and exposure that led him to pursue and successfully gain a fully funded placement to pursue a Master's degree at Eastern Illinois University. There, he thrived in the field of molecular machines, working on new discoveries that has potential to change the world. He did not stop there; it was his dream to go ahead until he has a doctorate, for which he was able to secure another fully funded placement as a PhD Student at the University of Cincinnati. Surely, he is well on the path to achieving every last one of his dreams.
Every word he said in this interview clearly came from deep within his heart; he holds no grudges against his past and no sense of superiority about his current status.
He not only quotes Nelson Mandela who said "It always seems impossible, until it's done" but goes on further to add his own twist;
"If you feel like something is difficult; always think to yourself that there's someone out there doing what you are struggling to right now. There is someone out there who overcame these same obstacles, and if you are able to figure out your knowledge gap, and work on bridging that, you are surely able to achieve what you were aiming for."
It was truly remarkable listening to him speak with such passion yet great humbleness about his journey. We hope he provides some inspiration to anyone who seeks it or befalls this story by chance. He bid adieu to us with these final words:
"If there was no Institute of Chemistry Ceylon, I would not be here. I will do anything to make sure the Institute and what it stands for is safeguarded and preserved for people like us."
Yohara Ranasinghe
GIC Level 3 student & a member of CCS Media Circle
HitAd.lk is the best and biggest mobile phone market in Sri Lanka, and we guarantee you will find what you need here from our extensive listing of mobile phones for sale in Sri Lanka. Whether it's a budget-priced smartphone for communication, or higher end features with advanced connectivity, there are many different options from which to choose from on our site!