Is the Pearson HND the wisest choice after A/L's?
View(s):

PEARSON BTEC HND programme is a holistic learning experience that uses the subject fundamentals and theories for students to hone their skills through practical experience. Be it receiving the most suitable higher education in Sri Lanka, gathering skills for immediate employment or building the right foundation to complete higher education overseas all whilst saving time and money – PEARSON BTEC HND programmes from ESOFT are a wise choice with proven reasons!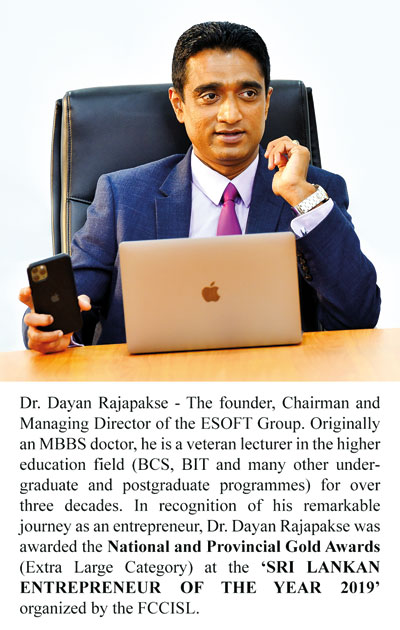 Dr. Dayan Rajapakse – the founder, Chairman and Managing Director of the ESOFT Group shares his insights on the PEARSON BTEC HND programmes and the vision behind delivering education with an impact. Also, as a veteran lecturer in the higher education field for BCS, BIT and many other undergraduate and postgraduate programmes for over three decades, he emphasizes the role and importance of the PEARSON BTEC HND programme via this interview.
Q –What should be the next step for students After the GCE A/L  exams ?
This is the time many parents start worrying about their child's higher education and most importantly finding the right one. Most parents think sending their children to overseas universities paying huge amounts is the only solution. The annual cost of education in Britain is about £9000 to £12000 (LKR 4 to 5 Million) and AUD30,000-40,000 (LKR 5-6 Million) in Australia. This is not the solution!
Considering many important factors such as learning time, cost, experience, flexibility, university recognition and employability, I recommend the PEARSON BTEC HND programme as the first next step for school leavers.
Q – What is the PEARSON  HND programme?
PEARSON BTEC HND programmes of 18-24 months cover a vast scope of study including IT, Business, Engineering, Hospitality and Travel & Tourism. ESOFT offers BTEC HND's in Computing, in Business Management, in Engineering, in Hospitality Management and in Travel & Tourism Management. The programme offers a solid grounding to the respective field of study whilst preparing the student with the right skill set and knowledge to compete in the job market. The programme is designed by eminent academia and industry experts with updated syllabus content ensuring the students receive sound theoretical, practical and analytical knowledge.
Q – Why should a student  choose the PEARSON  HND programme?
In the event the student doesn't successfully pass the GCE A/L exam or doesn't receive a place in the local university, the recognised PEARSON HND programme is the way to go as a sound programme that makes the student eligible for higher education in their chosen field. The course serves three main purposes such as providing a complete higher education learning experience in the comfort of Sri Lanka, developing practical skills and applying for immediate employment and building a solid foundation for overseas further education.  Most importantly, the HND programme empowers students to follow their dream whilst saving time and money!
The programme also builds a very strong base for students and professionals who wish to move on into the business areas and workplace. It is the path for workplace destinations, valuable connections, business opportunities and further education.
Q  – Why do you think it  is the best choice for higher educa tion and career  advancement?
A Higher National Diploma (HND) is a level 5 professional qualification with 240 credits earned over 18 to 24 months – making it a clear winner over a foundation course. The curriculum of the Pearson HND programme is mostly assignment based with practical sessions and no examinations. This allows students to enjoy the learning process with no exam pressure and the knowledge gained from assignments can be applied to solve real-world problems and take on corporate challenges.
The end goal of the PEARSON HND programme is not to create highly theoretical individuals produced from typical examinations, but to empower aspiring students in becoming successful, multi-faceted and competent professionals who can add value to their chosen field of work.
Q – How else is the PEARSON HND  programme better than a foundation  course?
The key advantage of the PEARSON HND programme compared to a foundation course is that via a foundation course the student gains entry into the first year of an overseas degree programme. This results in a course fee payment of over LKR 10 million for 3-4 years until degree completion. In contrast, once the student completes the PEARSON HND programme in Sri Lanka, he/she receives an advance student entry to complete a degree overseas with an exemption of 1 or 2 years with a huge cost saving of LKR 6-8 million. The exempted students will enjoy this privilege whilst receiving the same benefits and employment opportunities as others once they complete at least 02 years of study in the country (UK, Australia, New Zealand & Canada).
Also, the current crisis of sending money overseas will be settled in the near future and hence the HND programme fulfils the overseas higher education dream of the student and parent. Having the opportunity to complete a globally recognised HND and degree locally also gets rid of visa eligibility issues, exposing financial strength and other stressful requirements for overseas education.
 Q – Why follow the PEARSON HND programme at ESOFT?
As the #1 and PLATINUM PARTNER for PEARSON in Sri Lanka for 4 consecutive years (since 2017 till now) due to sustained superior standards, ESOFT's PEARSON BTEC HND programmes are unmatched. ESOFT allows students to complete the course online or by attending minimum classes at the campus. The 02-year programme  including the foreign university fees costs only around Rs.400,000 which is payable in monthly installments. ESOFT has the largest number of students in Sri Lanka following the HND programme in over 20 study centres island-wide. With the pandemic and restricted mobility in mind, ESOFT offers lectures consisting of practical sessions, tutorials and self-study with updated learning materials and research sources via the most advanced and customized 'ESOFT Learning Management System' (ELMS). The exclusive ELMS allows students to watch pre-recorded lectures as many times as needed, to support learning at their preferred pace. Whilst being the next stepping stone in a student's higher education journey, the HND programme is apt for front-runners who want an internationally recognized qualification, a whole new experience and a fruitful career ahead.
Taking pride in empowering students and creating future leaders for over two decades, ESOFT expands the horizon of quality higher education opportunities on par with international universities. If you're looking for the most suitable higher education in Sri Lanka, gather skills for immediate employment or build the right foundation to complete higher education overseas all whilst saving time and money – PEARSON BTEC HND programmes from ESOFT are the wisest choice.
Register and start your journey today!
For information visit www.esoft.lk or call us on +94 117 572 572
HitAd.lk is the best and biggest mobile phone market in Sri Lanka, and we guarantee you will find what you need here from our extensive listing of mobile phones for sale in Sri Lanka. Whether it's a budget-priced smartphone for communication, or higher end features with advanced connectivity, there are many different options from which to choose from on our site!