Taxi-hailing apps: Who's taking whom for a ride?
By Tharushi Weerasinghe
View(s):
Customers complain of higher charges and longer waiting time; Service providers explain challenges they face due to pandemic-related realities   
Tuk-tuk union leader attributes crisis to multiple factors including leasing issues, taxes and import controls, absence of regulator
Are taxi-hailing apps a rip-off? Do they no longer offer convenience? The vast majority of users seem to think so, saying summoning a three-wheeler or four-wheeler through these popular apps has turned into a frustrating task that needs daily scheduling.
The Sunday Timescollaborated with Watchdog Investigations (WI), which conducted a survey on our behalf, to map and analyse what had gone wrong. Disgruntled users vented about surge prices and the general unavailability of taxis.
"The surge is unbelievable!" said one response to a question we posted on Twitter. Multiple other respondents claimed hire prices had "doubled" during these so-called surge hours while some even said it was significantly cheaper to use a meter-taxi for short distances of two to three kilometres.
"The first two kilometres cost about Rs. 170 now," another noted. "So it's genuinely cheaper to walk or take a road-tuk-tuk." And most short-distance trips get cancelled anyway.
Customers complained of insufficient tuk-tuks and cabs for hire. The WI survey received 300 responses from frequent Pickme and Uber users, predominantly around Colombo. Most reported one to five-minute waiting times before the COVID-19 pandemic. They now have to wait 10-20 minutes (even more than 30 minutes, some claimed) before a vehicle arrived.
"It's impossible to get a tuk-tuk on either of the apps anymore," said a resident of Thalapathpitiya. And drivers often cancelled if the payment was by card. This was because the money took too long to reach their bank accounts, maintained one 42-year-old driver registered on both platforms.
But this was a common misconception among drivers, we found. Uber Sri Lanka and Pickme Sri Lanka are the two most-used taxi-hailing apps, according to the WI survey. As regards Pickme drivers, credit card payments are transferred to their accounts immediately. Uber partners can cash earnings from their digital or card payment-trips at any time of the day and transfer these to their accounts once they've earned a minimum of Rs 100.
Some drivers accept the hire then request the customer to strike it off the app once they reached the pickup location, app-users said. "They ask me what the amount shown on the app is and ask that we pay it directly to them by cash," a Twitter-user said.
This is done to avoid the commission drivers are charged by the companies. "Back then, it was 15 percent but now it's about 20 percent, which is a big chunk of our earnings," said a 28-year-old tuk-tuk driver on Flower Road.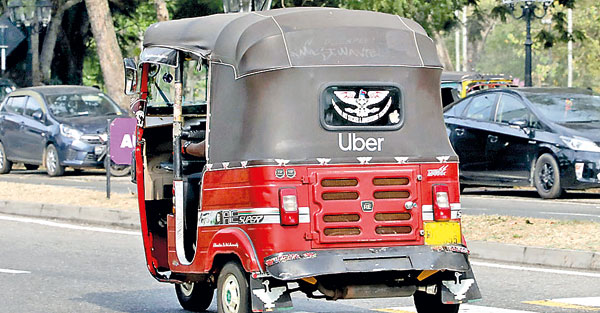 Uber countered that its commission was still 15 percent of the total hire in the case of three-wheelers while Pickme said it was 12 percent. The commission payment, however, remains a discouragement to many drivers. There is a gap between the business model of taxi-hailing apps and the broader expectations of drivers, who believe these apps should bring them the same benefits as street corner-hailing.
Both Uber and Pickme attributed fare rises to the changing economic situation. For drivers on their platform, higher costs posed a major challenge, said an Uber spokesperson: "Fuel prices increased significantly over the past 6-9 months, rising almost by 30%".
Fares were calculated using an algorithm that considers estimated trip time and distance from origin to destination, local traffic patterns as well as demand and supply at any given location, Uber and Pickme said.
As for scarcity of vehicles, Uber said travel restrictions could be one reason but expected this to clear up as drivers begin returning to their areas of work or from other jobs. It could further improve as people started using the apps again for office, airport and tourism travel.
The continued vehicle import ban impacted the number of new cars on the platform, Uber said. This was especially so as the price of available vehicles has surged. "As a result, new drivers that may have wanted to drive with Uber or add more cars on the platform have not been able to do so," the company said.
Pickme Co-Founder and CEO Zulfer Jiffry echoed this. Enrolment levels have been extremely low: "We are experiencing a double-digit growth in customer demand but the supply of new drivers is single-digit still." This is another reason for the higher fares.
"When demand increases and there is a shortage of supply, there is a necessity to increase prices to incentivise new supply," he explained. Tuk-tuks and small vehicle imports must be allowed since "ride-hailing apps were the second tier of the public transport".
"Many vehicles were repossessed by leasing companies during the pandemic," said Lalith Dharmasekara, All-Island Three-Wheeler Drivers Union Chairman. Second-hand three-wheeler sales, an uncommon sight before, have popped up as financially drained owners start vending their vehicles after the harshness of pandemic-induced lockdowns.
The roots of the three-wheeler shortage, however, predate the pandemic. There were no three-wheeler imports for the last two years. "During Yahapalanaya they were so heavily taxed we ended up paying around Rs 925,000 for a vehicle that costs Rs 625,000," Mr Dharmasekara said.
Meanwhile, leasing schemes at the time took a 75 percent down payment which most vehicle buyers couldn't afford, especially as prices were higher than ever. Finance companies would offer a second loan to meet the deposit on the lease. The buyers then had to pay for the lease they got (25 percent of the vehicle valuation) and this second loan.
"Still, the demand persisted," Mr. Dharmasekara pointed out. This placed a significant debt on drivers during the period when there were no hires. Moratoriums and lease repayment schemes had not lessened the burden as incomes did not keep up with inflation or the crushing debt that had accumulated. Most vehicles either got repossessed or were put up for sale.
Mr Dharmasekara rejected Pickme and Uber claims that pricier fuel caused fare surges. He blamed it on the three-wheeler industry not being regulated. Taxi-hailing apps function in the gig economy and act as middlemen between the rider and driver. This can be problematic for accountability and regulation.
"Fares shouldn't increase haphazardly every time fuel prices go up," he noted. They needed to be scientifically based on technicalities. Even with meter taxis, there was inconsistency in fares. "I paid Rs. 750 for a ride from Bambalapitiya to Pelawatte last week and the same commute cost Rs. 500 just eight months ago," said a 30-year-old university lecturer.
The app fare for the same trip was lower for a three-wheeler when she had selected a car but rose when she changed her choice to a three-wheeler, she said. This prompted her to just hail a tuk-tuk from the street.
"I don't begrudge the drivers this money that they badly need but this mess on the apps is purely corporate," she insisted. While many users complained about bugs on the apps, the companies insisted their algorithms worked just fine.
Most respondents will opt for a tuk-tuk from the street while a smaller percentage would use their own vehicles if they failed to find one on these apps or thought them too expensive, the WI survey found.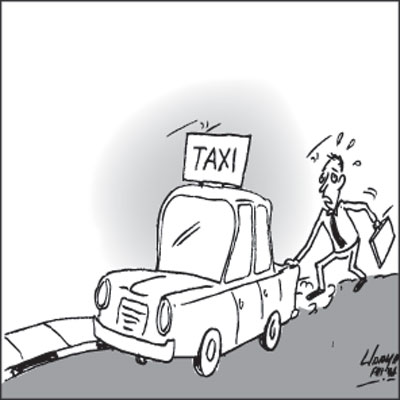 The best way to say that you found the home of your dreams is by finding it on Hitad.lk. We have listings for apartments for sale or rent in Sri Lanka, no matter what locale you're looking for! Whether you live in Colombo, Galle, Kandy, Matara, Jaffna and more - we've got them all!