Something to croak about
All extant species of amphibians in the country featured in a new field guide
View(s):
The green beauty with the lovely eyes on the cover beckons even those not too fond of its kind to take a closer look.
The Leaf-nesting Shrub Frog heralds the publication of 'A Photographic Field Guide to the Amphibians of Sri Lanka' by Dr. Anslem de Silva, Dr. Kanishka Ukuwela and Dr. Dilan Chaturanga.
Dr. de Silva is Co-Chairman, Amphibian Specialist Group, IUCN/SSC (International Union for Conservation of Nature/Species Survival Commission), Sri Lanka & Past Chairperson, Declining Amphibian Populations Task Force, IUCN/SSC Working Group, Sri Lanka, while Dr. Ukuwela is a Senior Lecturer at the Rajarata University, Anuradhapura; and Dr. Chaturanga a Lecturer at the Ruhuna University, Matara.
"The amphibian fauna of Sri Lanka is one of the best in the world. We have the richest in amphibian diversity per unit area of land in the world," says Dr. de Silva.
Quoting several studies, however, he laments that the rate of depletion of forests and wild life habitats for agriculture, human settlements and development in Sri Lanka is considered one of the highest in South Asia. There is fragmenting and reduction in the natural habitats of animals. Increasing temperatures and decreasing annual rainfall, meanwhile, are also impacting adversely on amphibians.
Pointing out that the guide is intended for both naturalists and visitors to Sri Lanka, the authors say it features all the extant species of amphibians in the country, with colour photographs and quick and easy tips for identification.
At the time of writing the guide, 120 species had been recorded.
The guide provides a general introduction to amphibians, a profile of the physiographic, climatic and vegetation features of the country, key characteristics that can be used in the identification of amphibians and descriptions of each extant amphibian species.
It also presents information on amphibian conservation and gives a glimpse into the folklore surrounding them and traditional treatment methods for poisoning due to amphibians.
The species descriptions are arranged under their higher taxonomic groups (orders and families) and further grouped in their respective genera. These descriptions are in alphabetical order by their scientific names, with one or more colour photograph for every species along with the vernacular name in English and Sinhala, the current scientific name, a brief history of the species, the identification features and details of habitat, habits and distribution in Sri Lanka and outside.
For the quick identification of the amphibian in the field, the body form, skin texture and colouration are provided.
Dr. de Silva says that as amphibians cannot be captured or removed from their natural habitats without permission, according to Sri Lanka's wildlife laws, the guide is not comprehensive and specialist readers should confirm details of identification with more technical works.
The guide has been published by John Beaufoy Publishing Ltd., and is available at Vijitha Yapa Bookshops.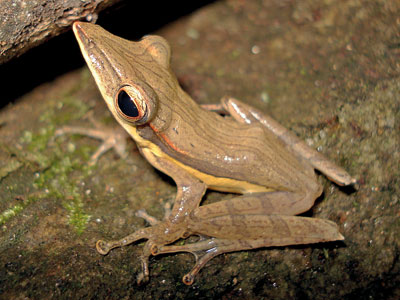 They are in folkloreGoing into folklore, Dr. Anslem de Silva says that some beliefs and traditions indicate that humans have attributed supernatural powers to amphibians. Frogs as a symbol of water purification have figured in art from the 6th century AC. They have also considered them as bringing good luck.

This is while the story of Manduka devaputta records that the Bodhisatta was born as a frog in the Haritamata Jataka.

Meanwhile, antidotes for poisoning by amphibians have been documented in traditional medical works from the 4th century AD, he says quoting from Chapter 2 of the guide.

Some of the beliefs on the good qualities of frogs recorded in the guide include:

Seeing a frog or a toad when leaving on a journey presages a good journey.

Dreaming of frogs indicates that the particular person will be blessed with children or riches.

House toads are considered protectors of buried treasure.

The Duttaphrynus melanostictus which hides in cool dark places in human dwellings during the day is never chased away.

The terrestrial activities of tree frogs indicate a drought, while the absence of frogs and toads in agricultural fields indicates impending crop failure.

The beliefs linked to poisonous, evil or mysterious aspects of frogs:

Parents advise their children not to kick toads lest they be envenomed by the cloacal end of the toad (refer de Silva and de Silva, 2000).

The common tree frog of Sri Lanka or the Chunam tree frog (Polypedates maculatus) is feared due to a belief that if it leaps on children they would become consumptive and attenuated like that frog.

Some believe that merely touching a tree frog may result in being infected with leucoderma (developing pale patches on the skin).

If a tree frog is seen in a house when there is a domestic problem, it is attributed to it.

Those who dabble in witchcraft consider the house toad (Duttaphrynus melanostictus) to be the vehicle used by departed inmates to get about.

Frogs from the past   Sri Lanka is one of the few countries where conservation and protection of fauna and flora have been practised since pre-Christian times, says Dr. Anslem de Silva, pointing out that this is evident from lithic inscriptions and ancient chronicles like the Mahavamsa and Rajavaliya.

According to him there is archaeological, historical and literary evidence that amphibians have attracted people's attention.

Citing the example of the discovery of an ancient bronze cast of a frog during excavations by the Department of Archaeology and the Central Cultural Fund in Anuradhapura, Dr. de Silva says stratigraphic evidence from excavation sites indicates that these objects belong to the 6th-8th centuries AD, according to Anuradhapura and Jetavanarama museum records.

Another unique finding is the solid-gold cast of a ranid (probably Euphlyctis cyanophlyctis or the skipper frog) which weighs 41.9g and has a snout to vent length of 38mm also discovered in Anuradhapura.  

 Solid-gold cast of a frog (probably Euphlyctis cyanophlyctis, the skipper frog)
The best way to say that you found the home of your dreams is by finding it on Hitad.lk. We have listings for apartments for sale or rent in Sri Lanka, no matter what locale you're looking for! Whether you live in Colombo, Galle, Kandy, Matara, Jaffna and more - we've got them all!