Gas shortage, soaring food costs batter hoteliers
By Renishka Fernando
View(s):

High vegetable prices have meant less takers
The Hotels Association of Sri Lanka, president M Shanthikumar, who has over four decades of experience in the industry, said that hotels normally spend about 40% of revenue on food purchases, but now, hotels are spending 60% to 70%. "We are trying very hard to maintain the quality of dishes served but we can't go on like this," he emphasised.
Earlier this week, on Instagram, a restaurant offered free food to anyone willing to find them a gas cylinder. Such is the desperation of the food and beverage sector in Sri Lanka.
The main suppliers, State-owned Litro Gas, and Laugfs Gas are facing widespread anger from the people for not providing safe LPG and for not distributing enough of it. Some restaurant operators and small eateries have shut down.
A 28-year-old culinary consultant, who has been in the tourism industry for 10 years, told the Sunday Times, some restaurant operators have been going across the country to buy cooking gas.
"Although at first priority was given to hotels as they buy in bulk, it isn't there anymore."
He suggested that gas suppliers give an early warning of shortages so that hotels can then seek alternatives.
Another, a 33-year-old operations manager with 11 years of experience in the food and beverage industry, said the alternative is induction cookers. But a single-burner cooker costs Rs 200,000.
"There are days when the restaurant is closed because there is no gas," he said.
In addition, the vast price fluctuations of goods across the country are severely affecting operations.
"We used to buy the green gram we use for milk rice at Rs 300 per kilo, but within three to four months it went to Rs 900 per kilo," the culinary consultant said. As a result, hotels have had to update their menus to include food that was affordable.
Hotels and restaurants evaluate their menus half yearly or annually, but now menus are revised at least once a month. "We need to re-cost items, re-do recipes, re-print menus and that is an unnecessary burden at this point."
Commercial kitchens complain that local meat products are not of good quality. Imports are banned.
"Local tenderloins and cuts are very different from imports and are difficult to work with,'' said the operations manager. As a result, much time is spent improving recipes with local and affordable ingredients and in training kitchen staff to adapt.
Some items have been taken off the menu, and diners are not pleased.
Ahintha Amerasinghe, managing director of Worldlink Travel Group and owner of Amaara Hotels said: "It's not only price fluctuations in food that we have to consider, but also things like fuel because transport costs are high, too."
The economic crisis is a huge burden to an industry that is trying to recover from the effects of the Easter Sunday attacks and the coronavirus pandemic, he said.
Mr Amerasinghe said there are also staff shortages. Experienced people have left for foreign jobs due to salary cuts.
Salaries in the hotel sector comprise of the basic salary and service charges, while higher pay depends on service charges. The drop in overseas visitors means service charges have dried up.
According to Mr Shanthikumar, the lowest salary in the industry before 2019 was about Rs 40,000 which is inclusive of a basic salary of Rs 20,000 and service charges. However, salaries are much lower now, excluding service charges.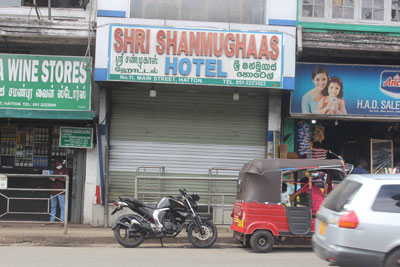 To address the staff shortages, trainees are being employed, but the lack of experienced staff has resulted in higher commitments of money and time.
"Many hotels provide accommodation, meals, laundry facilities and other benefits to their employees, but we still have a shortage," Mr Amerasinghe said. And despite these perks, some employees move on once they have been trained.
The Sunday Times also spoke to Dhammika Wijesinghe, director general of the Sri Lanka Tourism Development Authority, to gain an insight into how tourism can reduce the impact from the crisis.
She said that although imports of luxury items are restricted, there are special allocations to the tourism industry.
Contrary to sentiments expressed by hoteliers, Ms Wijesinghe said that import restrictions do not have a massive adverse impact on the industry.
Sri Lanka must capitalise on the use of local ingredients to offer an authentic experience to foreign tourists, she said. "We can only do something if requests are made to the SLTDA, and so far, no such requests have been made."
Sri Lanka has recorded 194,495 tourist arrivals in 2021, down by 61.7% on year.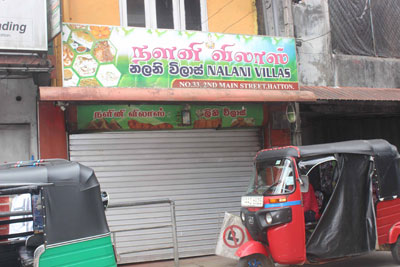 The highest number of arrivals was in December.
So far, Sri Lanka has been largely dependent on tourists from India, Russia, the United Kingdom, Germany and Ukraine. However, hoteliers have voiced concerns about how supply shortages would affect the demand of tourists in the months ahead.
Before foreign travel restrictions were lifted, the tourism industry was largely dependent on Sri Lankans, however, this problem still exists for some. Bandula De Silva, general manager of vacations at Magic Asia Holidays, said he relies on local tourist groups to keep his staff employed. "This is because the industry was shut down for nearly two years," he said.
Concerns have also been raised over the highly infectious Omicron coronavirus disease variant and the newly found Ihu variant and its adverse impact on tourism.
Mr Shanthikumar said that these challenges have to be overcome.
Mr Amerasinghe said tourism can recover. "Even though we are so proud to say we had 200,000 tourists this year, Sri Lanka can accommodate 20 million tourists year-round," he said. Mr Amerasinghe said Sri Lanka can achieve that target through social media marketing as it is convenient, accessible and affordable.
The best way to say that you found the home of your dreams is by finding it on Hitad.lk. We have listings for apartments for sale or rent in Sri Lanka, no matter what locale you're looking for! Whether you live in Colombo, Galle, Kandy, Matara, Jaffna and more - we've got them all!