Booster doses also in schools for adults side-by-side with student jabs
By Kumudini Hettiarachchi and Ruqyyaha Deane
View(s):
Here are the highlights of Friday's media briefing at the Health Promotion Bureau (HPB) chaired by Director Dr. Ranjith Batuwanthudawe.
Dr. Batuwanthudawe:
n Omicron is a highly transmissible variant. According to statistics from England and other countries, even though there is less disease severity there seems to be an increase in hospitalizations. Certain restrictions have been imposed in cities such as New Delhi, India, with the spread of the disease.
n Since England started giving the booster doses initially, we see that the disease spread is being controlled to an extent.
n The Sri Lanka healthcare system is taking measures to handle patients in the event of rapid disease transmission. The Health Ministry has decided to administer booster doses at locations where vaccinations are taking place for those over 12 in schools. This is to encourage parents, guardians, van drivers, teachers, etc., to get their booster.
The Health Ministry's Acting Director of Tertiary Care Services, Dr. Ayanthi Karunarathne:
The home-based management of COVID-19 patients [the Patient Home Isolation and Management Systems (PHIMS)] is being implemented extensively.
A patient can get registered for this service by dialling the Hotline: 1990. There is no necessity to get registered with the area Medical Officer of Health (MOH) or the Public Health Inspector (PHI).
The details on how to register are on the Health Ministry website.
When asked about hospitalizations increasing in other countries such as India:In Sri Lanka, patients who are eligible for home-based care can recover under the guidance of doctors, which in turn, would reduce the numbers seeking hospital admissions. Then critical patients who need admission can be in hospital.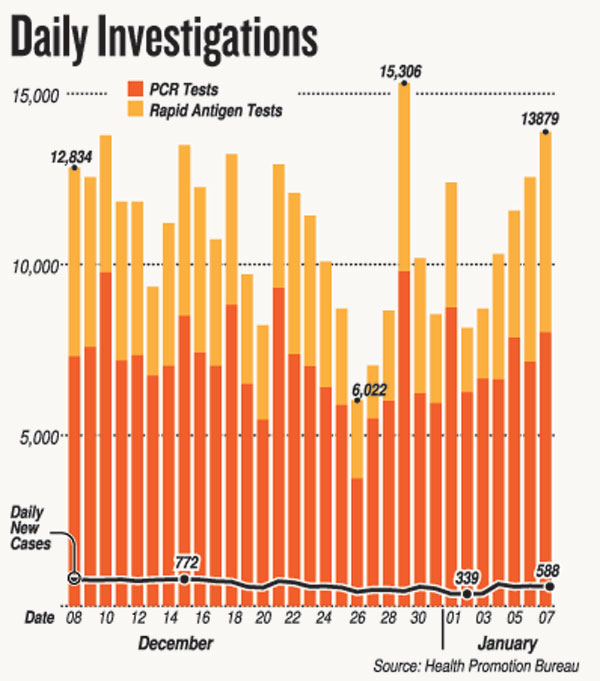 Jabs for over-12s
The vaccination drive with Pfizer for those 12-15 years of age began on Friday, initially at the Colombo Municipal Council and the Lady Ridgeway Hospital (LRH) for Children, Colombo.
Children can also get their vaccine shots from school and the authorities stated that they would be informed when that would happen.
Meanwhile, those in the 16-19 age group who got their first Pfizer dose a few months before, will be administered the second dose on completion of 12 weeks.
There is some hesitancy in the older groups with regard to the booster and the health authorities have stated that this is due to misinformation.
French variant
France has detected a new variant (B.1.640.2) that contains 46 mutations.
The variant has been dubbed IHU, after the academics who discovered it at the IHU Mediterranee Infection in early December last year.
As the variant has more mutations than Omicron, researchers are worried it could be more infectious and also more resistant to vaccines.
So far, 12 cases have been detected near Marseille, with the first linked to travel to Cameroon in Africa.
The World Health Organization (WHO) has stated that the variant had been on its radar since last November and it is being monitored.
There is little reason to worry about its spread as it is not a threat, the WHO has said.
COVID-19 surges in many countries
India – Another surge of COVID-19 cases is being experienced here with over 100,000 cases being reported daily. The first death due to the Omicron variant was also recorded.
Several states including Delhi and Maharashtra have reintroduced curbs and temporary curfews to limit gatherings and halt the spread of the virus.
Singapore – Over the past week, Singapore's daily COVID-19 case numbers have been around 200 on average, with 16 patients currently in intensive care.
These figures are significantly lower than the numbers at their peak a few months ago, indicating that the recent wave of Delta infections has subsided.
However, the Health Ministry has warned of a rise in the total number of confirmed Omicron cases and advised the public to exercise caution.
Japan – As soon as the first case of Omicron was detected in the country, Japan 'reinstated' travel restrictions banning most foreigners from entering.
Japan also began implementing a mix-and-match COVID-19 vaccine strategy in December, with some healthcare workers who received the Pfizer-BioNTech jab as their first two shots getting Moderna as a booster. The government aims to accelerate the rollout of third shots amid heightened concerns over the Omicron variant.
United Kingdom – Although England will not go into lockdown anytime soon, restrictions such as working from home whenever possible and limiting gatherings are in place.
However, Scotland, Wales and Northern Ireland have introduced further restrictions on leisure activities and going out to pubs and cafes. This includes an extension of the social distancing rules and further limits on the size of gatherings.
United States of America – Nearly 1 million new infections, the highest daily tally of any country in the world, were reported on Monday.
Surprisingly though,       the Centers for Disease Control (CDC) and Prevention has recommended isolation only for five days, a shorter quarantine period, for those infected or exposed to the virus.
This is being revised.
The best way to say that you found the home of your dreams is by finding it on Hitad.lk. We have listings for apartments for sale or rent in Sri Lanka, no matter what locale you're looking for! Whether you live in Colombo, Galle, Kandy, Matara, Jaffna and more - we've got them all!