The art to greatness
By Champika Fernando
Skipper Dimuth Karunaratne aiming to wind up high in Tests with 10000 runs and 100 games
View(s):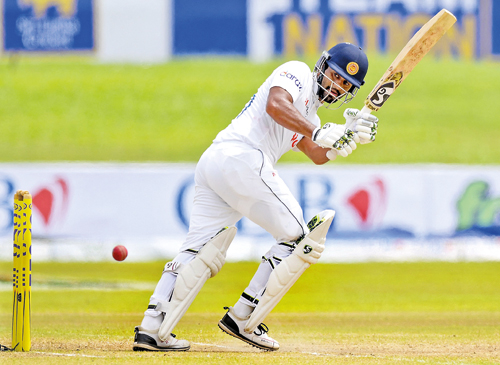 Cricketers age like fine wine. Take Kumar Sangakkara. He scored 6,356 in 73 Test matches before he turned 30 at an average of 54.79. After that, he became prolific with the bat, scoring 6,044 runs in 58 matches and maintaining an average of 60.44. Out of his 38 centuries, 21, including his triple ton (319), came in the later years of his career.
Batting is an art you need to mature into. Great power of concentration is needed to bat long periods, honed through hours of practice and regular match-play. Sangakkara had just that, ending his stint as one of the greatest players in cricketing history.
Dimuth Karunaratne may not be as flamboyant but the southpaw has certainly improved with age, becoming a consistent scorer since turning 30. He has hit as many as 1,332 runs in 13 matches at an average of 57.91.
His performance this year has been remarkable. He has scored 854 runs in six games at an average of 77.63–the best average for a batter in 2021–to rise to third in the list of top scorers behind Joe Root (1455 in 12 matches) and Rohit Sharma (906 in 11 matches).
If he continues in the same vein, the 33-year-old Sri Lanka Test skipper could just join Sangakkara and Mahela Jayawardena in the exclusive 10,000-run club. And he says that's his dream before retiring from a playing career. Realistically speaking, it's a tough ask given his age and the fewer number of Test matches Sri Lanka have during any given year. But he can certainly end up among Sri Lanka's top three run-scorers.
Thilan Samaraweera (5,462 runs), Tillakaratne Dilshan (5,492), Marvan Atapattu (5,502), Angelo Mathews (6,308), Aravinda de Silva (6,361) and Sanath Jayasuriya (6,973), Mahela Jayawardena (11,814) and Kumar Sangakkara (12,400) are all ahead of him.
Karunaratne started the 2021 season with a century against South Africa in Johannesburg, Karunaratne notched scores of 12, 3 and 1 across his first three innings against West Indies in March before finding form in the final outing of the series with a patient 75. Since then, he has been unstoppable, hitting scores of 244, 118 and 66 against Bangladesh, his last assignment before a long break.
"That innings gave me lot of confidence," he said, reflecting on the century he scored at the Wanderers cricket ground in Johannesburg.
"I don't think anyone had scored a century there before and I learnt a lot from that innings. After I failed to score big in the first Test in the West Indies, I worked with coach Mickey (Arthur), who who told me how to start my innings, when to accelerate, against which bowlers I can score runs off and all that. That helped me get back to form again in the second Test."
Karunaratne's captaincy and place in the ODI team was stripped off this year as part of a restructuring of the limited-over side by the selectors. With little match practice, Karunaratne doubted his and his charges' ability to find form against West Indies but the skipper led from the front scoring 230 runs in the first match, notching up scores of 147 and 83 to help Sri Lanka win by a massive 187 runs. More importantly, he helped Sri Lanka get off to a flier in the World Test Championship. He was dropped on 14 at slip by West Indian fielders which proved a costly mistake.
Having now hit six consecutive 50-plus scores in Tests, Karunaratne is one short of equalling the world record for such a streak. The consistency comes with the experience, he said: "I think it's a lot to do with experience.When it comes to conditions, I know now when there's going to be a lot of turn, or when there will be a little less. I'm sharing that information with the youngsters as well. And knowing that I had scored a lot of runs earlier in the year, there was less of a fear of failure also."
He now wants to feature in 100 Test matches for Sri Lanka.
"When he started off, he was a good player, but now he's turned into a great player," said Angelo Mathews, summing up the career of his school-mate from St Joseph's College.
"I've been with him since he started playing for college. We go back a long way. He's improved tremendously. When he started off, he was a good player, but now he's turned into a great player. He'll definitely end up in the top three or four run-scorers for Sri Lanka. He's found his rhythm, and he's not been complacent. He's hungry for runs. The way he applies himself on a wicket like this is amazing."