University of Moratuwa earn a double
Virtual Inter-University Taekwondo Poomsae Championship 2021
View(s):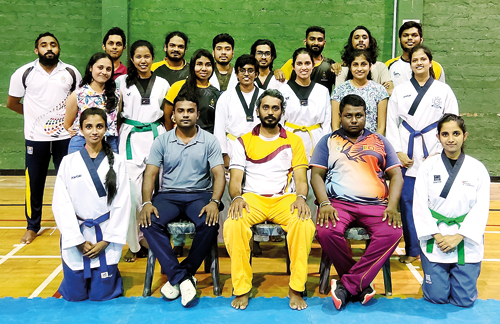 University of Moratuwa dominated all the way to claim the Men's and Women's titles of the inaugural Virtual Inter-University Taekwondo Poomsae Championship 2021. The event was held through a virtual platform on November 12 and 13, with judges observing the proceedings at the gymnasium of University of Kelaniya.
This is the third consecutive occasion that University of Moratuwa secured a double win. Before the first-ever virtual competition, the Moratuwa athletes have won twice, both the Men's and Women's titles, back-to-back.
In the Men's segment, University of Moratuwa gained a clear advantage of two points to outplay University of Colombo and University of Sri Jayewardenepura, who settled with nine points each at joint second. The champions accumulated 11 points overall to claim the Men's title. Bulk of the points were scored by Tharusha Lekamge (yellow belt, 7.20), Manusha Chethiyawardhana (blue belt, 7.43) and Rashmika Lakshan (blue belt, 7.07) for the winners.
Manusha Chethiyawardhana secured a gold medal in blue belt while the two silver medals for the winners were won by Rashmika Lakshan, in blue belt, and Tharusha Lekamge, in yellow belt.

Hosts, University of Kelaniya aggregated with a total of eight points to complete at fourth while Universities of Ruhuna and Sabaragamuwa finished joint fifth with a point each to their final tally.
In the Women's category, University of Moratuwa edged out hosts, University of Kelaniya by a mere point to claim the title after Arundri de Silva (blue belt, 7.53) and Vasuki Jayaweera (blue belt, 7.43) maintained good stead for the winners to help emerge victorious. Eventually they lasses of Moratuwa Uni were able to gain 10 points overall and outsmart Kelaniya, who scored nine points.
Skipper  Arundri de Silva was outstanding as she won a gold medal in blue belt, in addition to three other medals. Vasuki Jayaweera claimed a silver medal in blue belt, while the two bronze medals were won by green belt competitors Shanika Wijesooriya and Yashodya Karunanayake.
Finishing at third was University of Sri Jayewardenepura, who edged out University of Sabaragamuwa by a point to claim the overall third position. Universities of Colombo and Peradeniya finished at joint with three points apiece while University of Uva Wellassa settled in at seventh with two points.
The competition was organised by the Sri Lanka University Sports Association (SLUSA) and was conducted by the University of Kelaniya. The event was also monitored by Sri Lanka Taekwondo Federation Technical Director, Grand Master Ki Su Lee, with all competitors performing live virtually.
Vice Chancellor of the University of Kelaniya, Senior Professor Nilanthi de Silva, Chairman of Sports Advisory Board and Dean of the Science Faculty, Senior Professor S.R.D. Kalingamudali, Registrar of University of Kelaniya, K.K.K. Dharmathilake, President of SLUSA, Dr. Chandrakantha Mahendran, General Secretary of SLUSA, Rohini Puvasingham, Director of Physical Education University of Kelaniya, G.G.U. Saman Kumara and Senior Lecturer Dr. Namali Suraweera were present to witness the event.
Final Standings
Men's
1: University of Moratuwa – 11
2: University of Colombo – 9
2: University of Sri Jayewardenepura – 9
4: University of Kelaniya – 8
5: University of Ruhuna – 1
5: University of Sabaragamuwa – 1
Women's
1: University of Moratuwa – 10
2: University of Kelaniya – 9
3: University of Sri Jayewardenepura – 7
4: University of Sabaragamuwa – 6
5: University of Colombo – 3
5: University of Peradeniya – 3
7: University of Uva Wellassa – 2