Royal beat hosts Jaffna Hindu in friendly encounter, coinciding opening of new ground
View(s):

To coincide with the opening of their newly constructed cricket ground, Hindu College, Jaffna invited Royal College, Colombo to play a friendly encounter, which brought joy and unity among the counterparts of the two institutions from different parts of the country.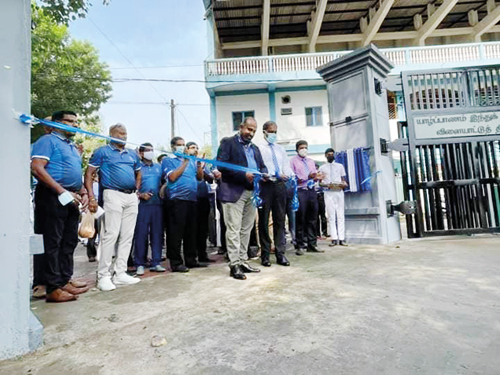 The friendly match was played last weekend as a 30-over-per-side affair, in which Royal College recorded a convincing 76-run win, but for Hindu College, Jaffna and the locals of the area the game was a treat to watch and a moment to rejoice.
Batting first, the visiting Royal College team posted 228 runs for the loss of six wickets in 30 overs with Uvindu Weerasekara making the top score of the match, with a blistering knock of 67 off 47 deliveries. Damith Kappagoda contributed with 30 runs to help bolster the Royal total reach 228, a competitive score to chase in 30 overs.
Notwithstanding the final outcome, Hindu College cricketers played courageously to reach 152 for the loss of nine wickets in their allotted number of overs, with Tharanitharan smashing 60 off 27 deliveries. His knock included six sixes and five fours and was named the man-of-the-match for his epic knock. Thanutan added 30 runs with his bat.
Situated in the vicinity of the school, the cricket ground comes as a welcome sign for Hindu College, who have been contributing with talent to the domestic structure of the sport lately. The Old Boys Association of Hindu College, Jaffna has made an unyielding effort to include all necessary facilities to the new cricket ground with intentions of hosting top cricket-playing school with an annual fixture.
Representative of both school cricket teams, staff members of Hindu College, old boys, invitees and cricket enthusiasts were present to witness the match. Nilliah Devarajan acted as the match adjudicator.
  Royal College 228 for 6 (30) (Uvindu Weerasekara 67, Damith Kappagoda 30)
  Hindu College Jaffna 152 for 9 (30) all out (Tharanitharan 60, Thanutan 30)