Board should take grip of LPL – Aravinda
By Champika Fernando
cricket
View(s):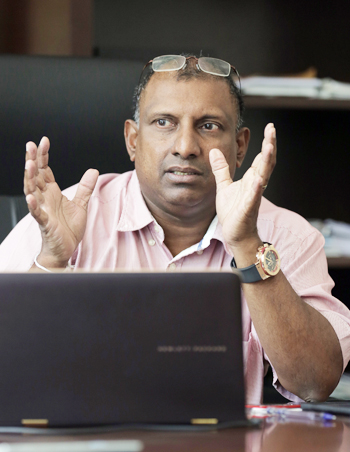 The recent Lanka Premier League (LPL) player draft caused dismay with unscrupulous player managers manipulating the process with support from some franchise owners.
Several top players, including eight that were in the United Arab Emirates for the T20 World Cup, were missing from the squads that were finalised in secret, igniting a social media backlash with even Head of the National Sports Council Mahela Jayawardena openly venting his frustration.
Sri Lanka Cricket (SLC) acted belatedly, nominating 10 players from among the dozens of possible candidates who were overlooked by the five franchises. This, however, did not answer the issues raised over the player draft. It just made a disgruntled few happy.
Head of Cricket's Technical Committee Aravinda de Silva, too, was critical of the process and highlighted the importance of having credible franchises to run a proper tournament–a thought echoed by ICC's anti-corruption head Alex Marshall when he met with a group of Sri Lankan journalists covering the World Cup in Dubai.
"The most important thing is to have credible franchises," said de Silva.
"The Board should be taking control of the cricket side of it."
Although SLC owns the tournament, IPG, a Dubai-based production company, has full event-management rights including the appointment of franchise owners.
"In most countries where franchise cricket is successful like in India, Australia or UK, the board runs the show. They work  closely with franchises, keep renewing depending on how they fare. These franchises have been built over a period of time. One thing that is very clear in these countries is that there's transparency and cricketing policies are very clear. Transparency has to be a must moving forward. You cannot have new owners popping up every time like mushrooms," explained de Silva, whose committee is 'technically' responsible for making all cricket related decisions.
"This is not a tournament for people to have fun. Our future of cricket depend on this and therefore we need to make a good foundation of this. The ultimate goal has to be clear but we don't have that".
Guidelines are the key to avoiding chaotic incidents such as the player draft where some little known cricketers were drafted due to the personal preferences of franchise owners and player managers while ignoring some of the best in the business, he said.
"These selections have to be done in a proper manner and should go through a transparent process. Otherwise, the owners can bring in their sons to the team. In such a scenario, what's the point of the Board having rights and clearance from ICC? I think they need to have clear guidelines for everything: to select franchise owners and the selection of both local and foreign players. And those guidelines have to be laid down openly," said de Silva, whose committee distanced itself from the tournament after its proposals to restructure it ahead of the second edition didn't receive SLC backing.
"Before a draft is done, we need to set the guidelines. They were not following anything. These are the things that we were very concerned about and this is why we didn't get involved. These criteria have to be in place and should be well thought out to cover good governance, credibility and transparency. Those are the three main pillars of any successful league. If you break these, you lose confidence in the tournament and, when you lose confidence, it's difficult to get people involved," he asserted.
De Silva, regarded the best batter Sri Lanka has ever produced, believes the tournament governing structure needs amendment to maintain principles of good governance, transparency and credibility.
"There should be a strong governing body who understands every aspect of it. You also need corporate inputs and proper marketing guidelines to make sure the credibility of the tournament is maintained. Governance is what is important in a product like this. The cricket part needs to be handled by people who really understand what needs to be done to develop the game. It is not just looking at developing a franchise but the whole system that needs to uplift," de Silva explained.
The Indian Premier League, the mother of all leagues in the world, is a clear example of how to run a tournament professionally with utmost regard to principles of good governance. The IPL owned by the BCCI is governed by a governing body.
The franchises of the LPL are mostly owned by foreign individuals with various business interests but de Silva says there are enough and more local blue-chip companies wanting to join if principles of good governance were maintained.
"I am sure, there will be a lot of people who want to be involved," he maintained.
"We have spoken to a lot of people and there was lot of interest."
De Silva was the first to float the idea of having a provincial cricket tournament to improve the standard of domestic cricket. Soon after retiring from the game, he joined the Board as a Vice President in 2003.
"I put a proposal back then to decentralize the Cricket Board with provincial cricket becoming an integral part of the tournament structure. It would cater to our cricketing needs. The membership didn't want it," he recalled.
SLC explains what led to the controversy over player draft
Adding to the chaos was the influx of domestic players at the draft. The previous year, there were only 182 domestic players including 22 centrally contracted players, 80 domestic contracted players, 52 representing clubs and 28 nominated by the coaches of the High-Performance Centre. This time, there was a total of 358 players in the draft after each club was given the freedom to nominate 20 players, adding to the chaos.
"When the gates were opened, everyone came in," said Ravin Wickremaratne, a member of the LPL governing body.
"We had got two players from clubs last year and we had no issues but this time we were asked to give more opportunities to clubs and to get 20 nominees from each. This resulted in a massive number of local players entering the draft."
Accordingly, there were many little known cricketers getting picked up by the five franchises as coaches, managers and player managers manipulated the draft.
However, SLC decided to terminate a deal with an overseas businessman who owned the Colombo franchise whose team composition was beyond comprehension to any. Accordingly, Softlogic group, a local diversified company brought the rights with a new-look team under Angelo Mathews. Apart from Mathews, Dinesh Chandimal, Kusal Janith Perera, Akila Dananjaya and Shiran Fernando are expected to team up with the Colombo franchise. This means players like Dilshan Munaweera, who was bought for US$ 50,000, will lose his place in the side.
LPL will be played from December 5 to 23 in Colombo and Hambantota.