Vegetables prices up, up and away; rains add more misery to woes of consumers, farmers
By S. Rubatheesan
View(s):
Gone with the floods: Kalpitiya farmers made destitute

Unusual heavy rains have caused destruction to cultivation in 16 divisional secretariat areas in the Puttalam District.

In Kalpitiya alone, some 10,000 acres of vegetable cultivation has been destroyed by floods. Kalpitiya supplied about 300,000 kilograms of vegetables a day to wholesale markets countrywide. This is a major reason for the shortage and the price hike of vegetables.

Parts of Kalpitiya were still under water on Friday with the area continuing to receive heavy rains.

Area farmers say the damage to the crops has caused them losses in millions of rupees. They say they mortgage their jewellery and other valuables to invest in their cultivation but they are getting nothing in return this time.

The farmers also point out that about 2000 women workers who worked for a daily pay have also lost their income.

V.J. Dilan from Narakkaliya said that in his lifetime, he had not experienced a destruction of this scale to his cultivation. "Rains have come and gone in the past, but they have not caused damage to the extent we are faced with now. There was only a week away for me to reap the beetroot harvest but the whole cultivation went under water."

Farmer Niroshan Dabere from Illanthady says he had brought around 10 acres of land under onion cultivation after obtaining a loan. He says he had to buy urea at black market prices of Rs 10,000 a bag, which was only Rs. 1,200 before the ban on fertiliser was imposed in April.

Another farmer, Rasika Indumathy, says she too borrowed money to start cultivation and buy fertiliser, but now she did not know how to redeem the jewellery she had mortgaged. "Our mortgaged jewellery remains buried in this land. We are helpless," he said.

Kalpitiya Divisional Secretary Pregeeth Danansootriya says the damage to the crops were extensive and officials were estimating the loss the farmers have suffered.

Text and pix by
Hiran Priyankara Jayasinghe  
With heavy non-stop rains damaging crops and farmers being hit by the lack of fertiliser and pesticides, Vegetable prices have shot up to unprecedented levels, dealing another blow to the average Sri Lankan households already hit by rising prices and shortages of other essential items.
The result: More and more Sri Lankans are reducing their daily vegetable intake.
A Sunday Times survey indicates that most households now buy manioc, ash plantain and green leaves which are among a few vegetables sold at prices less than Rs 100 a kilo. Not only vegetables, but also other agri-products used in cooking – like coconut and lime—have gone up in price. Coconut is sold at Rs. 100 a nut and lime at more than Rs 700 a kilogram.
Part of the price rise has been attributed to the inclement weather experienced in the October-November period, a usual phenomenon during this time of the year. But this year, the problem has been aggravated by other issues such as the fertiliser crisis.
At public markets, vegetable such as beans, tomato, carrot, leeks, long beans, cauliflower and bitter gourd carry a price tag of more than Rs 400 a kilogram. On Friday, a kilogram of beans was selling at Rs 640 a kilo.
Hatton public market vegetable seller N. Jeyaseelan said people were buying less quantity due to the high price.
"Earlier, government employees who visited my stall would buy many vegetables for Rs 800-1000 but now, after checking the prices, they decide not to buy or buy in small quantities," he said, adding that he hardly made enough income to maintain the stall.
Mr. Jeyaseelan said that earlier he would buy Rs. 50,000 worth vegetables a day from Nuwara Eliya and Hatton wholesale traders on credit or paying them only an advance with the balance to paid the following day from the income he earned. But now he hardly made Rs. 10,000 a day from the sales.
The price hike, which consumers and traders are complaining about, were also corroborated by the Central Bank's daily price report.
According to Friday's report, retail prices of cabbage, locally manufactured big onion and potato have increased compared to last week. The price of lime has recorded a drop from Rs. 700 to Rs. 600, while beans were selling at prices ranging from Rs 298 to Rs 520 at different markets.
The weekly report published by the Department of Census and Statistics also shows a steep rise in vegetable prices. According to the report, coconut fetches prices from Rs. 60 to 100 depending on the size while coconut oil, a key ingredient for most Sri Lankan dishes, is sold at Rs. 490 a litre.
The short supply of vegetables has shot up vegetable prices in private supermarkets also. A private supermarket price list shows that capsicum is sold at Rs. 590 a kilo, ash plantain at Rs. 400, tomatoes at Rs. 400, beans at Rs. 640, leeks at Rs 430 and lime at Rs 670.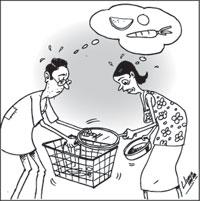 The average Sri Lankan family is not only hit by the rising vegetable prices, but also price hikes in other essential food items. Prices of Sri Lanka's staple food, rice, are beyond reach for many poor households. Red rice which was selling at R. 98 only weeks ago is now sold at Rs. 112 a kilo. Nadu is sold at Rs 139, and dhal at Rs 245. White sugar is sold at Rs 155 and above while brown sugar is fixed at Rs 160.
For long-time vegetable sellers like Mr. Jeyaseelan, the signs of the problem being aggravated were seen in the size of potatoes produced by farmers who were unable to find enough fertiliser — organic or chemical.
"Look at the size of potatoes harvested in upcountry these days. They are small because not enough fertiliser has been used," Mr. Jeyaseelan said.
After the Government ban on the import of chemical fertiliser and shortage of pesticides in April, many farmers have already downsized their vegetable cultivation. This has given rise to fears of an acute fall in yield.
Last week's bad weather which resulted in floods and landslides in up-country has made worse the plight of farmers.
Nuwara Eliya farmer Gamini Gunaratne said many factors had contributed to the shortage and the low yield. In addition to the heavy rains, the spread of fungal diseases, insect attacks and the lack of pesticide and chemical fertiliser have also aggravated the crisis. (See side story on this page).
In Kalpitiya in the puttalam district, nearly 10,000 acres of vegetables plots have been destroyed by floods, leading to wholesale markets not getting their daily supply of about 300,000 kilos of vegetables from the area. (See related story on this page)
In the North, too, heavy rains have caused damage to vegetable crops with paddy fields being submerged in floods only weeks after farmers had planted seedlings.
Farmer Selvarasa Thayalan from Kopay North in Jaffna chose to engage in farming green chilies in one-fourth of his fourteen parappu (140 perches) farming land after he decided it was the right crop to grow in the absence of chemical fertiliser. Prior to this, he grew cabbages, beans and small onions.
But soon he was in trouble, with leaves turning yellow due to the fungus spread. He could not find pesticide to deal with the fungus spread. "I have resorted to the organic pesticide method but with little success," Mr. Thayalan said.
Earlier he used to sell most of his harvest to wholesale traders in Dambulla since there was a huge demand for vegetables from the North; but not anymore. "Nowadays, I take a minimum harvest of green chilies to the local market to support my family."
Even though chemical fertilisers like urea and Triple Super Phosphate (TSP) were banned, they are available in the black market at exorbitant prices in the North. A 50 kg of urea bag is reportedly being sold at Rs 15,000 — five times the earlier designated maximum retail price.
As a final resort, Thayalan went ahead and bought one bag of urea in the black market to save his crops and ensure a decent harvest in the coming weeks.
"Last week's heavy rainfall really made things worse for us, in addition to the ongoing fertiliser shortage. Many farmers have abandoned their cultivation after they suffered huge losses due to the floods. This means there would be a sharp drop in vegetable supplies to the market in coming weeks," Mr. Thayalan said, warning the consumers and traders of a coming crisis.
The usual pattern has been that vegetable prices show an increase during the December festive season, but this year a month ahead of the seasonal price increase the consumers have been forced to pay more for their vegetables.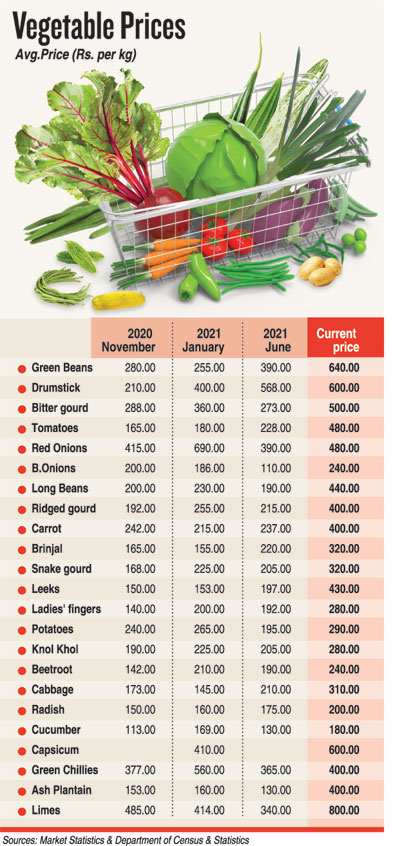 The best way to say that you found the home of your dreams is by finding it on Hitad.lk. We have listings for apartments for sale or rent in Sri Lanka, no matter what locale you're looking for! Whether you live in Colombo, Galle, Kandy, Matara, Jaffna and more - we've got them all!