Trail of waste ends in the sea
View(s):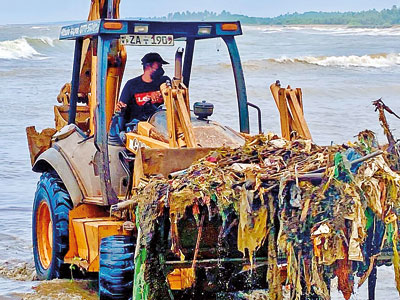 As the heavy rains left a trail of destruction on land, it has also washed tonnes of plastic waste and garbage to the ocean and river beds in several areas.
The Chairperson of the Marine Environment Protection Authority (MEPA) Dharshani Lahandapura told the Sunday Times that usually during the heavy rains nearly 250,000 tonnes of plastic and non-degradable waste is washed to the sea.
As much as five tonnes of plastic waste that washed through Ma Oya to the Poruthota area of Negombo was cleaned up by Clean Ocean Force Lanka, a non-profit organisation working towards eliminating plastic, man-made pollutants, and debris from the beaches of Sri Lanka who closely work with the Western Provincial Council, the local government and the Environmental Ministry.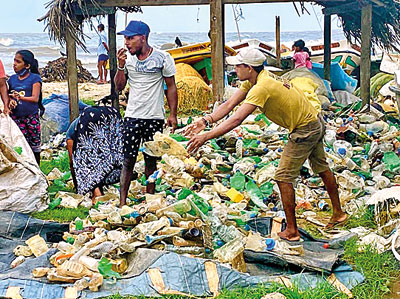 Ms Lahandapura said that one solution would be to put up floating barriers at some 42 points across the country where rivers and streams fall into the sea.
"Sometimes the plastic bottle thrown away in Anuradhapura ends up in the sea. The damage caused to the ocean is high," she said.
She said that even though there are various groups, including school children, who are working to protect the ocean, the support of all persons is needed in achieving the objective of protecting the ocean.
Story and pix by Rekha Tharangani Fonseka
The best way to say that you found the home of your dreams is by finding it on Hitad.lk. We have listings for apartments for sale or rent in Sri Lanka, no matter what locale you're looking for! Whether you live in Colombo, Galle, Kandy, Matara, Jaffna and more - we've got them all!