Severe floods and landslides cause deaths of 27 people and affect about 200,000
Weather professor warns sea temperatures rising, and heavy rains likely until early January
View(s):
The severe weather conditions with floods and landslides in many parts of the country have caused the deaths of 27 people and affected more than 200,000, the Disaster Management Centre (DMC) said.
Nearly 150 Northern province families which were affected by heavy rains and floods are still temporarily housed in Government-run safe shelters in Mannar. They are unable to go back to their houses due to continuous rain affecting the Northern parts of the country.
A majority of the displaced were from Mannar with 768 people housed in temporary shelters, the Mannar district Disaster Management office said.
The bad weather continued to have an impact with families housed in safe centres in the Nuwara Eliya, Kegalle and Ratnapura districts.
Weather triggered disasters had not come to an end yet with more low pressure conditions expected to form in the South China sea and head to the Bay of Bengal during the end of this month and the beginning of next month, a weather expert said.
Geography Professor S. A. Norbert told the Sunday Times that several low pressure conditions were likely in the coming weeks. According to him, low pressure systems are likely to be formed at the end of this month, the first week of next month, another close to Christmas and one in early January.
These low pressure conditions were formed frequently as a result of an increase in the sea temperature, he said. In low pressure systems the air rises and blows in an anti-clockwise direction, however it was not a cyclone but more likely a storm with heavy rains, according to him.
Prof. Norbert said the North-east monsoon expected from December to February might be delayed due to extreme weather phenomena in the Bay of Bengal.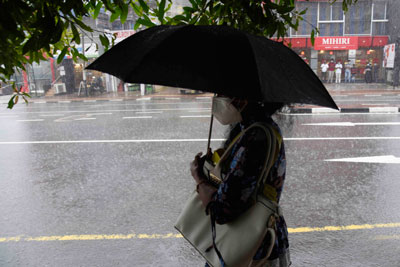 "Unlike monsoons that bring rains to specific areas, this weather condition brings heavy showers to all parts of the country," he said.
This week the DMC continued to create awareness on how to prevent damage from the upcoming North-east monsoon, usually known to bring heavy rains to the Northern and Eastern parts of the country.
The Irrigation Department said heavy rain during the past few weeks had resulted in a majority of reservoirs and rivers reaching maximum capacity, including the water level in the Mahaveli River.
The National Building Research Organisation's medium risk warning continues in risk areas such as Baddegama and Elpitiya District Secretariat divisions in the Galle district, Mathugama, Bulathsinhala, Agalawatte and Palindanuwara in the Kalutra district, Rambukkana and Dehiowita in the Kegalle district, Narammala in Kurunegala district and Eheliyagoda, Ayagama, Kalawana and Ratnapura in the Ratnapura district.
More than 75 houses were fully damaged, while 1690 houses were partially damaged from floods, cutting failures and landslides. This week strong winds affected families in Hambantota and Batticoloa also. One lane on the lower Kadugannawa section of the Colombo-Kandy main road was opened for vehicular movement after being closed for several days.
The Meteorology Department said showers were expected in the Western, Sabaragamuwa, Central and North Western provinces and in the Galle and Matara districts in the coming days, with afternoon thundershowers expected elsewhere.
Pix and additional reporting by Wanni Romesh Madushanka
The best way to say that you found the home of your dreams is by finding it on Hitad.lk. We have listings for apartments for sale or rent in Sri Lanka, no matter what locale you're looking for! Whether you live in Colombo, Galle, Kandy, Matara, Jaffna and more - we've got them all!