Experts unhappy over change in protocol for AZ booster
By Kumudini Hettiarachchi and Ruqyyaha Deane
Don't change time gap from 6 months to 3 months for over-60s, they urge
View(s):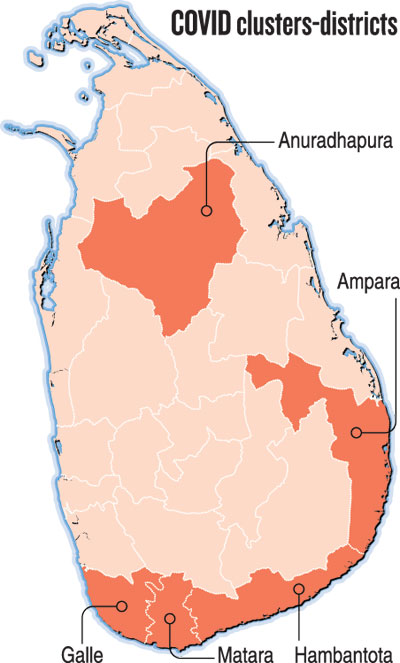 Controversy surrounds a sudden change in the vaccination protocol recommended by the Health Ministry's National Advisory Committee on Communicable Diseases (NACCDs), the Sunday Times learns.
This arose as top health officials warned of spikes in COVID-19 infections in several areas.
The Director-General of Health Services, Dr. Asela Gunawardena stated this week that five clusters were mushrooming in Hambantota, Matara, Galle, Anuradhapura and Ampara.
The Health Ministry's Head of the Division of Disaster Preparedness and Response, Dr. Hemantha Herath, meanwhile, announced that priority will be given to the Western and Southern (especially Hambantota district) Provinces and the Ampara district when administering the 3rd dose of the vaccine because rising infection numbers have been detected in these areas.
"It is only the Pfizer vaccine that has been authorised. No other vaccine has been taken into consideration for the 3rd dose," he told the media briefing held at the Health Promotion Bureau on Friday.
The Sunday Times learns that the NACCD's recommendations with regard to the 3rd dose and the booster were clear and without any ambiguity.
n  Those over 60 years of age who had the two-dose Sinopharm vaccine should be given a '3rd dose' of Pfizer three months after the 2nd dose, under the primary schedule.
n  Those over 60 years of age who had the two-dose AstraZeneca vaccine should be given a 'booster' of Pfizer six months after the 2nd dose.
"This rationale was based on science and after studying data from all over the country," an expert said, stressing that now this schedule has been turned on its head, with all those over 60 years of age who got either Sinopharm or AstraZeneca being told that they can get the jab after three months.
All the experts, speaking on assurances of anonymity, told the Sunday Times why they think this was done.
"Someone is trying to equate Sinopharm with AstraZeneca, but there is no reason to do that. A large quantity of Sinopharm being brought into the country does not need to be justified this way because at that time the thinking was that we should vaccinate our people with whatever vaccines available, which had emergency-use listing (EUL) by the World Health Organization (WHO)," another said.
This expert underscored that such vaccination helped to prevent a large number of people infected with the virus from going into severe disease or death. If not for Sinopharm being readily available to give Sri Lankans so soon, the death toll due to the Delta variant would have been "very different". Although Sinopharm was a life-saver, more recent data show that immunity following the Sinopharm vaccination wanes faster, compared to other vaccines.
"The data show that the immune response of Sinopharm drops especially in the elderly and as such they need a 3rd dose in three months under the primary schedule. This is in contrast to the elderly who have got AstraZeneca who need a booster after six months to 'boost' the waning immunity," the expert said.
The gap between doses and a booster is important, pointed out another, reiterating that there would be no harm done if the gap is meddled with, but they may not get the maximum benefit. This is so with any vaccine and COVID-19 vaccines are no different.
"With vaccines, more vaccines given at very short periods between doses are not necessarily and always better," the expert said, adding that the Pfizer booster for those who got AstraZeneca is to "boost" the immune response and the gap is important.
With regard to AstraZeneca, another expert said that "it is a trade-off between the immune response and immediate protection. If you want to boost your protection now, get the 3rd dose. If you want to have lasting protection, it should be taken after a longer interval. This is why, if antibodies are coming down in six months then we should wait till six months or even a little more than six months to get the next dose".
The WHO's stand on 3rd dose

For Sinopharm, the WHO interim recommendation (first issued on May 7, 2021 and updated on October 28, 2021) states: "Emerging evidence suggests that older persons and immune-compromised individuals mount a lower immune response after a standard primary series (two-dose schedule) compared to younger individuals and those without immune-compromising conditions.

"Therefore, for older adults and immune-compromised persons who have received a standard two-dose primary series of Sinopharm, the WHO recommends an additional dose.

"For the additional (3rd) dose in an extended primary series, WHO recommends an interval of three to six months between the 2nd and 3rd doses. If more than 6 months have elapsed since the second dose, the third dose should be administered as soon as possible."

Meanwhile, the United States of America, Canada, the United Kingdom, Australia and Singapore all recommend a 'booster' dose for those who received the AstraZeneca or an mRNA vaccine (Pfizer/Moderna) six months, at least, after the 2nd dose.
The best way to say that you found the home of your dreams is by finding it on Hitad.lk. We have listings for apartments for sale or rent in Sri Lanka, no matter what locale you're looking for! Whether you live in Colombo, Galle, Kandy, Matara, Jaffna and more - we've got them all!