The Monarch of the Fashion World – Modart International
Two Decades of Superiority in Academic Excellence
View(s):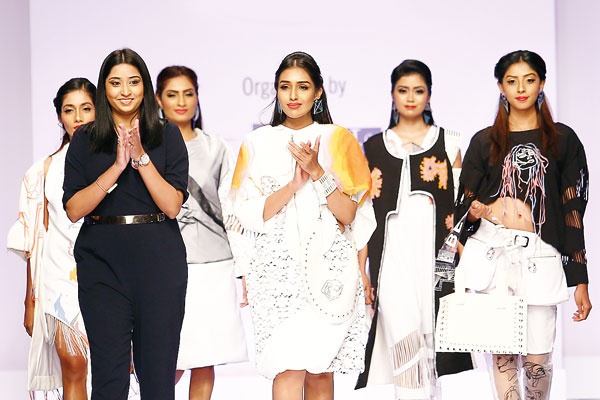 A renowned fashion campus from the fashion capital of the world, Paris has been offering prestigious undergraduate and postgraduate programmes for a decade and more! These Bachelors and Masters courses are offered in partnership with the Perpignan University which holds a prestigious history from the year of 1350 and MODART is accredited by the Campus France.
MODART holds its reputation for the professionalism of the instructors (artists, professionals, designers), guarantees the richness of the course, their timeliness and the dynamism of the teaching and consist of an international network with venerable alumni around the world.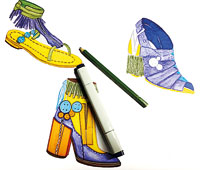 Bachelor Fashion Design – Our Signature Programme offered in Sri Lanka
A promise held by this programme born of a method of education adapted to the demands of fashion careers (fashion designers, artistic directors, buyers, etc.) in womens', mens' and childrens' wear from luxury to mass market sectors. The artistic modules are taught in the Beaux- Arts manner, educating the eye (including photography, drawing, volume and space, etc.).
The innovative teaching methods mixing traditional lectures, practical workshops, personal researches, experimentation, peer to peer presentations and various visits, lead students to become creative and pragmatic, curious and analytical, imaginative and excellent technicians and prepare them to the possibility of an international career.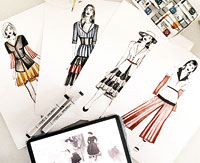 A Rich Curriculum
The fashion design modules allow students to forecast and decipher trends, to design clothes and create collections accompanied by subjects in textiles and accessories. Simultaneously, it takes into account the personal universe of the student and the constraints linked to the rhythms and methods of the profession.
Classes in fashion culture, merchandising, marketing as well as fashion illustration complete the education.
Delivered in a creative manner the pattern making courses give the student a "savoir faire" that is vital to the entry into the professional world. An exceptional training which by its contents, rigor and quality of the teaching staff who come from the artistic or professional world and bear witness to a wish for integration into a career that remains in perpetual change.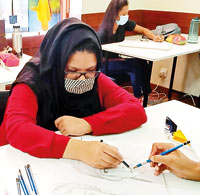 At the end of the programme, a professional jury judges the collections presented by the students. Leaving MODART International, students possess an excellent technical knowledge and a strong creative potential.
Trained equally in fashion design and pattern making, the students will hereto be able to understand, interpret and practice the internationalism that is promoted within the fashion world.
A current student's perspective on the Bachelors degree
programme in Sri Lanka
Fashion design student, Sabieha Rehan, of Year 2 Bachelor's Degree speaks her heart out of her wonderful experience with us…
"Joining this course, in all honesty, when I applied, I was very apprehensive about taking up a creative design degree because although I had been an avid artist for almost all my life, in school I had never really explored this side of myself.
MODART has helped me to build up on the creativity I already had and give me invaluable insight into my own capabilities as well as broadened how I think as an innovator.
Here I have been able to discover the world of art and fashion in a much broader and enlightened perspective, improve my skills and even discover things I had never thought I could do before.
Through this comprehensive course I feel I have learned a lot and only keep improving through the doors they keeping opening up to me. I can easily say that MODART has definitely cemented my ideas of studying and working in the creative field and I am glad to have been given the opportunity to study here!"
A Promising Future of Success
A syllabus that associates both creativity and business: preparing people to work in Fashion has to combine all the needs of an artistic career without forgetting they are craftsmen working for the Fashion business world. The programme includes creative workshops, theoretical courses, case studies plus meetings with professionals thus initiating students in the specificities of Fashion related careers.
A Fashion school that prepares students for the different careers open to designers: a designer must know about and deal with the different facets of his trade, at the same time as creating clothes he/she must take into account the way the clothes are made up and finally sold… The profession works both with the luxury and retail side of the trade, for women's fashion, men's, children's, lingerie and the huge accessories market. This wide sphere is dealt with throughout the 3 year programme.
A Fashion school that initiates all students in pattern making: a designer should know all the technical requirements of making up the garments (draping or flat cutting) on one side in order to communicate with the dressmakers preparing the collections but also to be able to use the pattern making knowledge to create shapes, use fabrics just as much as knowing how to sketch the models.
An opportunity to learn an international language – French: All our courses are conducted in English medium and as an additional language, learning French is an opportunity for all degree students of MODART Sri Lanka. MODART offers the French language studies in partnership with the Alliance française de Kotte preparing students for DELF A1 level exmination. This certification is through the French government and adds value to students on their future higher studies or employment abroad.
Your Next Step – Study in Sri Lanka
Design your future with MODART INTERNATIONAL! Study in Sri Lanka yet experience the real feel of a Parisian fashion school right here in Colombo. Grab the opportunity of visiting Paris as a student to experience the culture, lifestyle, the artistic history, fashion and gastronomy and be at special fashion lectures / exhibitions in Paris during the tour to France which is a part of the course for all Sri Lankan MODART students.
After A/Level's? Join the 3 year bachelors degree
After O/Level's? Complete the diploma 1 year and join the 3 year bachelors degree
NEW BATCH COMMENCES IN JANUARY 2022. Enrollment closing on 20th December 2021.
Study in Paris
Bachelors and Masters level fashion management courses are available to study in Paris. Enrollments are in progress for 2022 intakes. MODART Sri lanka office will prepare you and assist you on the full application process to ensure that students are guided well in advance for the full application and visa procedures.
HitAd.lk is the best and biggest mobile phone market in Sri Lanka, and we guarantee you will find what you need here from our extensive listing of mobile phones for sale in Sri Lanka. Whether it's a budget-priced smartphone for communication, or higher end features with advanced connectivity, there are many different options from which to choose from on our site!