The Gordon, Over 130 years of history helps students to gain real skills for future demands!
View(s):

As one of the largest regional TAFEs in the State of Victoria, The Gordon Institute has been helping students gain real skills for real jobs for over 130 years.

The Gordon pride itself on delivering a great range of options in vocational 'hands-on' training with one of the most comprehensive suites of courses in Western Victoria.

Students can choose from hundreds of short courses and nationally accredited qualifications across apprenticeships, traineeships, certificates, diplomas, and advanced diplomas, which can lead to a great career or create a pathway to partnering Universities.

From Geelong, Victoria, around Australia and overseas, thousands choose to study with the Gordon Institute each year via flexible options including on-campus, full and part-time, off-campus, online, and in the workplace.

Exclusive interview with Jana Perera, Executive Director-Commercial Business of Gordon Institute by Sunday Times.

How did Gordon Institute get acquainted with Geelong which is known as the second biggest city in Victoria?

The Gordon grew out of the need for technical training in the brave new world of the 1800s industrial age. From its origins as a mechanics institute and a night school for tradespeople, The Gordon has become the embodiment of quality vocational education and training in Geelong and beyond.

Since opening in 1887 in a single-storied hall, The Gordon has developed into an institution operating across four campuses. In 2017 The Gordon celebrated 130 years of its proud history of leading education in the Geelong region. Geelong is a student-friendly, coastal city only 55 minutes from Melbourne and 35 minutes from the Great Ocean Road.

Close to the city, country and coast, Geelong offers an affordable cost of living and a wonderful sense of community. Geelong is the second largest city in Victoria there is no shortage of fun-filled activities for students to do on weekends, from learning to surf, to seeing Australian wildlife and heading to music, food and cultural festivals.

How is Gordon Institute recognised in Australia, being a Government TAFE and what differentiates it from other providers in Victoria?

We focus on practical training in a safe and supportive environment, which means less theory and more hands-on experience.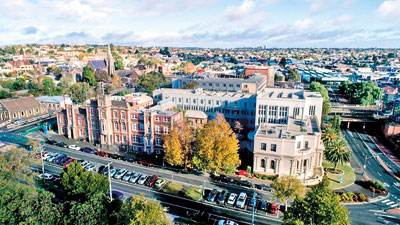 Gordon graduates are job ready.  We have a widely known reputation for quality, trusted in Australia and overseas. Students can use our diplomas and advanced diplomas to gain credits towards degrees at many universities. Our teachers are industry trained professionals who are up-to-date with the latest industry standards and make sure the courses they teach match the needs of industry.
What are the options and opportunities exist for international including Sri Lankan students opts to enrol with Gordon Institute? e.g. courses, graduate outcomes, employment opportunities, part-time jobs for current students, etc.
Work placements and industry projects form a large part of our course content. All work placements are organised by The Gordon and are a great boost to students' resume.
We are accredited and recognised by peak industry bodies including: Nursing and Midwifery Board of Australia (NMBA) and the Design Institute of Australia.
Is there are many international students currently studying in Gordon Institute and what measures have been taken by the institute to offer guidance and advice on their well-being?
Gordon International works closely with teachers and support services assisting students to achieve their academic potential.
Gordon International offers a range of services to international students to ensure that their stay in Australia is both educationally rewarding and an enjoyable experience.
Australia just preparing to open its borders to international students, and what are the post Covid-19 plans in place at the institute relate to classroom attendance and teaching of students and active participation of academics?
To maintain a safe environment for all students and staff anyone who attend a Gordon campus must be fully vaccinated or have an eligible exemption certificate – www.thegordon.edu.au/quick-links/special-notice-pages/keeping-up-with-covid
Gordon Institute has a long-standing association with Sri Lanka and its people, and has built a strong profile and brand recognition, and how do you hope to sustain this relationship in coming years? Will there be a representative in the region to support your stakeholders?
We have approved representatives in Sri Lanka and students interested may contact them through our international office international@gordontafe.edu.au.
Srilankans who have gained an Australian qualification are doing exceptionally well in their chosen field of work or business locally and globally, and what future strategies you have in order to engage with the market especially offering industry demanded courses that could contribute to the success of economies?
The Gordon is a leading workforce education and skills development partner for industry, enabling organisational growth and increased efficiency and productivity through upskilling and reskilling all levels of the workforce. We are passionate about success and deliver solutions that contribute to the success of individuals, teams and organisations; regionally, nationally and internationally.
You are from Sri Lanka, and have held prestigious positions within the Australian education industry, how you would like to express your experience in Australia as a young student to whereas you are now?
It has been a very rewarding experience to learn in some of the most renowned universities in one of the most liveable and safe cities in the world. I had the opportunity to make friends from all over the world and share and gain knowledge from each other.
The education institutes offered great support services and outstanding resources which certainly made my time as a student satisfying.
I have now worked over 20 years in the Australian International Education industry which has allowed me build partnerships around the world and I look forward to welcoming Sri Lankan students to come and study with us here at The Gordon.
Finally, Gordon Institute has a history over 130 years in existence, and one of the oldest in Australia, and how prepared the institute to welcome international students back on campus? In addition to study, what else students can experience to build their careers?
We have a very proud history of welcoming international students for over 100 years and the team is looking forward to when boarders open to welcome international students once again.
Applications are now open for the Pathway to Victoria Scholarship Programme.
Eligible international students on a packaged visa can receive $2,500 (AUD) towards their tuition fees.
For all the information visit
www.thegordon.edu.au/international/future-international/applications,
-payments-visas/scholarships-int
HitAd.lk is the best and biggest mobile phone market in Sri Lanka, and we guarantee you will find what you need here from our extensive listing of mobile phones for sale in Sri Lanka. Whether it's a budget-priced smartphone for communication, or higher end features with advanced connectivity, there are many different options from which to choose from on our site!