TEDx Zahira College offers platform for Lankan youth to shine
View(s):

TEDx Zahira College aims to serve as a platform for youth to showcase their talent and ideas. It's an initiative undertaken by the Zahira College Old Boys' Association (OBA) to extend ideas worth spreading to youth under the TED format. Taking place virtually on Zoom, the event is open for all to attend on 27 November.

TEDx is a programme of local, self-organised events that bring people together to share a TED-like experience.  At TEDx Zahira College, participants will witness TED Talks videos and live speakers will combine to spark deep discussion and connection in a small group.

Held under the theme of The Ripple Effect of Revolution, the event will feature speakers from different walks of life touching on the power of youth to change the world.

Elaborating on the theme, Azeem Saheer of the TEDx Zahira College organising team said, "Imagine a quiet and calm pool of water – it normally would never be associated with power. But a single drop can create a powerful ripple. Likewise, a single person can create hope and change across the entire globe, revolutionising it in the process. The theme of TEDx Zahira College wishes to spark an actionable understanding of how small acts can create a big impact. Together, Sri Lanka will rise to meet the most progressive thought-leaders, while slowing down our pace to share in the present moment."

TEDx Zahira College will feature six speakers touching on various topics around this theme. The list of speakers includes famed local entrepreneurs Co-Founder of Spa Ceylon, Shalin Balasuriya, Co-Founder of Pick a Book, Ragulan Tharmakulasingam, and Entrepreneur and Product Specialist, Jehan Wijesinghe. Speaking alongside them are three talented youth who are among the youngest TEDx speakers in Sri Lanka to date.

These talented youths are Sri Lanka's youngest marine biologist and founder of SL-Shark Kids, Alosha Samamaraarchchi, a student and pet lover, Harun Rishard, and a student innovator passionate about solving community problems, Yusuf Jasny.

"Globally, TEDx events are incredibly appealing as a platform for cutting-edge and progressive ideas", Says Safra Anver, TEDx Colombo licensee. "Similarly, TEDx Zahira College presents curated speakers who have developed perspectives and actioned upon ideas that can genuinely change future generations of Sri Lankans—and in extension the world — for the better. Hopefully, this will empower communities to gain inspiration and unleash new ideas into the world," the organisers said.

With a combination of both young and experienced speakers, TEDx Zahira College is a platform where powerful ideas can spread to inspire the youth of Sri Lanka to create the change they wish to see in the world.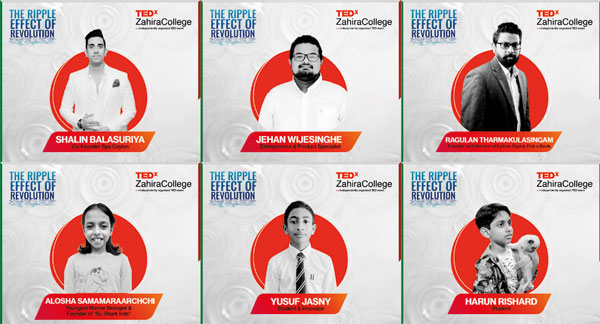 HitAd.lk is the best and biggest mobile phone market in Sri Lanka, and we guarantee you will find what you need here from our extensive listing of mobile phones for sale in Sri Lanka. Whether it's a budget-priced smartphone for communication, or higher end features with advanced connectivity, there are many different options from which to choose from on our site!