Protests, poor people's plight and passports
By Sandun Jayawardana
View(s):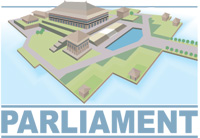 Verbal battles over the protest organised by the Samagi Jana Balawegaya (SJB) in Colombo on Tuesday (16) resulted in heated exchanges between Government and Opposition MPs and dominated proceedings this week during the Second Reading of Budget 2022.
SJB MPs were incensed by what they charged were Government's attempts through the police to intimidate and obstruct their supporters who attempted to travel to Colombo to take part in the party's protest.
Drawing Prime Minister Mahinda Rajapaksa's attention to incidents of police intimidation of SJB supporters, Opposition Leader Sajith Premadasa stressed in Parliament on Tuesday morning that as the country's was a democracy, people had freedom of speech and expression and they also had the right to come to the Opposition Leader's office to convey their grievances. "This is not a police state," he told the Government.
SJB MPs held a brief protest in Parliament during the following day's debate, with MPs holding up placards denouncing Government attempts to obstruct their protest and also accusing the police of being responsible for the death of an SJB supporter at Panamure in Embilipitiya. "The Government tried to suppress our protest through the police. It shows just how fearful it has become of the SJB and of the people's wave against it," SJB General Secretary Ranjith Madduma Bandara said as fellow MPs held up placards condemning the Government. He accused Public Security Minister Sarath Weerasekara of doing politics using the police. "This people's wave cannot be stopped by deploying the police," he stressed. Referring to the many instances where supporters had resorted to holding protests at the roadblocks where they were stopped, Mr Madduma Bandara said that on the one hand, the SJB was thankful to the Government as instead of one protest, they ended up holding nearly 100 in different parts of the country.
Industries Minister and National Freedom Front (NFF) leader Wimal Weerawansa called on the Opposition to use "new methods of protest" rather than resorting to mass street protests which ran a high risk of spreading COVID-19 among the populace. "The industrialists in this country have only just reopened their factories. Don't create a situation where they have to close them again by dragging this country back into the red zone (on COVID infections). Tourists too have only just started coming in. Don't create a situation where the tourism industry collapses again. Small scale traders have reopened their shops, so don't make them close those shops again," he told the Opposition.
"If you don't have the mental capacity to come up with new and innovative ways of protesting suitable for this new reality, then how can you ask the people to help them form a Government," Mr Weerawansa queried from SJB MPs.
Mr Weerawansa also addressed the friction between the Sri Lanka Podujana Peramuna (SLPP) and coalition partners including his own party. Speaking on the fertiliser crisis, Mr Weerawansa said an immediate transition to organic fertiliser was not the way forward. "We should transition into natural farming. In natural farming, if the solution lies in chemical fertiliser, there is scope for it, while if it lies in natural farming, there is scope for that as well. We can't do this by insisting we either go for 100% chemical fertiliser or 100% organic fertiliser."
The minister said he was not questioning President Gotabaya Rajapaksa's sincerity on the organic fertiliser policy. "However, we need to understand this situation. This is not about growing our own produce in the garden. This is commercial farming we are talking about."
SJB MP Kumara Welgama said the Government had not given any thought to the poor when drafting its Budget. "It is the poor man who we should think about first because he is the person who feels this crisis the most. I don't know whether (Finance Minister) Basil Rajapaksa compiled this Budget while in America, but he should know that 75% of the 6.9 million (who voted for Gotabaya Rajapaksa) are from that segment of society," he stressed.
"Today, the tea plucker doesn't have work because there is no fertiliser for tea. The rubber tapper has no work because of the rains. Even the coconut plucker has no work. If at least there was a small salary increase for the public sector, other sectors will inevitably raise their salaries too. How can people live today? They can't buy sugar, gas and dhal. This is a Budget that has hurled the poor man from the frying pan into the fire," the MP claimed.
Mass Media Minister Dullas Alahapperuma, in the meantime, highlighted another issue. He said that when analysing the international ranking of passports, the Sri Lankan passport ranks among the lowest in the world. "Only 17 countries are ranked below us. That alone shows us where we are at."
He said there are only 41 countries allows Sri Lankans to travel to without a visa. Singapore is the only developed nation among those countries that allow Sri Lankans to visit without obtaining a visa beforehand. "Japan, Singapore and South Korea are the top three ranked countries in terms of their passports. All three are Asian nations. Citizens of these countries can travel to 191 countries without a visa. I remember that during my school days, slums were referred to as 'Korea.' But that Korean passport is now one of the most powerful in the world," he said.
"Who should be held responsible for our current situation? Is it all the green coloured Governments throughout our history, blue coloured Government, blue-red coloured Governments, or the current Government? No, all these Governments, all of us, are party to what has befallen this country," the minister observed.
Seven days were allocated for the debate on the Second Reading. The vote on the Second Reading of Budget 2022 will take place at 5 pm tomorrow (22). The Committee Stage debate will then begin on November 23 and continue for 16 days till December 10.
Buying or selling electronics has never been easier with the help of Hitad.lk! We, at Hitad.lk, hear your needs and endeavour to provide you with the perfect listings of electronics; because we have listings for nearly anything! Search for your favourite electronic items for sale on Hitad.lk today!