A dismal report card
View(s):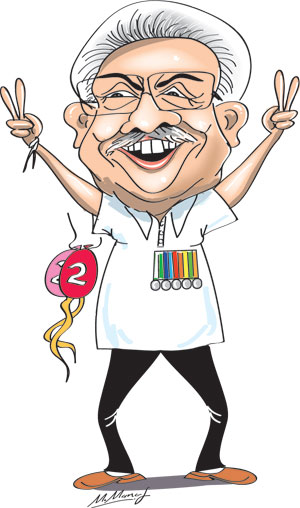 My dear Gota maama,
I am writing to you this week to congratulate you on completing two years in the highest office in the land – and probably the toughest job in the country. Many people are complaining, but you shouldn't be. This is what you wanted to do because you wanted to usher in 'vistas of splendour' for us!
When you first said that you were interested in the top job, many thought that this was only because Mahinda maama was barred from contesting again by the Constitution. They felt that although you would take the job, you would allow Mahinda maama to take all the decisions and do all the work.
After all, the Constitution at the time was tailor-made for that, with the PM having many powers. That is why the Green Man and Aiyo Sirisena had their share of problems in working together. With you though, since you had no reason not to trust your podi aiya, many thought you will take a back seat.
We soon realised that this was not the case. Spending most of your adult life in the military, you wanted to run the country like it was the other 'GR' you were associated with, the Gajaba Regiment. So, you went about your task, appointing men in uniform to key positions in your administration.
As you may have realised now, government departments don't function like the military, and that didn't work out quite well. For instance, when you put Shavendra in charge of tackling Covid-19, doctors weren't very happy because their advice was being ignored, and the death toll became really high.
Soon after taking over, you visited that office in Werahera that issues driving licenses and told us that we must all get together and 'change the system'. Indeed, that was what most people elected you for. Two years on, most of us are realising that the more things change, the more they remain the same!
The chaps on the 'pohottuwa' side of the Parliament are mostly the same lot. They, despite their abuse of power, corruption, incompetence and indecent behaviour, surrounded Mahinda maama and made him feel invincible. This is why he lost to Aiyo Sirisena six years ago.
Now, don't get me wrong, Gota maama. Mahinda maama will always have a place in our history as the leader who ended terrorism, and you supported him well in that effort. Yet, even he had to pay the price for having too many 'R's in the government. That has got worse under you, hasn't it?
We had three 'R's in the Cabinet those days. Now we have five. You also have two nephews waiting on the backbenches. So, you might as well have your Cabinet meetings around the dinner table at Medamulana. No wonder then that people say Bhanuka is the only Rajapaksa who gets out soon!
Looking back at some of the mistakes Mahinda maama made, it was to act as if he was a law unto himself. He had the lady CJ impeached. He also jailed the then-General who is now a Field Marshall. Both these decisions cost Mahinda maama dearly. That was when people began losing faith in him.
We hoped you wouldn't make the same mistake of acting as if you were a law unto yourself – but you have. Why else would you pardon a convicted murderer who was your 'monitoring MP' when you were Defence Secretary? Why did you appoint a racist monk to decide on 'One Country, One Law'?
You wanted us to use only organic fertiliser. You wanted that done immediately. That has left farmers helpless. Most of them voted for you two years ago. They are now on the streets, protesting against you. Teachers who would have supported you two years ago are on strike, demanding better wages.
You would know of the 'pancha maha balavegaya' which helped SWRD gain power in '56. With monks who helped you losing faith in you and doctors unhappy about how you handled the pandemic, you have lost the support of sangha, veda, guru and govi already and kamkaru might join them soon.
I also worry, Gota maama, about who your advisors are. It seemed as if that doctor in the GMOA was advising you on fertiliser, while Shavendra was advising you on medical matters. As for the economy, I am not sure who is advising Basil because he didn't quite know what he was reading in the Budget!
I don't know what you discuss over dinner at Medamulana – whether it is government policy, or which relative to choose as the next ambassador – but when you meet Mahinda maama next, get some advice. Youth are leaving the country and we must ask why, he said, so he knows something is not right.
Gota maama, you have three more years on the job. We hope you succeed because we want to see those 'vistas of splendour'. To do so though, you will need to think and act differently from what you have done in the last two years. After all, the country is too serious a matter to entrust to military men!
Yours truly,
Punchi Putha
PS: Many in the 'pohottuwa' camp feel that no matter what they do, they will get re-elected because the opposition is hopelessly divided and Sajith is yet to make an impact. That may be true but, if someone as mediocre as Aiyo Sirisena can beat someone like Mahinda maama, nothing is impossible!