Red Bull promotes traditional canoeing among youth
View(s):

Red Bull Outriggd returned for 2021 bringing back the age-old tradition of outrigger canoeing to Sri Lanka after a two-year absence, promoting the sport among the youth. All the action took place last week at Port City, Colombo and this is the very first water sport event which took place on the beach promenade inside this new location.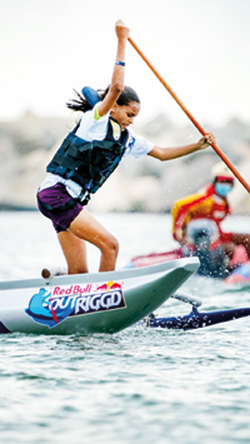 Through this interesting competition of outrigger canoeing, the mind and body were put to the ultimate test as participants took on the choppy waters of the Indian Ocean for the first time in an outrigger canoe. The age-old sport of outrigger boat racing is one among many competitive events keenly contested in waterfront regions of the island.
Bringing communities together and igniting the passion for unique adventure sports amongst Sri Lankans, Red Bull Outriggd grabbed the attention of a variety of contestants ranging from corporates to adventure-seekers, sports lovers, paddle associations, fishing communities and even students. Red Bull Outriggd is more than just a contest; the event is a competition and celebration with side activities for every participant and spectator.
Red Bull Outriggd saw the participation of over 70 oarsmen and oarswomen including some who depended on it for a living. Red Bull Outriggd race track consisted of a few obstacles to overcome and it was not as easy as it seemed. Red Bull is known for giving sports an innovative edge to offer a memorable experience for participants and spectators alike.
The champions were chosen under women's, men's and mixed categories and the winning teams. Tharushi Dewmini and Nimeshika Perera representing Kelaniya 03 (team 3) won the Women's Doubles while in the Men's Doubles final Mohomad Jalil Mohomad Rasan and M. Ajeesh Khan of Balalu Wewa 02 (team 25) emerged victorious. The Mixed Doubles final was won by W.P.S. Priyadarshana and Tharushi Dewmini of Kelaniya 09 (team 6).
The first Red Bull Outriggd took place at the Diyawanna lake in 2019. The event was not held in 2020
due to challenges posed by the global pandemic.