Sri Lankan travel agents seek better recognition
View(s):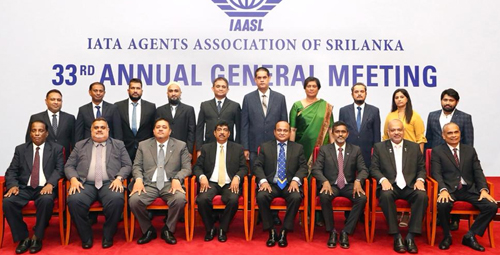 Travel agents in Sri Lanka want more recognition for their services to the tourism industry and ensure they are not sidelined just like the current situation when it comes to paying commissions.
International Travel Agents Association (IATA) President Janath Sri Vidanage addressing the 33rd AGM said that in Sri Lanka the situation regarding commissions for travel agents has been given a miss by the national carrier itself.
"SriLankan Airlines gives commissions to all travel agents but they don't give commissions to Sri Lankan travel agents in Sri Lanka," he said adding that this should be rectified.
The industry has more than 200,000 people employed and there are about 160 travel agents in the country engaged in both outbound and inbound traffic.
He noted that they were facing a number of challenges from international websites and this is also draining a lot of foreign currency without anyone's knowledge.
The office bearers (see picture) appointed are President Janath Vidanage of Danata Travels & Tours, Vice President Ziard Wahid of Golden International Travel & Tours and Immediate Past President Tilak Wickramasinghe of Skyways Travel Solutions. The Executive Council comprises Ms. Chamila Wijethunge of Acorn Travels, Nishantha Senaveratne of Aitken Spence Travels, Shimal Thaha of Airtrav, Wilhelm Brown of Alpha Travels & Holidays, Romesh Samaranayake of BOC. Travels (Pvt) Ltd, Mohamed Sabry Bahaudeen of Classic Travels, Ms. Kalpana Fernando of Eigenweg Travels (Pvt) Ltd, Rohan Jayamanna of Holiday Plan DMC (Pvt) Ltd, A. Suffian Mohideen of Intersun Travels (Pvt) Ltd, Murtaza Mustafa of MSA Travels & Tours (Pvt) Ltd, T. Nirthikan of NN Air Travel Partner Pvt Ltd, Rizwan Rameize of Scenic Ventures (Pvt) Ltd, Shamraz Thasleem of TGL Travels & Tours (Pvt) Ltd, Rajeev Aloysius of Tourama (Pvt) Ltd, Mumthazer Mahir of The Travel Port (Pvt) Ltd, Duminda Kuruwitaarachchi of Travel Outlook (Pvt) Ltd and Saman Premakumara of Travel World (Pvt) Ltd.