The long drawn fight against Police brutality continues
By Tharushi Weerasinghe and Renishka Fernando
View(s):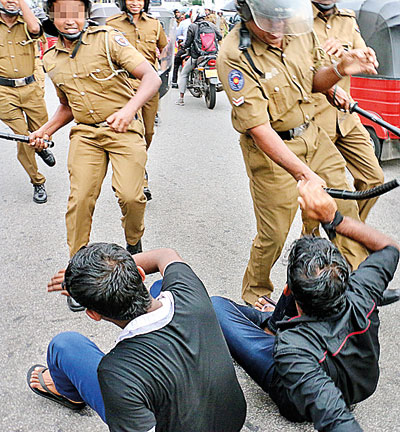 Twenty-one years: That's how long Amitha Priyanthi has fought for justice over her brother's killing, allegedly at the hands of the Police.
On June 12, 2000, the Payagala police arrested her younger brother, Lasantha Jagath Kumara, for deserting the army. Five days later, he was dead, reportedly from injuries sustained in their custody. Pathologists found at least 22 internal injuries during their autopsy.
Amitha filed a fundamental rights case in the Supreme Court – Shriyani Silva vs Iddamalgoda – receiving a landmark judgment that allowed third-party legal action against police brutality in the event the victim dies. The criminal case against Jagath Kumara's alleged torturers, however, has been hampered by sluggish investigations.
The Attorney General indicted the Officer-in-Charge of the Payagala Police in 2013, a full 13 years after the incident. For nearly 8 years since then, Amitha and her family's access to justice is obstructed, they say, by "cronies of the accused".
"We have become stuck in this cycle of re-living the trauma over and over again, from the prolonged court processes and the constant harassing by officers," said Amitha, who has since become an activist helping other victims of Police brutality and torture to seek justice. Over time, she claims, the duration of cases taken to the Supreme Court has also risen to an average of around seven years.
"I know one case that has been postponed 31 times," she said. "Then Covid-19 hit and made everything worse."
Sri Lanka has committed to zero tolerance of torture under Article 11 of the Constitution, and the Convention Against Torture And Other Cruel, Inhuman Or Degrading Treatment Or Punishment Act No. 22 of 1994 (CAT Act), and Sri Lanka's National Action Plan for the Protection and Promotion of Human Rights 2017-2022.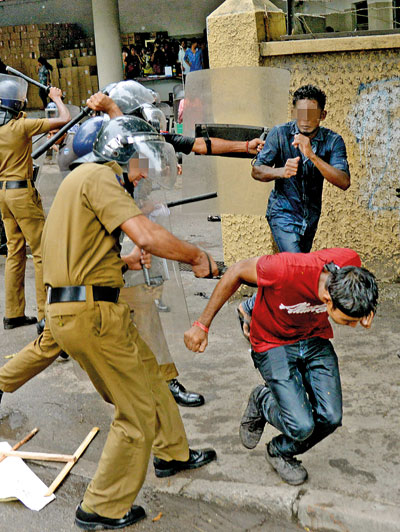 The country is a party to the United Nations Convention against Torture, recognising the competence of the Committee against Torture to receive and consider individual complaints since August 2016. It adopted the Optional Protocol to the Convention against Torture (OPCAT) in January 2018.
But according to a Law and Society Trust brief on 'State Protection of Torture Survivors in Sri Lanka' in June 2021, just 47 torture cases were prosecuted in the 26 years since the CAT Act was passed. Only 9 resulted in convictions: 6 of these are now under appeal.
In comparison with those reported to the Human Rights Commission of Sri Lanka (HRCSL), roughly over 99% of the complaints are not prosecuted and less than 0.2% result in convictions.
"The right not to be tortured is an absolute right and cannot be derogated under any circumstance," said Swathika Arulingam, Attorney-at-Law. The Police Ordinance and the Prevention of Terrorism act also regulate the use of force by police officers during an arrest. Citizens have rights during an arrest and when in custody: For instance, the right to be informed and the right to clear any misinformation or wrong identity. Detainees should be produced before the Magistrate within 24 hours except for arrests made under the PTA.
"However, an ordinary citizen being arrested does not have the power to tell arresting officers who are backed with State power not to exploit their positions of power during arrest and detention," Ms Arulingam pointed out. In many instances, Police officers rarely reveal the reasons for arrests; they give false and misleading information (most often in arrests under the PTA); and do not come in uniform when carrying out an arrest.
"Gauging how often victims receive justice is difficult as research into the area has been limited," noted Saliya Peiris, President of the Bar Association of Sri Lanka. Cases can take anything between a few months to many years before being resolved, he agreed.
Meanwhile, the Criminal Procedure Code has guidelines for Police Officers detaining someone who is resisting arrest. It does not grant the right to cause the death of a person who is not accused of an offence punishable with death.
"Reasonable use of force needs to be understood as only the force that is necessary and no more than that," he said. If a Police Officer is trying to kill or assault a person, the Penal Code section that gives the person the right to private defence will apply. A citizen who feels he is facing unlawful arrest cannot resist. He must challenge it in the Supreme Court under a Fundamental Rights violation.
Public perception also affects the rule of law and maintenance of law and order. "Torture and Police brutality violates the rule of law and is counterproductive," Mr Peiris maintained. "Any allegation of torture, brutality and abuse of people in custody reflects badly on the Police. The Police force already doesn't have the best image and that is going to continue to suffer."
Predictably, the Police refuted allegations that there was a culture of violence amongst them. "We make about 800,000 arrests annually," said SSP Nihal Thalduwa, Police Spokesman. "These incidents are the exception, not the norm."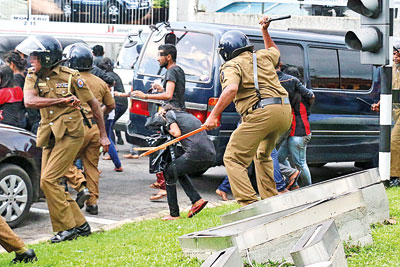 No Police Officer is entitled to violence, he admitted, but: "They are authorised to use reasonable force for their protection and when a person is resisting arrest." Recent incidents in Batticaloa and Ratnapura are being internally investigated, he said. The allegations of sexual assault relating to the Ratnapura incident, however, will not be probed, as the complaint was made through an open letter to the President on social media. "Sri Lanka Police only investigate matters posted on social media if it is of public interest," SSP Thalduwa said.
"A system that facilitates access to justice exists when a citizen feels that their fundamental rights have been violated," he continued. "The Police don't arrest people for no reason, and when someone resists arrest, an officer will sometimes have no choice but to use force."
Officers on field work risk their lives. "We can sit and pull situations apart retrospectively," he said. "But the mentality when you are at direct risk of harm is very different," he argued. The reasonability of force depends on the situation. Occasionally, officers will "miscalculate" but that should be decided subjectively.
It would be unfair to discredit the hard work of 90,000 people over the actions of a few "bad apples", SSP Thalduwa maintained, adding that officers found guilty of misusing their powers were punished harshly. "We also need to realise that every officer we hire is a product of the socio-cultural dynamics of Sri Lanka," he reflected. "We cannot expect a complete character turnaround over one-and-a-half years of training."
Police courses are reviewed and updated at three-to-five-year intervals and include human rights, constitution, international law, treaties and conventions modules in addition to Supreme Court decisions.
"We have evidence that Police training doesn't work because violence continues," countered Ambika Satkunanathan, former HRCSL Commissioner "Training while ignoring the root causes will not prevent Police torture."
Creating more rules while failing to understand that violence is a complex social and psychological phenomenon tied to economic factors will do nothing to resolve the issue, Ms Satkunanathan asserted. Minorities, the LGBTQ community and the economically marginalised have a greater vulnerability to torture and assault. Ignorance of one's fundamental rights, the fear of reprisals from the Police, and unawareness of measures available severely hampered the access to justice in incidents of institutional violence.
"There was a person who was tortured so badly, he collapsed in court," Ms Satkunanathan related, regarding an incident in Mannar. "He filed a Fundamental Rights petition and the Police kept going to his house and pressuring him to withdraw the complaint."
But prosecuting and imprisoning Police Officers will also do little to end torture, as prisons are themselves inherently violent. Sending perpetrators of violence to another violent situation continues a cycle of violence.
"The culture of violence is embedded in Sri Lankan society," she said. Most perpetrators were often victimised by someone else first. Senior Police Officers treat juniors in a derogatory manner. Female Police Officers have complained about sexual harassment. These officers then go into their stressful jobs on a daily basis and more violence ensues.
Proposal to clear charge sheets -  Sweeping it under the rug?

The Public Security Ministry's recent proposal to clear charge sheets (over six-months-old) against Police Officers has caused alarm that it will lead to widespread impunity, particularly as cases against Police brutality sometimes went on for decades.

Minister Sarath Weerasekera said that he was espousing what was already in the Establishment Code. "The charge sheet is being weaponised by corrupt officers to control officers in lower ranks into undue submission," he said. "It is killing careers and Police initiative."

Written up even for minor offences, officers are forced to forego promotions and salary increases till they are exonerated. "Some offences are as minor as miscounting the number of cows involved in one case," he said. "These are holding the public servants back."

Committees have been appointed to review and resolve outstanding charge sheets over six-months-old. "Investigations must speed up and reinstatements need to happen," the Minister said, insisting that thousands of officers were unfairly incapacitated, mostly owing to internal politics.

"This in conjunction with the Justice Ministry's recent moves to expedite court processes," said SSP Nihal Thalduwa, Police Spokesman. "It will mean that investigations and litigation related to police brutality and torture will be concluded sooner.