Workers await chance to move without hindrance
By Nadia Fazlulhaq
View(s):
Sri Lankan workers who depend on public buses and trains will feel relieved that restrictions on travel between provinces are being lifted on Sunday, October 31.
This would also make things easier for those who need to go to hospitals, and for students and their parents.
About 3,000 private buses and 3,000 Sri Lanka Transport Board buses will operate in the country, said the Director General of the National Transport Commission Commander (Retd) Nilan Miranda.
"However, police should continuously monitor whether health guidelines issued with regard to public transport are strictly followed," he told the Sunday Times.
Train services will resume in the Western province from tomorrow, Transport Minister Pavitra Wanniarachchi said.
Initially, only season tickets holders are allowed to travel, she said, adding that inter-provincial trains will operate from November 1.
The Department of Railways said engineers are checking railway lines and signalling infrastructure, as equipment had been idle for nearly three months.
Seventy engines, 500 carriages and 65 power train sets are ready. Once services resume 50 journeys on the main line, six on the northern line, 64 on the coastal line, eight on the Kelani Valley line and 18 on the Puttalam line are planned to operate.
"Travel restrictions caused inconvenience to those who struggled to report to work as most public and private sector offices required employees to be physically present," said Nuwan Sameera, who has to travel from Polgahawela to Narahenpita daily.
Another worker, Namali, who used to travel from Ambalangoda to Colombo six days a week, experienced disruptions as well.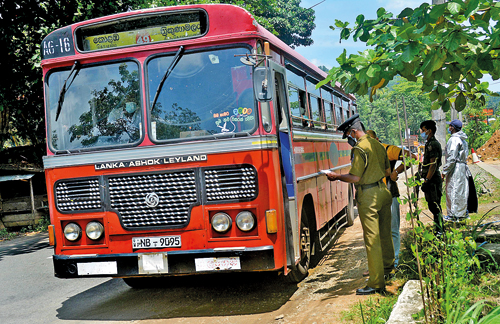 "I used to take the bus, or train. For those who have to depend on public transport, it is such a difficult time," she said.
Patients coming to hospitals in Colombo and other cities have complained that hiring private vehicles is costly.
Despite travel restrictions, tourist hotspots in the Central hills as well as the Southern and Eastern coasts are reportedly attracting locals arriving from populated districts.
"We travelled to Nuwara Eliya all the way from Kalutara. There were no police barriers or checkpoints. We spent several days in Nuwara Eliya and came back. In fact there were many vehicles there bearing WP number plates," said Ahmed (name changed as requested).
The police said 300 to 500 people attempting to enter/leave Western province have been turned away this week.